Just some observations about the NHL standings on this, the 14th day of December, 2014.  I'll probably do this once a month all season. Here's last months, if you're interested.
1. Parity is Rampant
While the Ducks lead the NHL with 47 points, there are 8 teams, or more than a quarter of the league (and almost a third), that has either 40,41 or 42 points. The Ducks lead can be attributed to their five shoot-out/over-time losses, since they have 21 wins and seven other teams have at least 19.  This shouldn't take anything away from them, however, since 11 teams have 5 or more shoot-out losses. Florida with eight and Detroit with seven lead the way.
2. Streaking
The Best current streaks in the NHL belong to the Ducks with seven wins in a row and the Blue Jackets with six. Especially interesting is that despite the winning streak, the injury riddled Blue Jackets are tied with the Sabres for the second-worst record in the East. Overall, only Carolina, Edmonton and Arizona have worse records.
Incredibly, due to the NHL awarding a loser point which artificially keeps teams alive in the standings, the Blue Jackets are only 6 points out of the final Wildcard spot, currently owned by the Panthers. While that is only three wins, it should be noted that there are five teams between the Panthers and Jackets.
3.  The Avalanche Aren't That Bad
Yes they sit sixth in the Wildcard race, nine points back of of the Jets, however they have lost seven games in OT/Shoot-out.  A little bit of luck in extra time and they could be only three points out of eight, with games in hand. While they certainly have lived up to their possession game this year (instead of being an anomaly and winning in spite of it, last year) they have a roster filled with young, exciting star players and are a good bet to improve as the season goes on. Nathan MacKinnon is bound to breakout sooner than later and when he does, look for the Avalanche to shoot up the standings.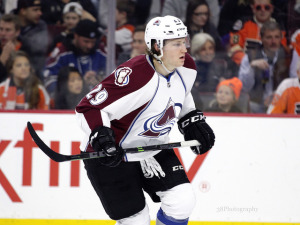 4. Most Goals Scored
While it shouldn't surprise you that the Lightning, with Stamkos, Hedman, and one of the deepest groups of forwards in hockey lead the NHL with 105 goals, the Leafs being #2 probably will.  Toronto has 99 goals in two less games than the Lightning. If they ever acquire that top centre and defenseman, look out.
5. Least Goals
The Least goals scored by an NHL team this year so far is the Sabres with 56 goals in 30 games.  That's less than 2 goals per game and is brutal. However, Carolina has just 61 and the Oilers 65. The Oilers numbers are especially embarrassing since the one thing their team should be able to do is score goals with all that talent. Just goes to show you that an elite offensive defenseman is a necessary catalyst no matter how good your forwards are.
6. Best Defense
The best defense in the NHL belongs to the Predators who have only allowed 57 goals so far this year. To put that in perspective, only four teams are under 70 goals, and two of those are sitting at 69. Honorable mention to the Blackhawks who have allowed just 60. Nashville and Chicago are far and away the best defensive teams in the NHL and it isn't even close. It should also be noted that Chicago has a goal differential of + 33 and no one else is even close to that either.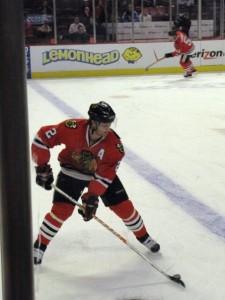 7. "Surprise" Teams Unsurprisingly Holding on to Playoffs with Tenuous Grips
A lot of ink was spilled writing about how great the Canucks and Flames were doing this season, but their hot starts might not end up meaning much as both teams hold down Play-off spots by only a hair. With 38 points, the Canucks sit just three points up on the Kings, who are in ninth. While the Flames, currently seventh in the conference, sit only a single point up on LA.
8. The True Surprise of the NHL Might Just Be Toronto
Depending on the outcome of the game I am currently taping, the Leafs have won either four or five in a row by the time you read this. A win tonight (Sunday) would put them within three points of the Eastern Conference lead. While some of their wins have been lucky, and they probably aren't this good, they do have a very deep team and were they to add a couple of significant pieces, they could easily vault into the ranks of contenders. They currently have a better record than teams that were thought to be far superior to them, like Boston, Colorado, Minnesota, Dallas, as well as both teams from last year's Stanley Cup Final.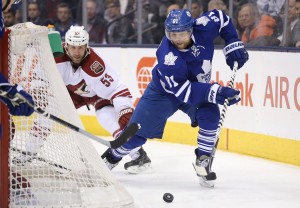 9. Canada Still Doing Well
When I last looked into the standings a month ago, six of seven Canadian teams would have qualified for the Playoffs. Today, only one of those has dropped off – the Senators, who recently fired their coach. Other than the perennial basement dwelling Oilers, the rest of the Canadian teams are doing well, with six of eight making the Playoffs if they started today.
10. Sabres are Better than You Think
Improbably, the Sabres are 7-3 in their last ten games and have won three in a row. Despite dressing an AHL roster for the most part, they are only three wins behind the Panthers, who sit in eighth place. The Sabres are actually closer to a Playoff spot than they are to basement. It won't last, I assume, but considering who is on their team, it's crazy.
Thanks for reading.
Covering the Leafs for the Hockey Writers.