It was only twelve months ago when Tyler Seguin was left off Team Canada's Olympic roster. There was plenty of discussion about Martin St. Louis and Claude Giroux also being left off the roster but very little noise of Seguin's omission. Fast forward to December 14th, 2015 and Seguin has a commanding lead in the Rocket Richard trophy race with 23 goals in 29 games.   New York Ranger forward Rick Nash is second with 18 goals.  Seguin is also leading the NHL in scoring with 38 points.  Surely if 2015 was the Olympic year the question wouldn't be is Seguin an Olympian, but rather who would play on a line with Seguin and Jamie Benn.
Seguin, 22 years old from Brampton, Ont, is on pace for 65 goals this season.  At that rate he would shatter the single season franchise record of 55 goals which two former players accomplished (Ciccarelli; Bellows).  Taking it a step further, if you consider Adjusted Goal stats, Seguin is on pace to finish second all time with 74 Adjusted Goals, second only to Brett Hull's 78 in 1990-1991.  Should we be surprised?  Maybe a little from a goal scoring perspective, but even Stars legend Mike Modano previously predicted that Seguin would one day break his franchise single season scoring record of 93 points.
Revisiting The Block Buster Trade
Back  in July 2013, the Stars and Bruins shocked the hockey world and consummated a block-buster trade. It would be the first trade under new Stars GM Jim Nill and it was a bold move. The Stars would receive Seguin, Rich Peverley and Ryan Button in exchange the Bruins would receive Loui Eriksson, Reilly Smith, Matt Fraser and Joe Morrow.  This trade could go down as the biggest trade in Texas since Jimmy Johnson shipped Herschel Walker to the Minnesota Vikings or when the Houston Astros fleeced the Boston Red Sox by acquiring Jeff Bagwell for an aging relief pitcher named Larry Anderson.
Why did Boston trade Seguin?  The official response from Bruins GM Peter Chiarelli was "Seguin needed to become more of a professional and to focus on the one task at hand".  Seguin was coming off a sub par playoff run with only 1 goal in 22 playoff games. He followed that up with just 1 goal in 6 playoff games for Dallas last season. It's possible that Boston management felt the playoff performance was a sign of things to come in future playoff years.  There were also rumors of off ice incidents.  As someone who has lived my whole life in the Boston and Dallas areas I can tell you the environments are completely different. In Boston, sports are like a religion, in Dallas religion is religion…Oh, and let's add the Dallas Cowboys to that as well. The Boston media and sports radio are critical of any/all public or professional missteps. In Dallas, the Stars are well behind the Cowboys in the pecking order and arguably behind the Rangers and Mavericks too.  The Dallas media and sports radio are more forgiving when one of their professional athletes has a lapse in judgement.    In Dallas, Seguin is even able to do a weekly sports radio segment (1310AM The Ticket) that is serious but also light-hearted.  Quiet honestly, Seguin is able to fly under the radar in Dallas compared to the constant microscope in Boston.
With a goal and assist, Tyler Seguin retakes the NHL lead in scoring with 38 points. Fans in Boston still say it was a good trade. #InDenial

— Bruce LeVine (@BruceLeVinePuck) December 14, 2014
What Boston Received in Return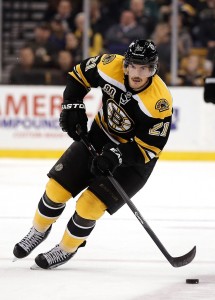 Eriksson 29 years old, from Gothenburg, Sweden, was an excellent two-way forward with Dallas. He had 4 straight seasons with 25+ goals prior to the lockout shortened season of 2012-2013 where he had 12 goals in 48 games. Over that span in Dallas, Eriksson missed only 3 games. Surely no one could have foreseen the unfortunate concussion related injuries Eriksson has sustained since the trade to Boston. That said, the NHL is a results business and Eriksson's production has dropped significantly with 15 goals in 91 games since the trade.
Reilly Smith and Matt Fraser were two of Dallas' top forward prospects. Reilly Smith 23 years old, from Toronto, scored 20 goals and 31 assists last season in 82 games with the Bruins. This season his production has slipped to 7 goals and 8 assists in 30 games.  Meanwhile, Fraser, 24 years old from Red Deer, Alberta, has 6 goals and 2 assists in 47 career NHL games.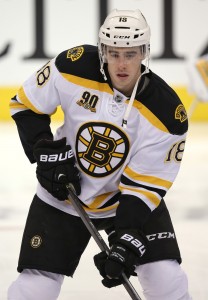 Joe Morrow, 22 years old from Edmonton, Alberta, is a former first round pick of the Pittsburgh Penguins.  However, Boston is his 3rd NHL team and he projects to be no more than a bottom pair depth defenseman.
Rich Peverley and Who Wins This Trade
Similar to the post trade Eriksson situation, no one could have predicted the Rich Peverley health issue. The 32-year-old from Kingston, Ont., put up 7 goals and 23 assists in 62 games before collapsing during a game against Columbus on March 10th 2013 due to a cardiac issue. It was a scary scene that led to Peverley being resuscitated by the Dallas medical staff.  On March 19th Peverley had successful heart surgery, but the incident may have ended his NHL career.
In conclusion, barring a return of the old Loui Eriksson and Smith or Fraser developing above expectations, the Stars are the clear-cut winners 16 months after the trade.
I have a Bachelor of Arts Degree is Sociology from Bridgewater State College. I have covered amateur hockey prospects with Texas roots for the scoutingreport.org, and I am a Dallas Stars writer for The Hockey Writers. I can be reached via Twitter @EdTexmass09.