Grinders. Every team has them. Every successful/winning team needs them. That's exactly what Ryan Carter of the New Jersey Devils is — he's definitely not the fastest player, he's not a goal scorer or a power forward, certainly not a sniper (although he'll jokingly tell you different, especially after he scores a goal); he's a grinder, and is willing to do whatever it takes to help the team win. Just like Jay Pandolfo, John Madden, Valeri Zelepukin & Sergei Brylin before him, he knows his role and is happy to play it. He could probably play in any era of Devils Hockey as an almost perfect fit among their interchangeable flock of forwards.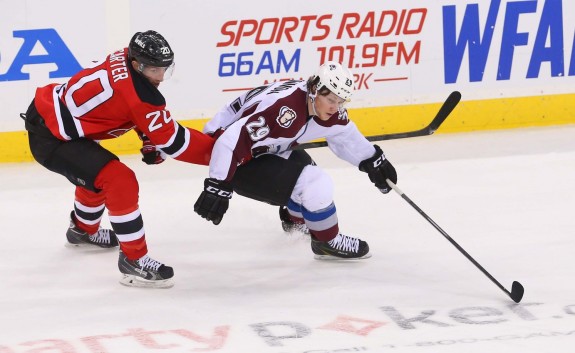 He also has a great sense of humor (see below), he's well liked by his teammates and the 30-year-old may have found a home (he is a UFA this summer) in the Garden State after stops in Anaheim, Carolina and Florida. The White Bear Lake, Minnesota native was a big part of the Devils playoff run in 2012 — with five goals (2 GWG's) in 23 games played — that saw them fall two games short of winning the Cup; this season he also has 2 GWG's.
Ryan Carter does have some finish in his sticks, just ask Jaroslav Halak:
Recently the Hockey Writers spoke with Ryan Carter and asked him about having his name etched on the Stanley Cup, what it's like to play against a team that didn't want you anymore and why the CBGB's line has worked so well together.
The Hockey Writers: This was a big win for your team tonight against the Florida Panthers as you try to climb into a playoff spot…
Ryan Carter: For sure, we needed this; the last few shootouts losses were pretty demoralizing. But you're never out of it until you are officially out of it so we needed to make sure we responded tonight and win. We battled a little adversity there giving up a big lead and (letting them) make a game of it but we showed some character and that's what you need this time of year.
THW: Last game against the New York Islanders you guys had only two shots on goal in the first period; tonight you registered 18 in the first 20 minutes. Was getting more pucks on net a topic of conversation heading into tonight's game?
RC: Yeah, we know starts are important to set the tone for the entire game. There is a difference playing at home vs. playing on the road too; we had a little more jump tonight to start the game. As a result that's why we got the three-goal lead and went from there.
THW: You made a really nice pass tonight on Jacob Josefson's shorthanded goal, his first goal of the season. You two looked pretty excited when that puck went in…
RC: That one felt pretty good; like I said we were maybe a little deflated going into the second intermission (with a 4-3 lead after being up 3-0). To get that two-goal cushion again, it was nice.
At the 2:20 mark Ryan Carter makes a perfect pass to set up Jacob Josefson's first goal of the season:
THW: Where did all of these goals come from tonight?
RC: From Travis Zajac's stick (smiles), I'd steal one if I was a righty; I'd steal one.
THW: It's been a while since you've been a part of the Panthers organization now, but do you still get up for games playing against former teams?
RC: Ahhhh, yeah…You know, typically I would; Florida, I don't even know if you could say I had a 'cup of coffee' there. I left and the coffee was still hot (laughs), but yeah it's good to beat those guys. I got picked up on waivers (by New Jersey from Florida) so, you can look at it any way you want – maybe they thought I wasn't good enough to keep around there. Yeah, you definitely use that as a little motivation and try to play well against them for sure.
THW: You've been in and out of the lineup this season a bit, but for the most part since the start of the 2012 playoffs you've been on a line with Steve Bernier & Stephen Gionta (the CBGB line); what makes you guys click together?
Remember Ryan Carter's memorable goal (assisted by Stephen Gionta) in Game 5 vs. the New York Rangers?:
RC: I think now we've had some time to play together, we know each other pretty well (on & off the ice). Sometimes coaches change things up to get a spark on some other lines, but with us what works is that we know each other, we know what we're going to do and we can anticipate each other. It's a game of split seconds out there and the familiarity along with the ability to anticipate and take advantage of those extra split seconds.
THW: People might not remember you started your NHL career with the Anaheim Ducks and you were on their team that won the 2007 Stanley Cup. What was that like and what did you do on your day with the Cup?
RC: I came up and played just the playoffs with that team, so I don't really feel like I won a Stanley Cup; you know, I was there and it's cool to say. But the playoff run I had here in New Jersey in 2012 was much more personally fulfilling. What winning the Cup did do was give me a taste for what it's like and made me hungry obviously to win another one. Some guys never get there, never play in the Finals; they don't know what it's like — how cool it really is. I'm grateful for that experience.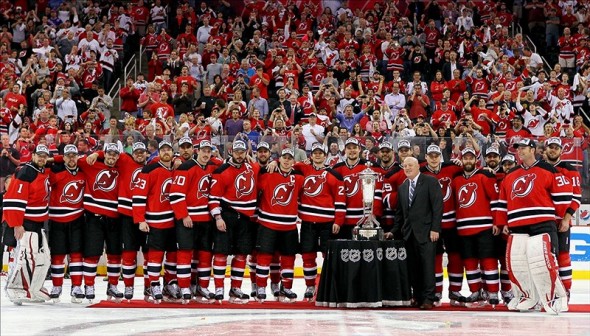 THW: Obviously an extremely disappointing end to the 2012 Finals for you and this team; having already experienced a Cup win, did it or does it still eat at you after coming within two wins of another?
RC: Oh yeah, it tugs at you. You look at guys in this room, guys like Zubie (Dainius Zubrus) who went like a thousand games between his Finals appearances. You realize that we were there, and not everybody gets there. A lot of it's luck where you get on a team that the pieces fall into place and you maybe get a chance or two at it and that's it. That's a tough pill to swallow when you realize it's not that easy to get there; unfortunately you give your best and all your effort but the outcome (we wanted) wasn't there.
Dan Rice can be reached via Twitter: @DRdiabloTHW or via Email: drdiablo321@yahoo.com