"Our fans are the coolest in the NWHL," Sydney Kidd replied, her face lighting up and smiling from ear-to-ear while talking to the media following the New York Riveters game against the Buffalo Beauts. "No one gets as excited as them; I've never played in front of such electric crowds." As she continued to answer questions, that enthusiasm and smile never wavered; oh by the way, this was minutes after her squad dropped a gut-wrenching 6-5 shootout loss in front of their home fans. And yes, Sydney Kidd is her real name, and yes, she knows that the nickname comparison to another Sid the Kid is inevitable; but more on that later.
Following her media obligations Kidd hustled around the rink to the concourse area at the Aviator Sports & Event Center where she joined the rest of her teammates to sign autographs for all of the fans waiting to meet their heroes. All of the players were there minutes after the loss, smiling, taking pictures, making new friends and inspiring a younger generation of future hockey players. For Kidd, her story is a bit different from some of the other girls as she joined the inaugural NWHL season from Canada, so there was a bit of an adjustment period on and off the ice.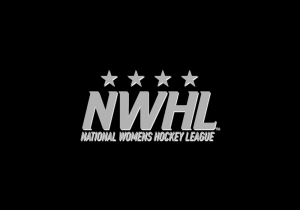 Coming from a small town, now she is living in one of the most populated cities in the world — but moving to play hockey is nothing new for Kidd as she moved to boarding school at the age of 14 to play hockey. Obviously missing her family, she has made sacrifices to be one of the trailblazers in the NWHL and they are easily able to see her play for the Riveters when they trek up to Buffalo; New York plays there two more times this season (January 31/February 21). A bunch of the other NWHL players have second jobs, some even third jobs (Hi Gabie Figueroa) as they don't get paid like NHL players, yet, but Kidd is unable to because of her visa. But that doesn't mean she has been idle — between games she works out, gets out on the ice at Aviator to work on her game, and lends a helping hand to the Rivs athletic therapist with errands and such.
"I'm really starting to find my groove on defense again; I've played forward my last couple of years at University hockey (Western University). Being back on the blue line I think I'm playing a pretty responsible game," Kidd said with a smile. "I'm not a playmaker per say but I think I do the little things right out there, so I'm happy about that."
Sydney shows us a small glimpse into her sense of humor:
Walking in to video session like… pic.twitter.com/K6cxe17Upy

— Syd Kidd (@SydtheKidd4) January 14, 2016
Following the game Sydney Kidd was gracious enough with her time to answer a few questions from The Hockey Writers and she gave us a glimpse into how she is fitting into a team that she knew no one on, the Riveters' December trip to Japan, and being a small town girl in a big city among other topics.
The Hockey Writers: Is it challenging for your team to play only five players on defense (like you did tonight vs. Buffalo) or are the coaches able to space out the minutes on special teams where it isn't much of a factor?
Sydney Kidd: For me, I'm more of a penalty killer so I know the girls playing on the power play were going, going, going that whole second period. I think that starts to take a toll on you. I think we're in pretty good shape at this point (of the season) but we can always be better. That second period was a bit of an anomaly — we had a lot of power play time — sometimes that wears on you, but there's not much to do about it. They put the pucks in the net, so they did their job out there.
THW: All of the girls in the league have the flags of their home country on their shoulders. When did you realize that the NWHL was going to be doing that and was it a surprise to you?
SK: I didn't know until I watched the first game. I watched our first game from Canada because I had work visa issues; so when I saw the players walk out with their flags (on their shoulders) I thought that was really cool. It's nice to see all of those Canadian flags (nine) on the Buffalo team too, it's people I grew up playing against and knew about. It's cool.
Defenseman Sydney Kidd of the @NYRiveters lining up for an offensive zone faceoff. #NWHL #Riveters pic.twitter.com/A2uIkzsEp0

— Mike Murphy (@DigDeepBSB) January 5, 2016
THW: Was it a challenge at all for you when you came to this team, most of these girls know each other from college as rivals, while you only have two other Canadians on the Riveters?
SK: I didn't realize how close-knit the hockey community was in the States because I wasn't a part of it and I sort of came down here a little bit later too (because of the work visa issue); I just tried to fit in right away. They welcomed me with open arms — like I can't imagine walking into a more welcoming organization. Everyone is amazing.
THW: Can you tell the fans a little bit about how the trip with your teammates to Japan was in December?
SK: It was a whirlwind that whole trip. Of course you're there to play hockey, but first you want to do everything you can — I never really considered going to Japan before (grins) — I don't know how many people make it there. For me it was a cool, cultural experience….I'm not a big fan of raw fish though (laughs), but the Japanese noodles are great too. Tokyo is like the cleanest city in the world.
THW: How has the transition been for you living in New York City after growing up/living in Ontario?
SK: Toronto is a big city for me because I'm from a town (Sundridge) of a thousand people; we don't even have Tim Horton's in my town, which is crazy, for Canada. Living in New York is nuts, luckily I live in the Rockaways area, which feels like home to me because it's so small. But when I venture into the city, it's just like a whole new world. It has a lot of energy, and you can get anything you ever wanted, you can do anything you ever wanted to do in the city. It's really cool, and I'm excited it's snowing now (smiles). It's like Toronto, but it's almost like Toronto on steroids or something — it's so much more.
THW: Being from Ontario, are a you a Blue Jays fan? Were you following their postseason run closely?
SK (face lights up and smiles): Yup. Because I was stuck in Canada I ended up getting tickets to the ALCS for a game that we lost to Kansas City, so then I was rooting for the Mets, because the Royals beat us (grins). It didn't really work in my favor though, but I love the Blue Jays. But I did buy a Yankees hat because I just kind of thought you're supposed to buy a Yankees hat when you come to New York City.
https://twitter.com/nwhlfuture/status/670850474799702017
THW: Before we say goodbye we have to ask you about your nickname — Syd the Kidd — which is obviously similar to Sidney Crosby's nickname; how often do you get asked about that by silly people like myself?
SK: Sometimes people think they're the first person to make that connection (laughs), and I'm like: 'you know I've heard that like three million times!' It's ironic. It's even worse if you put my first initial and my last name together, because it's Skid, so, as long as people don't figure that one out — I appreciate the Syd the Kidd nickname. But when people find out that, they say 'your nickname is Syd the Kidd?' and I say yeah, and I play hockey. Then they're like —'oh my god, what were your parents thinking?'
Sydney Kidd can be found on Twitter: @SydtheKidd4
Dan Rice can be reached via Twitter: @DRdiabloTHW or via Email: drdiablo321@yahoo.com.