Over the last few decades, the game of hockey has undergone quite a number of changes on many fronts. On the one hand, the speed and pace of the game changed, but coaching strategy and team structure have also undergone their respective transformations.
Recently, The Hockey Writers had a chance to speak with New York Islanders' statistician Eric Hornick to discuss some of the advancements and shifts that the game of hockey has experienced over the years. Not only has Hornick been around the game of hockey for more than thirty years, his involvement with the Islanders, MSG Networks, and the statistical side of hockey allowed THW to see a side of the sport that few have ever had a chance to experience or relay: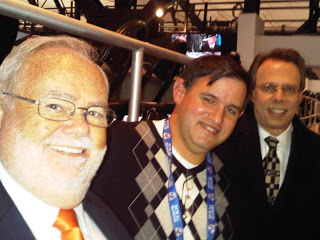 The Hockey Writers: For those that might not know who you are, can you tell THW how you came to be attracted to the sport of hockey, and specifically the New York Islanders?
Eric Hornick: "Well, I actually remember watching a couple of games of the old Long Island Ducks, but when the Islanders came into existence in 1972 I was 8 years old. I grew up on Long Island, so it was certainly the right team and the right time and quite frankly when it comes right down to my obsessive nature related to everything with this team, I blame Chico Resch," said Hornick jokingly. "It (the 1975 playoffs) just captivated me and I've never really let it go since then. I've had the pleasure over the years to have many a meal with Mr. Resch and we talk about that year quite frequently, and it's really an understated year in Islanders history."
"I became involved in the broadcasts in 1982 – I was a high school senior and convinced Jiggs McDonald that I could be a good addition to the telecasts and I have been there ever since. In fact, the blog I write (NYISkinny.com) is named after a segment Jiggs helped create for Islander post-game shows in the early 90s. I worked with Jiggs for about 13 years but have worked actually with Howie Rose for a lot longer as Howie started doing Islander television in 1995."
"In recent years, the team has also referred to me as their Official Statistician and my statistics appear in the team media guide and game notes, as well as in "The Skinny", which the team publishes on their website."
THW: As someone who has had the pleasure of watching the Islanders so close to home, you recently tweeted that your son wouldn't be able to have the same opportunities that you had in terms of watching the Islanders play because of the team's relocation. Could you possibly explain what the Islanders' move to Brooklyn will mean for its fan-base?
EH: "Without getting too political about it, for young children growing up on Long Island (particularly those in Western Nassau County and Suffolk County), the move to Brooklyn will really separate them from their team. We live about 15 minutes from the Coliseum right now and my younger son is totally obsessed (with the Islanders). Part of the reason that they were so important to me when I was growing up is that they were so close and you're not going to have that now. Obviously, Brooklyn is the best choice when compared to Kansas City or Quebec or Seattle or any of these other places that were potential rumored destinations. They're still in the same television market, and from my standpoint, 330 days a year it is probably the best thing for them, but the 35 games a year that I go to might be a little bit less convenient."
THW: Speaking of the Islanders' move to Brooklyn, what are some of your initial thoughts on the Barclays Center?
EH: "I've been in the building once and it wasn't for an Islanders game. We went to a Nets game back during the lockout last November and the building was absolutely gorgeous, there's no question about that. With that being said, I haven't seen how it looks set up for hockey, and that's something that everyone is interested to see. For one exhibition game it was set up one way, and we'll see if that's the set up for all the regular season games come 2015. Transportation-wise, it will just be, different. I used to commute to Wall Street and I would frequently go through the Atlantic Avenue station so it's certainly a doable commute. I just think the biggest issue that they're going to have is making sure that they have enough trains after games to get people back to Long Island in a convenient fashion so it doesn't become a burden."
THW: You mentioned the role that Chico Resch played in getting you to follow the New York Islanders in the early 1970s. Since you have worked as the Islanders' statistician, can you name a fondest memory that you have had with the team?
EH: "I think that varies from year to year, but looking back, I started doing this when I was 18 years old and the first game I did was the first game of their 15-game winning streak in 1982. The 15th straight win (over Colorado on February 20, 1982) beating Chico Resch ironically, came on a John Tonelli goal late in the 3rd period (19:13 of the third) of an NHL that did not yet have overtime for regular season play. The streak would have ended less than a minute later had Tonelli not beaten Chico to win that fifteenth straight game, and they're still the only NHL team that has ever been better than somebody else fifteen straight times in a 60-minute game."
"I think one of the biggest memories was that very first playoff series with Pittsburgh that (1982) spring. The Islanders destroyed the Penguins in the first two games at the Coliseum and that series was going to be a rout; all of a sudden Pittsburgh managed to win games three and four of a best of five bringing it back to the Coliseum for that fifth and deciding game. I think everyone knows the story by now, but the Islanders trailed that game 3-1 late in the third period and Al Arbour came up with this idea that it was time to change goaltenders – not because he had anything against Billy Smith, but his offensive players needed a rest. In those days, when you changed goaltenders, the incoming goaltender got a warmup period. This later became known as the 'Al Arbour Rule' when they eventually banned (the warmup) because what happened was that the Islanders eventually tied the game and then Tonelli won it in overtime to win the series."
"I also fondly remember that tremendous playoff run in 1993. Ray Ferraro was credited with two overtime goals against Washington and should have been credited with the third; I wasn't in Pittsburgh for David Volek's goal but that game, capping that series, was truly memorable."
"Howie often refers to the 2001-02 season as a renaissance year for the Isles. If you were in the building when Shawn Bates beat Curtis Joseph on a penalty shot that spring, you will never ever forget it."
"And of course watching John Tavares and mates mature over the last couple of years has been great too. That Islander – Ranger game at the Coliseum with a couple of weeks left in the regular season last April was absolutely riveting (even if Dan Girardi won the game for the Rangers 1-0 in OT). What I really remember though was having my boys each see two games in the playoffs against Pittsburgh – to experience that feeling in the Coliseum for themselves – that was really special. Of course those games were also a bit bittersweet – I wondered then, and do now, was that the last important Islander-Ranger game at the Coliseum? Were those the last playoff games at the Madhouse off the Meadowbrook? Time will tell."
THW: You mentioned the "Al Arbour Rule" and how it affected the NHL in the 1980s. How do you think coaching strategies, and the game of hockey in general have evolved in the last few decades?
EH: "One of the reasons that the game has changed over the last few decades is that there are just many more coaches. If you were to look at the video from the early years of the Islanders winning the Cup, particularly the first one, there's no assistant coach on the bench with Al Arbour; it's just him. Gretzky's Oilers, started scoring 400 goals a season (that's five goals a game). Over time, teams started to teach more about defense and the old adage, 'Defense wins championships', and that's one of the reasons that scoring has dropped so much in the league. You almost never see a team score five goals a game, and if you do you're almost always blaming the goalie."
"So that has certainly been the biggest change, that scoring has been down in the league overall, and the game is definitely faster right now than I think it has ever been. After the '04-'05 lockout they opened up the game and changed the rules (to eliminate the clutching and grabbing), and the game now just flies. There used to be a radio announcer in Washington by the name of Ron Weber; Ron was the original voice of the Capitals, and he used to open his radio broadcasts with the words, 'We bring you the world's fastest professional team sport' – and it [his quote] is no less true now, in fact it's even more true now in regard to how quick the game is."
THW: After the Islanders made a playoff run during Garth Snow's first year as the team's General Manager, many classified the Islanders as a mercenary team. Watching the development of this team, it seems that the Islanders are successfully transforming into the mold of a speedy and transitional team after embarking on a dedicated rebuilding process. What are some of your thoughts on the product that Garth Snow has assembled and the vision that the team has stuck to over the last several years?
EH: "I think Garth is just starting to get some of the credit for putting together what is a really solid team. You're seeing these kids grow up, and as a parent there's nothing more satisfying than to watch your kids grow up, and I think that's what Garth Snow is seeing with this Islanders team. You saw it a little bit early last year and into the playoffs and certainly continuing on into this season. John Tavares gets better seemingly every night. Josh Bailey, who probably was in the NHL a little too soon based on his performances his first couple of years has really developed into a solid player and you can see him getting better and more confident with every game. The same goes for Kyle Okposo; the core of this team is still very young and they're growing up together and that can only serve them well in the years to come."
THW: I'm sure you've heard of Sabremetrics, Billy Beane, and the whole concept behind 'MoneyBall' and the Oakland A's' use of advanced stats in building a contender on a rather slim budget. With the use of advanced stats in hockey garnering some notoriety in the last few years, do you see such advanced stats making as prevalent a breakthrough or impact in hockey as they did in baseball?
EH: "I certainly wouldn't say yet, and I don't know if they ever will. There are some people that will tell you that it's the way to go and there are definitely some teams that are following them more carefully more than others. What makes those stats easier for adaptability in baseball, particularly from a broadcast standpoint, is that there is more time. There's time to explain what these things are and what they mean. With Corsi, it's trying to explain even-strength shot differential, and it's not something that you can do quickly, it's something that you need to spend some time with, and it makes it more difficult for people to grasp."
"There are also stats such as zone-starts, and that caused quite a controversy on Islanders television a couple of years ago when John Tavares wasn't named to ESPN's 'Top 25 Under 25' list."
"Howie Rose and I talked about it before the game and during the broadcast Howie went off on a wonderful rant on a Washington-based writer named Neil Greenberg and what he had written. Greenberg's logic was that Tavares was getting a disproportional number of zone-starts in the offensive zone, then that was the reason for him leaving Tavares off of the 'Top 25 Under 25' list. Some of those things [stats], while they are useful, they're not as straightforward as they are in baseball. Just because of the nature of the game, baseball lends itself to it as you can discuss these types of things between pitches whereas you don't get that in hockey and I think that that is one of the reasons that it takes a little bit longer for it to be adapted."
THW: As an individual that has been looking into stats longer than most fans, are there any ways that you see people misusing or misunderstanding new statistics?
EH: "When I was in High School, I wrote a paper and it was based on a book," said Hornick. "'There are three types of lies: Lies, Damned Lies, and Statistics', and you can definitely craft numbers any way you want in order to have a point. It becomes dangerous if you put those stats in someone's hands and they don't understand all of the intricacies and go between and behind the numbers – that's something that you also have to be careful with. Oftentimes, simple stats are the better ones. Also, one other thing for statistics, correlation does not imply causation, and people should always remember that when they think about stats."
In his third year with The Hockey Writers, Toli covers all things related to the New York Islanders. Focusing on the Islanders, the NHL Draft & draft-eligible prospect goalies, and hockey history, Toli can be contacted on Facebook by searching/messaging Toli Metter and on twitter by searching @ToliMetterTHW.