After not making the New Jersey Devils opening night roster in October Reid Boucher, who scored 62 goals last season in the OHL, was sent down to the Albany Devils in the AHL. He could have very easily sulked, and for some players it would have been a hard pill to swallow after such a stellar performance last season. Instead the 20-year-old used it as motivation and put up 18 points (10g-8a) in 21 games before New Jersey finally called him up to the show on December 4 when Ryan Carter went on IR.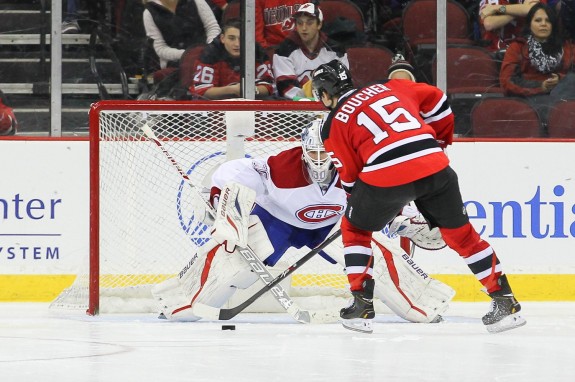 "I thought he had good jump, he was feeling pretty good about his game. I thought he was good," said coach Peter DeBoer after Boucher's first NHL game (a shootout loss to Montreal in which he scored the Devils first and only shootout goal of the season). "He had a good, solid game; which will get him another game and we'll see where that goes."
That second game (against Detroit) wasn't as good a performance for Boucher, but he still earned a spot in the lineup the following night at MSG against the New York Rangers where he started the game on the top line alongside Travis Zajac and some guy named Jaromir Jagr. With young players like Boucher it's not too often they get called up and play top-6 minutes, but the Devils have given him that (including PP time) as they try to find some more offensive punch as the season rolls on into December.
Reid Boucher was the first Devils player to score in a shootout this season:
After the game against the Detroit Red Wings the Hockey Writers caught up with Reid Boucher to talk about his NHL debut, his time in Albany this season and if he knew the Devils were targeting him during the 2011 NHL Draft.
The Hockey Writers: You played your first NHL game two nights ago, were your parents able to make it to the game?
Reid Boucher: They couldn't make it for the first game, but they are here tonight.
THW: Were they able to watch the game at least?
RB: Yeah there was a pretty big gathering at a local bar back home (Lansing, Michigan); my extended family was at the bar watching tonight's game also.
THW: What do you remember about the day you were drafted by the Devils in the 4th round of the 2011 NHL Draft?
RB: I had a small group with me, my parents & my agent and I was very happy.
THW: Was it unexpected that you went to New Jersey? Did you think maybe another team had you targeted?
RB: I only met with a couple of teams and New Jersey was one of them, (smiles) so I made sure I paid attention when they were drafting.
THW: You were in training camp this season and didn't make team. Were you disappointed when you were sent to the AHL (Albany Devils)?
RB: Of course I wanted to stay up here, but I just went down and worked as hard as I could. I tried to get back up here as fast as I could.
Reid Boucher scores one of his ten goals with Albany this season:
THW: How was the experience of playing in AHL during the last two months for you?
RB: It was good; I had a lot of fun and enjoyed it. That's a real good group of guys down there. I was fortunate enough to put a couple of points on the board.
THW: You had an assist & a shootout goal, how did you feel after that first game the other night against the Montreal Canadiens?
RB: I felt good; I was feeling pretty confident. I tried to carry that over into tonight's game, but I just wasn't able to get much going.
In his first NHL game Reid Boucher assisted on Michael Ryder's third period goal:
THW: You started the first game on a line with Patrik Elias, who's the most prolific scorer in Devils history, what was that like for you?
RB: He is, very good; it's just easier to play the game when you have a guy like that on your line. He just makes all the right plays and it puts you in all the right spots.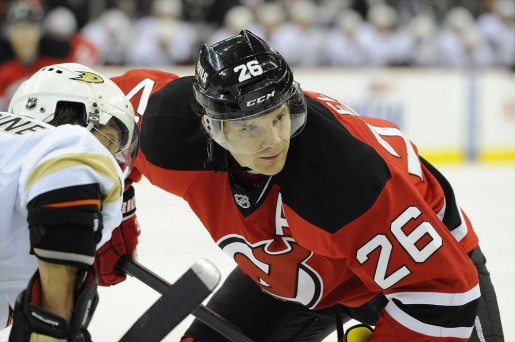 THW: Is there a lot of communication on the bench to ease you into the team?
RB: Yeah, Patrik talks to me throughout the games; he's always talking on the ice too which helps out a great deal.
THW: You're pretty well known for what you did in Junior Hockey last year, scoring 62 goals. I'm sure you've answered this question a million times, but what was that season like for you? Were you in a zone the whole time?
RB: Yeah it was unbelievable (grins widely); I would just go into games feeling that I was going to score that night. It's a great feeling and I was fortunate enough to carry it through the whole season.
Watch as Reid Boucher ties & then breaks Steven Stamkos' record for goals with the Sarnia Sting of the OHL:
Dan Rice can be reached via Twitter: @DRdiabloTHW or via Email: drdiablo321@yahoo.com
Dan Rice is in his 9th year of reporting for THW & has covered NJ Devils home games for 15+ years at various websites. He began his journey working for legendary broadcaster/writer Stan Fischler from 2002-04 & completed an internship at the ECHL; he also has been writing features for the NWHL (nwhl.zone) website since 2016.