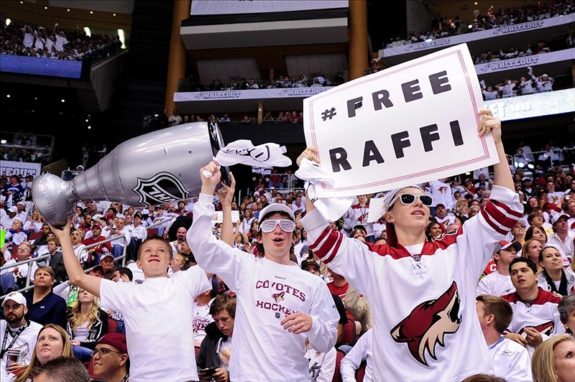 Remember when the Phoenix Coyotes were owned by the league for roughly four seasons, operated while losing money every year, with the league refusing to sell to anyone wanting to relocate to Canada? Well, the Coyotes finally sold and are locked in to another 15 year lease to remain in Glendale. For some reason, the league rejoiced. My question is why?
The Coyotes are once again in the bottom third of the league in attendance. In fact, they are dead last.

This is nothing new for the franchise. They have historically struggled to sell seats, despite putting together successful teams the past few seasons. Since the 2009-2010 season, the Coyotes have made the playoffs every year except last year's lockout shortened season. Since 09-10 they have finished 4th, 6th, 3rd, and 10th respectively in the conference and are currently situated 8th in the conference. The attendance figures for those seasons are repulsive.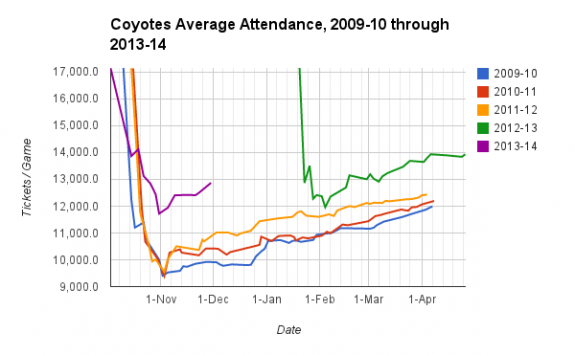 This team is not an organization that's been at the bottom of the barrel. This is a team with playoff aspirations and a solid core in place, and quite frankly Phoenix does not deserve to have a hockey team. Since 2000, the Coyotes best attendance totals came in the 2005-2006 season. They averaged 15,582 which is good for 85% capacity.
The league was adamant that new ownership would bring about better attendance in the area. When the team was sold, Gary Bettman released a statement saying, "The National Hockey League believes in Arizona as an NHL market and that these new owners can provide the Coyotes the opportunity to secure a stable, long-term future in Glendale."
Phoenix Coyotes, still last in NHL in attendance, down even from last year. Wasn't it all about stable ownership?

— Adrian Dater (@adater) December 3, 2013
The NHL, specifically Gary Bettman, should have admitted  failure in this particular market and relocated. They had the opportunity to throw in the towel in Phoenix and move to a more hockey friendly market to the north and chose not to. Now the entire league suffers as a result.
Since the league can't do anything about it now, they might want to figure out their next problem; The Florida Panthers.
Check out our partners at TiqIQ for the best deals on Phoenix Coyotes tickets for all 2013-14 games.
Damien is a contributing writer covering the Philadelphia Flyers for The Hockey Writers and Buzz On Broad. He is finishing up a degree in Communication and Sport Management from DeSales University and is currently a Digital Media Intern at Comcast SportNet Philadelphia.