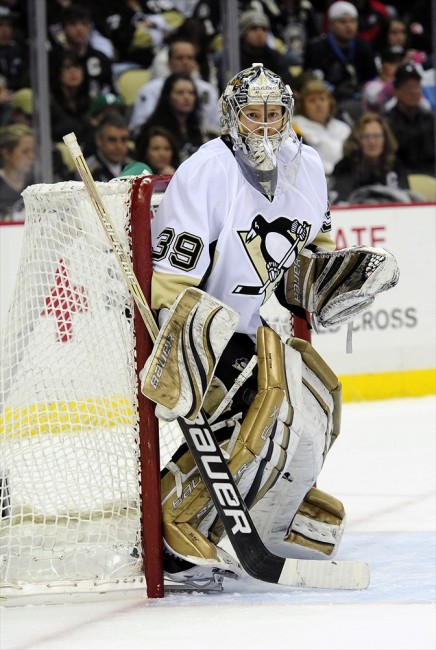 If there is one position that the Norfolk Admirals have under lock and key that position is goaltending. The parent club, the Anaheim Ducks, has solidified that position in the past couple years acquiring John Gibson, Igor Bobkov, and Frederik Andersen all who have seen ice time with Norfolk this season.
Earlier this season, the Norfolk Admirals bolstered their presence in-net signing Brad Thiessen to an AHL deal in November. The 27-year-old came to Norfolk after being released from HIFK in Finland's Elite League where he appeared in 15 games. The Aldergrove, BC native also spent four seasons in the Pittsburgh Penguins organization.
TheHockeyWriters.com chalked up with Thiessen earlier this season discussing a wide variety of topics in a Q&A style interview.
THW: Most kids grow up wanting to be skaters. What made you want to be a goalie?
B.T.: My first year of organized hockey I tried a little bit of everything forward, defense, and goalie. I liked being back there by myself and being able to play all the time and not having to sit on the bench.
THW: How does a goalie's mentality compare to a skater's mentality?
B.T.: I think focus is a big thing. You're on the ice for 60 minutes. You always have to be focused on what's going on out on the ice. You really can't take any breaks or let your mind wander. When you're a player, it's a 45-50 second shift, but when you're a goalie you have to stay focused.
THW: After college you signed on to play with the Pittsburgh Penguins. How did it feel to sign with a NHL powerhouse?
B.T.: It was a big thrill. It was something you've worked your whole life for–to sign a NHL contract. I was really grateful that Pittsburgh was interested in me and gave me a chance.
THW: How was it sharing the room with Malkin, Crosby, and some of the NHL's elite?
B.T.: The first couple times you're in the room and you see those guys, its surreal. You're watching them on TV, then you're in the room hanging out, and then you're practicing with them. It was definitely a thrill and they're all good guys that treated me great when I was there.
THW: You played some games in the NHL. What was the biggest adjustment jumping from the AHL to the NHL?
B.T.: The speed of the game was a little bit quicker, trying to calm your nerves out there at the beginning is big, and being able to get some wins which was nice too.
THW: What emotions did you have before your first start in the NHL?
B.T.: You think of all the people that have helped you get there. My Dad was able to fly out, my wife came out, one of my brothers, and one of my cousins. I was able to have some support and I wanted to enjoy the moment as well. It's something you've worked hard for and it's something you want go out and have fun with.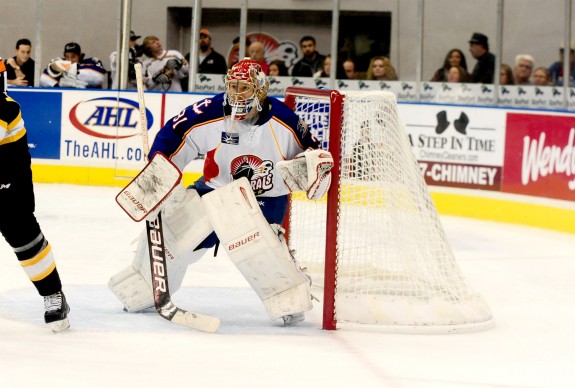 THW: You've given Norfolk fits in the past when you played with Wilkes-Barre. How does it feel to be playing in Norfolk?
B.T.: Being in Wilkes-Barre and playing here a lot, it was always a place I enjoyed coming to. It's a good city. I like playing in this rink. It's fun to play in. So when they gave me the opportunity to play here, I jumped at it.
THW: Development wise, what are you working to improve with your game?
B.T.: As a goalie you can always work on improving little things such as rebound control and being more aggressive. We have a really good goalie coach here in Sudsy. He's helped me out a lot since I've been here.
THW: With Norfolk being such a defensive style team, does that help you as a goalie?
B.T.: We have a lot of good defensive players. We block a lot of shots and our P.K. is excellent. As a goalie, you always have to say thank you to the guys in front of you for the things that they do.
THW talked to Admirals Assistant Coach Jarrod Skalde about Thiessen.
"He's a great goalie, he has kept us in so many games, and he won us hockey games. For me it's his professionalism and the way he handles himself on and off the ice. I can't say enough about him as a person and his abilities."
Skalde also touched on how it can be tough to decide on whom to start when you have great depth at the goaltender position, "It's a nice problem to have with Gibson and Thiessen. John Gibson is having a heck of a rookie season. When Thiessen is called upon, he's been there for us too. It's a nice problem to have, but some nights we would like to get him more support offensively, but they've won us some hockey games when we were unable to score."
With the goaltending talent the Admirals have it's something they can rely on going down the stretch and it's welcomed as Norfolk sits in sixth place in the tightly contested Eastern Conference.
Follow Ted on Twitter @Bauerhockeydude