The University of North Dakota is on a roll, going 14-2-1 over their last 17 games. Historically, UND is known for their patented second half runs. The current run is comparable to the 2007-08 season, when UND had an 18-game unbeaten streak and went 15-0-3. 
This weekend, the UND hockey team travels to Saint Cloud, Minnesota, to take on the Saint Cloud State Huskies in an important two-game National Collegiate Hockey Conference series. This series will go a long ways in determining who wins the Penrose Cup in the NCHC's inaugural season.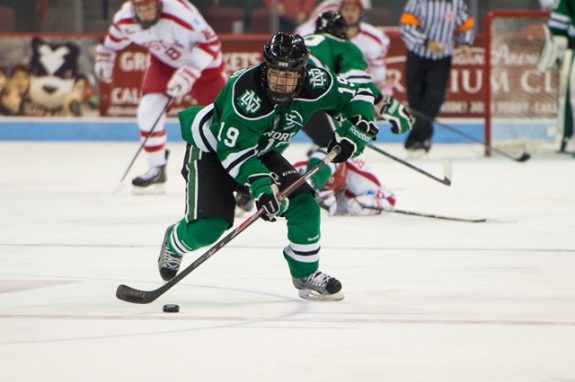 Conference title on the line
The SCSU Huskies (12-5-3-0 NCHC, 18-7-5 overall) and University of North Dakota (13-7-0-0, 18-9-3) are currently tied at the top of the NCHC standing with four games remaining in regular season.
Hot streak aside, SCSU is the only NCHC team that UND hasn't beaten this season. This weekend, the UND hockey team is looking to add the Huskies to the list of teams that they have beaten this season.
There's no question that the last series against SCSU left a bad taste in the UND player's mouths. No one likes getting swept at home.
"They have a good team," Assistant Captain Stephane Pattyn said after UND was swept by SCSU earlier in the season.  "Very good team in that locker room – energy wise – maybe we were strong, but we weren't doing the right things. We didn't get very many pucks on net today. Didn't get much traffic in front of him today, we have to get in front of his eye and we didn't do that today."
"Obviously there's a bad taste in our mouths," sophomore forward Rocco Grimaldi said. "It's going to be a good series. They're a good team. We're a great team, too. It's going to be two great teams going head-to-head. Should be a phenomenal series, and hopefully we come out with the six points we're looking for."
The #PenroseCup concludes its tour in St. Cloud this wknd. This morning it stopped by @KNSISports Radio in St. Cloud pic.twitter.com/PaMBlhqbDH

— The NCHC (@TheNCHC) February 26, 2014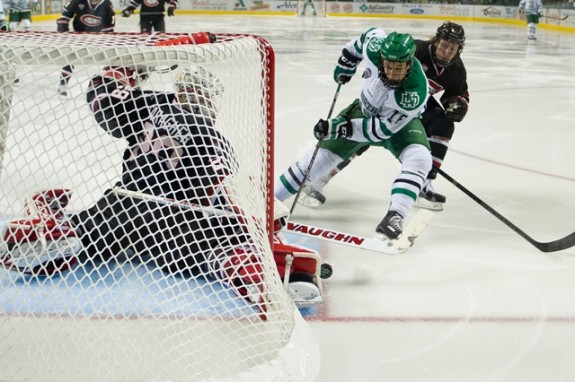 SCSU goalie Ryan Faragher has UND's number
Over the last couple of seasons, Husky goalie Faragher has had UND's number. In the last two seasons, Faragher has a 4-1-1 record against UND. This includes a series sweep earlier this season in Grand Forks. During his career against UND, the junior goalie has 6-3-1 record with a .940 save percentage and a 1.79 GAA.
Second verse same as the first.
At the Ralph Engelstad Arena, Faragher has been nothing short of amazing, compiling a 4-1-1 record, a.957 save percentage and a 1.50 goals against average.
UND hopes their fortunes will change this weekend against the Huskies. The Green and White need to emerge from this weekend's series with at least a series split, to keep their title hopes alive.
UND makes first appearance on the Olympic ice
After playing in the WCHA, where half of the teams had Olympic sheets of ice, this will be the first weekend that UND has played on an Olympic sheet this season. Grimaldi was asked if he likes playing in the Herb Brooks Arena.
"Obviously the Olympic ice is a lot bigger," Grimaldi said. "Some guys hate it, some guys don't. I don't really have a preference. I have played on Olympic ice a lot in the Nationals (World Juniors). Kind of used to it, and hopefully we can kind of adjust to the difference."
"But for me personally, I guess I will just try to use my speed a little more out there. Try to push their "D" back.   Hopefully have a good weekend individually and hopefully our team has a great weekend."
Friday night's game is on CBS Sports Network at 8:08 p.m. Central Time. If you want to watch some good college hockey. Check it out.