Each season there are countless overage players skating in their final year of Quebec Major Junior Hockey League eligibility while doing everything they can to catch the attention of an NHL franchise. These players want to show scouts that they were overlooked during their draft years and deserve an opportunity to play professionally.
Most players end up on university rosters somewhere in Canada while others might catch on with an ECHL team but there are always a handful of exceptions who sign on the dotted line of that coveted first NHL contract.
Matthew Highmore
You don't have to look far to find a success story for an undrafted QMJHL alumnus.
In 2016-17, Matthew Highmore was an undrafted overage forward playing in his fifth season with the Saint John Sea Dogs. The winger established career highs in goals, assists and points as he continued to put in the work despite twice going unselected in the NHL Entry Draft. Highmore's effort and dedication would eventually pay off as the Chicago Blackhawks came knocking and inked the QMJHL product to an entry-level contract on Mar. 2, 2017.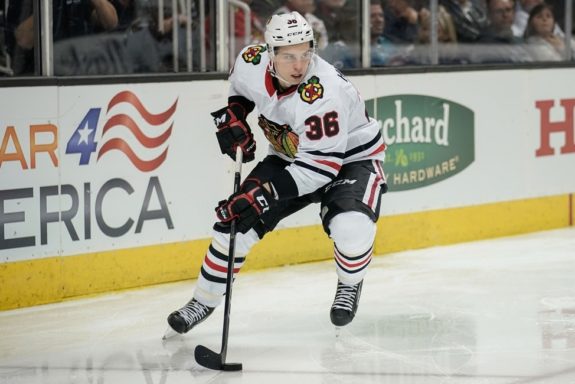 Highmore's success translated immediately to the professional ranks. The Nova Scotia native led the AHL's Rockford IceHogs with 21 goals during his rookie season before being called up to the Blackhawks for the first time on Feb. 27 – less than a year after signing his first NHL deal. Then, on Mar. 10, the former Sea Dogs' assistant captain scored his first NHL goal, further proving that the draft is not the only path to the best league in the world.
Maxime Fortier and Alex Barré-Boulet
This season has already seen two QMJHL overage standouts earn NHL contracts. The first was Halifax Mooseheads captain Maxime Fortier who signed with the Columbus Blue Jackets in November and the second was regular season scoring leader Alex Barré-Boulet who recently signed with the Tampa Bay Lightning.
Fortier has been a key player for the Mooseheads over the past four seasons. A three-time, 30-goal scorer with speed to burn, the 20-year-old has developed into a reliable two-way forward and a leader on the ice. The right-shot winger can contribute on the power play and also uses his speed to create chances while shorthanded.
The 5-foot-9, Barré-Boulet may be small in stature but makes up for it with his elite hockey sense. The Lightning prospect was the league-leader in goals (53), assists (63) and points (116) and can look to fellow undrafted Tampa Bay property Yanni Gourde as inspiration.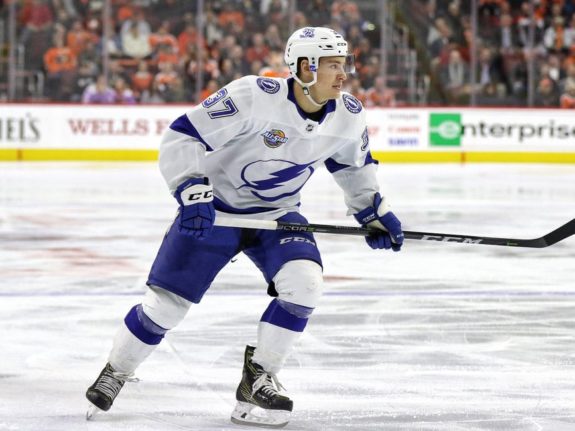 Looking to follow in the footsteps of Highmore, Fortier and Barré-Boulet in obtaining an NHL deal, there is a trio of QMJHL products who have separated themselves from the rest of the pack.
Samuel Dove-McFalls
Rimouski Oceanic
Standing 6-foot-2 and weighing 210 pounds, Samuel Dove-McFalls has a frame and skill set that should easily translate over to the professional ranks. Although he may not have the highest offensive ceiling, Dove-McFalls brings many of the intangibles that a coach looks for in his team's key role players.
The 20-year-old captain of the Rimouski Oceanic was a fourth-round draft pick of the Philadelphia Flyers in 2015 but wasn't signed by the club. Instead, Dove-McFalls returned to the QMJHL for a final season and has helped mentor super prospect Alexis Lafrenière while also posting career-highs across the board. The veteran's 51 assists paced his team and his 73 points were second only to Lafrenière's 80.
In addition to his impressive point totals and leadership values, Dove-McFalls excels in the dot and won 62% of 1822 draws he took in 2017-18. The Montreal native is also versatile and plays a vital role on both of the Oceanic's special teams.
The forward has a wealth of big game experience, having appeared in 40 playoff games prior to this season. He was an important piece to Saint John's QMJHL championship a year ago and played well in the Memorial Cup tournament. To cap everything off, Dove-McFalls was recently awarded the 2017-18 Guy Carbonneau Trophy as the QMJHL's best defensive forward.
Notre capitaine, Samuel Dove-McFalls se mérite le trophée Guy-Carbonneau en tant que meilleur attaquant défensif de la @LHJMQ ! Félicitations! #GoNicsGo pic.twitter.com/MrSry8I5ma

— X- L'Océanic de Rimouski (@oceanicrimouski) March 24, 2018
Olivier Galipeau
Acadie-Bathurst Titan
It was a breakout season offensively for fifth-year QMJHL veteran, Olivier Galipeau. The well-polished defenseman finished the 2017-18 regular season with 25 goals and 74 points, both of which were tops amongst all blueliners. The Montreal native generated plenty of chances for his Acadie-Bathurst Titan as he threw a career-high 271 shots on net, which eclipsed his previous career-best by more than 100.
Galipeau is widely recognized as a leader and good teammate but somehow has remained an underrated prospect. He was named captain of the Val d'Or Foreurs during his 18-year-0ld campaign and also captained the Chicoutimi Sagueneens to start 2017-18 before a midseason trade.
On the ice, the 6-foot-1 defender is solid in his own zone and is not afraid to play with an edge. The 20-year-old can throw the body to separate his opponents from the puck but also possesses a good active stick. A decent skater who can also get his shot through to the net, Galipeau has the skills required to make it to the next level.
Alexandre Alain
Blainville-Boisbriand Armada
A shoot-first winger with just the right amount of feistiness, Alexandre Alain brings an intriguing combination of skill and grit to the ice. Alain was a highly touted rookie prior to entering the QMJHL and was drafted ninth overall in the league's 2013 draft.
The Blainville-Boisbriand Armada forward has dealt with his fair share of adversity but has overcome each hurdle. With 44 goals and 87 points, the 6-foot-1 winger just wrapped up the most successful regular season of his QMJHL career and is poised to have a long postseason run with a loaded Armada squad.
Hard to find a better angle to witness the first goal scored in the 2018 #QPlayoffs! Here's @ArmadaBLB captain Alexandre Alain's shorthanded tally. pic.twitter.com/kFhGsE8Uct

— QMJHL (@QMJHL) March 23, 2018
Alain has attended NHL rookie camps with the Lightning, the Montreal Canadiens and the Anaheim Ducks in the past. He'll now be hoping to begin his next camp with a contract in his back pocket.
Honorable Mentions
The 2017-18 QMJHL class of unsigned overagers is not as strong as in other years but there are a few other players around the league who could garner some NHL interest before all is said and done. A few names that might be intriguing to NHL teams include goaltender Etienne Montpetit (Victoriaville), defenseman Adam Holwell (Acadie-Bathurst) and forward Nicolas Poulin (Sherbrooke).