The final installment of our three-part Quebec Major Junior Hockey League season preview series focuses on the always competitive West Division. Once again, we'll look at each team's top-five key players and season expectations as we gear up for what should be another great year of junior hockey.
Related: QMJHL Season Preview – Maritimes Division
Related: QMJHL Season Preview – East Division
Blainville-Boisbriand Armada
Key Players: Alexandre Alain, Joel Teasdale, Jeremy Roy (SJS), T.J. Melancon, Antoine Crête-Belzile
Season Expectations: The Blainville-Boisbriand Armada enter the 2016-17 season with a very experienced defense corps but have questions that will need to be answered in terms of scoring forwards and goaltending. The Armada could receive a huge boost if the Florida Panthers decide to return overage netminder Samuel Montembeault to the QMJHL for one last season but in terms of goal scoring, they will be relying solely on potential.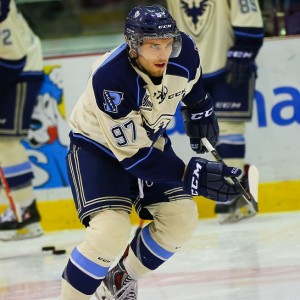 Blainville-Boisbriand's defense is unique as it will not feature any true rookies. Offseason acquisition and San Jose Sharks' second-round pick Jeremy Roy will anchor the veteran defensive unit. If Roy can remain healthy, he should be able to make a significant impact both offensively and defensively. Joining Roy on the backend will be well-rounded and dependable over-age blueliners, T.J. Melancon and Guillaume Beaudoin.
Rounding out the group are younger returnees Pascal Corbeil and Antoine Crête-Belzile. The offensively gifted Corbeil had a solid rookie year last season when he registered nine goals and 31 points and he will be looking to further improve those numbers this year. Meanwhile, big things are expected from sophomore Crête-Belzile who was the Armada's first-round pick a year ago. The promising rearguard will be looking for a big season as he aims to put himself on NHL teams' radars ahead of this June's entry draft.
Head coach Joel Bouchard's biggest challenge will be figuring out where all of his offense will come from. Newly acquired Alexandre Alain, the ninth overall pick in the 2013 QMJHL draft, will be given plenty of opportunities to improve his scoring output this season. Second-year player Joel Teasdale will also be one to watch and could be in line for a breakout year. The rest of the offensive load will likely be carried by older veterans Connor Bramwell and William Gignac, as well as import rookies Axel Simic and Christian Wejse. The opportunity is there for whichever forward can step up and take it.
The Armada enter the year with 18-year-old Francis Leclerc and 17-year-old Jacob Stewart in net. Combined, the two young goaltenders have a grand total of eight games of QMJHL experience going into the 2016-17 season so it's safe to say that the position is a huge question mark. The uncertainty will immediately disappear in the event Montembeault returns for his overage year but it remains to be seen what the Panthers have planned for their 2015 third-round draft pick.
Drummondville Voltigeurs
Key Players: Alex Barré-Boulet, Joey Ratelle, Pavel Koltygan, Frédéric Aubé, Olivier Rodrigue
Season Expectations: Newly appointed GM/Head Coach Dominique Ducharme brings a wealth of experience to his new team in Drummondville but that doesn't change the fact that the Voltigeurs are in line for another rebuilding season ahead. The Head Coach of Team Canada's next World Junior team will have his hands full as he looks to recreate the success he had with the Halifax Mooseheads.
The vast majority of Drummondville's veteran players can be found among their forward ranks. Last year's co-scoring leader Alex Barré-Boulet will be back and should once again lead the charge offensively. He'll be aided by overage forwards Charley Graaskamp and Joey Ratelle, who is fully healthy after dressing for only 27 games during the 2015-16 campaign. Also joining the fray this season will be Russian forward Pavel Koltygan who was the ninth overall pick in this year's CHL Import Draft.
The blue line will be led by 20-year-old Frédéric Aubé. The offensive defenseman registered a career-high 41 points last season and will be looking to improve upon that total in what will be his final year of junior hockey. The rest of the group is highlighted by promising youngsters Benjamin Gagné and Xavier Bernard.
The Voltigeurs will enter the season with three goaltenders on their roster, including last year's tandem of Anthony Dumont-Bouchard and Frederic Foulem. Looking to steal the starting netminder job, however, is top-rated goaltender Olivier Rodrigue. The third overall pick in the 2016 QMJHL Entry Draft has all the tools to become Quebec's next big goaltender and, if he can prove he's ready early in the season, the number one job should be his sooner rather than later.
Gatineau Olympiques
Key Players: Vitali Abramov (CBJ), Alex Dostie (ANA), Yakov Trenin (NAS), Nicolas Meloche (COL), Mathieu Bellemare
Season Expectations: Life without GM/Head Coach Benoit Groulx has officially begun for the Gatineau Olympiques. The long-time Gatineau bench boss has once again moved on to the AHL level in 2016-17 where he will coach the Syracuse Crunch. The Olympiques shouldn't miss a beat, however, as they will ice a lineup stock full of talented hockey players and have a new head coach who brings his own fair share of experience in Mario Duhamel.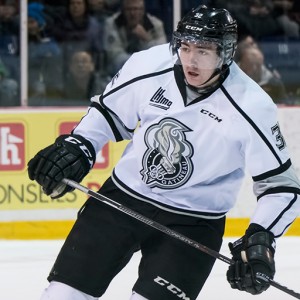 A popular choice to lead the league in scoring, sophomore Vitali Abramov should regularly wreck havoc on opposing defenses and goaltenders. The shifty winger put up 93 points as a rookie and saw his name called by the Columbus Blue Jackets in June as a result. Abramov will look to team up with fellow Russian Yakov Trenin and Anaheim Ducks' draft pick Alex Dostie to form a dangerous trio of scorers for the Olympiques.
Smooth skating and gritty defenseman Nicolas Meloche will anchor a veteran defense corps that also includes 20-year-old Marc-Olivier Crevier-Morin, 19-year-old Alex Breton, and 18-year-old Gabriel Bilodeau. The quartet should form a very steady and defensively responsible top-four for a Gatineau team that allowed the fewest goals against one season ago.
Speaking of allowing very few goals against, the goaltending duo that finished the season in Gatineau last year returns fully intact for the 2016-17 campaign. Starting netminder Mathieu Bellemare will be aiming to prove that his success last year was not a product of the solid defense in front of him. At the same time, backup Mark Grametbauer will look to further establish himself in the league and force Duhamel to give him more starts as the year goes on. Gatineau has two very capable goaltenders which is a good problem to have.
Rouyn-Noranda Huskies
Key Players: Martins Dzierkals (TOR), Jean-Christophe Beaudin (COL), Gabriel Fontaine (NYR), Jeremy Lauzon (BOS), Philippe Myers (PHI)
Season Expectations: The defending QMJHL President Cup winners will be in tough to repeat their title after losing several key players to graduation. Included among the departed are San Jose first-rounder Timo Meier, reigning league MVP Francis Perron, and Jacques Plante Trophy recipient Chase Marchand. It's not all bad news for the Huskies, however, as they still have quite a bit of depth at all key positions going forward.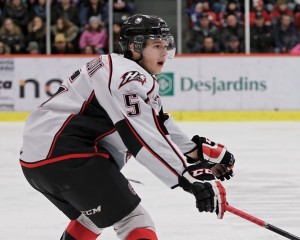 Leading the way up front is Colorado Avalanche prospect Jean-Christophe Beaudin and Toronto Maple Leafs' draft pick Martins Dzierkals. Both players scored at better than a point-per-game clip last season and should do so once again this year. Helping round out the top-six are New York Rangers' pick Gabriel Fontaine, overage forward Antoine Waked, and third-year player Mathieu Boucher. Rouyn-Noranda's first-round pick in 2016, Evan MacKinnon, also made the team opening night lineup and is worth keeping an eye on.
Rouyn-Noranda's blue line features a two-headed monster that should set the tone and pace of every game they play. Boston Bruins' second-rounder Jeremy Lauzon and Philadelphia Flyers' 6-foot-5 prospect Philippe Myers are a major reason why the Huskies should remain close to the top of the league standings. Lauzon finished last season with 50 points in 46 games while Myers managed to find the back of the twine 17 times after entering the 2015-16 campaign with 12 career points in 106 games.
Despite the loss of Marchand, the Huskies remain strong between the pipes with last year's back-up goalie Samuel Harvey ready to take over. Harvey had a 2.74 GAA last season and finished the year with a record of 25-3-4. He should have plenty of confidence moving forward as the team's undisputed number one netminder, having already appeared in 69 games throughout his QMJHL career.
Sherbrooke Phoenix
Key Players: Julien Pelletier, Anderson MacDonald, Carl Neill (VAN), Julien Bahl, Evan Fitzpatrick (STL)
Season Expectations: The Sherbrooke Phoenix have not had much on-ice success since they joined the QMJHL prior to the 2012-13 season. The team looked poised to contend last season but the players simply didn't gel and they now find themselves starting all over with a fresh rebuild. Franchise cornerstones Daniel Audette and Jeremy Roy are gone and a new potential franchise player in Anderson MacDonald has arrived.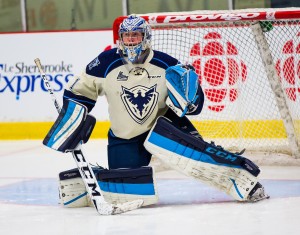 The 16-year-old MacDonald was chosen 10th overall in the 2016 draft and comes in very highly-touted. The rookie led the team in scoring during the pre-season and will aim to continue that same pace throughout the course of the regular season. Former Blue Jackets' draft pick Julien Pelletier returns for his 20-year-old season and hopes to finally eclipse the career-high 50 points that he scored in his rookie year. Also hoping to provide some scoring punch will be third-year vet Nicolas Poulin and rookie Russian winger Yaroslav Alexeyev.
Defensively, the Phoenix will have a couple proven veterans manning the point in Vancouver Canucks draft pick Carl Neill and undrafted rearguard Julien Bahl. They will both be looked upon to provide a calming influence and veteran leadership to the team's younger players. A pair of former 16th overall QMJHL draft picks, Thomas Gregoire and Alexander Krief-Fleming, help round out the top-four.
Evan Fitzpatrick returns for his third year as a member of the Phoenix and will reassume his role as the team's top goaltender. The St. Louis Blues' second-round pick has yet to hit the .900 mark in save percentage during his junior career, although he did come close last year when he finished with at .896. The fourth overall pick in the 2014 QMJHL draft has all the tools to become an elite goaltender and will be looking to play himself onto Hockey Canada's radar for the World Junior team this December.
Val d'Or Foreurs
Key Players: Julien Gauthier (CAR), Alexis Pepin, Adam Marsh (DET), Olivier Galipeau, Etienne Montpetit
Season Expectations: The Val d'Or Foreurs should take a step back offensively this season after scoring the second-most goals in the league one year ago. Much of the attack has moved on from the team but they will still have Julien Gauthier on board and he could legitimately challenge for the league's goal-scoring title in 2016-17.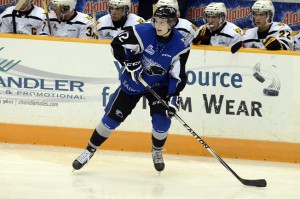 One new name joining Gauthier up front will be Detroit Red Wings' prospect and former Saint John Sea Dogs' winger, Adam Marsh. The American should help fill part of the goal-scoring void left by the departures of Nicolas Aubé-Kubul, Anthony Richard, and Anthony Beauregard.
Big seasons will also be needed from overage forward Francois Beauchemin, former Avalanche prospect Alexis Pepin, 19-year-old Mathieu Nadeau, and Russian import Ivan Kozlov. While not on the same level as last year's offense, goal-scoring should not be seen as a weakness for Val d'Or heading into the new season.
The back end, meanwhile, could be seen as a team weakness as it lacks in high-end talent and quality overall depth. The group is highlighted by team captain Olivier Galipeau, who is a steady two-way defender, and gritty Val d'Or native David Henley. Big Jack Van Boekel is back for his 20-year-old season and is an intimidating presence standing at 6 foot 7. Former first round QMJHL pick turned journeyman Jason Bell is also part of the blue line and will look to resurrect a once promising junior career.
Goaltender Etienne Montpetit put up spectacular numbers in 2015-16 as he got into 56 games and finished the year with a .907 save percentage. The undersized netminder might not see as much action this season as the team will likely want to get former fifth overall pick Dereck Baribeau into more games.