We continue our Quebec Major Junior Hockey League season preview with the second installment of our three-part series. This installment will focus on the league's East Division. Once again, we'll look at each team's top-five key players and season expectations as we gear up for what should be another great year of junior hockey.
Baie-Comeau Drakkar
Key Players: Gabriel Fortier, Matt Jones, Xavier Bouchard, Matteo Pietroniro, Antoine Samuel
Season Expectations: The Baie-Comeau Drakkar are coming off a terrible season which saw the team finish at the bottom of the league standings with an abysmal record of 14-49-5. Unfortunately for Drakkar fans, the team, on paper, once again looks like a basement dweller. The good news, however, is that the team wound up with four first-round selections in the 2016 QMJHL Entry Draft and the players chosen with those picks should provide the team with a solid core as they mature together in the coming seasons.
http://gty.im/491452042
Returning overage forwards Matt Jones and Vincent Deslauriers should pace the offensive attack for a Drakkar team that is expected to struggle to put up points. The fourth overall pick in the 2016 draft, Gabriel Fortier, could help ignite some offensive spark but that will have to wait as he's expected to be sidelined due to injury to start the year. The third overall pick in the 2016 CHL Import draft, Ivan Chekhovich, will be in the lineup but it remains to be seen how the young Russian will fare without much help around him.
The backend will feature overage defender Samuel Thibault as well as returning youngsters Yan Aucoin and Matteo Pietroniro. Xavier Bouchard, the fifth-overall pick in the 2016 QMJHL draft, and Daniil Kiselyov highlight an intriguing rookie class on a very young blue line.
Promising goaltender Antoine Samuel has things covered in net for Baie-Comeau. The Lac Etchemin-native was acquired from the Shawinigan Cataractes during last season's trade period and put up better numbers than the rest of the goalies who saw regular duty in a Drakkar uniform a year ago. The netminder's performance didn't go unnoticed as he received NHL rookie camp invitations from both the Buffalo Sabres and Anaheim Ducks.
Backing up Samuel will be 19-year-old Bo Taylor who also joined the team during last season's trade period. The veteran tandem will be looked upon to provide the young Drakkar squad with some added confidence and reassure them that not all of their mistakes will wind up in the back of their net.
Chicoutimi Sagueneens
Key Players: Nicolas Roy (CAR), Dmitry Zhukenov (VAN), Frederic Allard (NAS), Jeremy Groleau, Julio Billia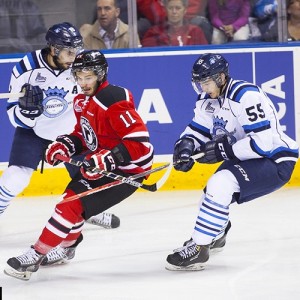 Season Expectations: The Chicoutimi Sagueneens are anticipated to be a mid-pack team this season but have the potential to surprise. The Sagueneens have the advantage of possessing one of, if not the top goaltenders in the QMJHL and also have key players from both their forward and defense corps returning.
Up front, Carolina Hurricanes' draft pick and Chicoutimi captain Nicolas Roy leads the charge. The first overall pick in the 2013 QMJHL draft exploded for 48 goals and 90 points last season and will look to increase those numbers this year. The 6'4″ center has all the tools to be a dominant forward and one of the top point producers in the league this season. Roy's supporting cast will be made up of Vancouver Canucks' draft pick Dmitry Zhukenov, 2016 eighth overall pick Samuel Houde, as well as overage forwards Antoine Marcoux and Ryan Verbeek. Another name to watch is youngster Mathieu Desgagnés who led the league in preseason scoring.
The defense will be led by Nashville Predators' pick Frederic Allard who should be considered one of the top rearguards playing in the QMJHL this season. He will be joined on the blue line by two former first-round draft picks and QMJHL sophomores Jeremy Groleau and Keenan MacIsaac. Both defenders will be looking to take that next step in their development and make a positive impact on the ice.
Undrafted and undersized goaltender Julio Billia returns for his fifth season in the QMJHL and will look to cement his place atop the goalie statistic leaderboard once again. The 5'11" netminder led the league in save percentage among all starting goaltenders with .919 a season ago and it would not be surprising if he repeats that feat again this year. Billia has the ability to steal games for his team and would be a major factor behind any surprise run the Sagueneens may go on between now and May.
Quebec Remparts
Key Players: Matthew Boucher, Derek Gentile, Dmitry Buinitsky, Raphael Maheux, Callum Booth (CAR)
Season Expectations: Widely recognized as a perennial contender, the Quebec Remparts are instead looking at a rare rebuilding season in 2016-17, as they will ice a fairly young and inexperienced team. Quebec will have a handful of returning veterans to help guide the many rookies but logic indicates that this year's edition of the team will finish closer to the bottom of the standings.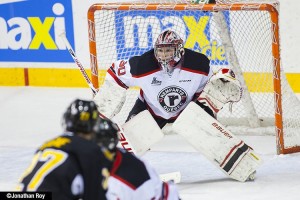 Offensively speaking, last year's leading scorer and GM/head coach Philippe Boucher's son, Matthew, returns for another go in a Remparts jersey. The 5'9″ winger had bounced around a bit, spending time with Blainville-Boisbriand and Drummondville, before finally finding his groove in Quebec and scoring at better than a point-per-game clip.
Boucher should be supported by new 19-year-old import pick Dmitry Buinitsky and sophomore Derek Gentile. A preseason standout, Gentile is expected to make some noise this year and some believe he could be among the team's leading scorers at season's end. Other young players looking to make their mark and take advantage of extra ice time are Jeremy Laframboise, Ethan Crossman, Philipp Kurashev, and Andrew Coxhead.
Quebec does have a respectable group returning to the blue line, highlighted by top-four regulars Aaron Dutra, Christian Huntley, Ross MacDougall, and Raphael Maheux. The quartet has a decent mixture of size, speed, and skill which should help keep their opposition at bay to some degree.
In net, fourth-year veteran Callum Booth returns for what should be his last season in the QMJHL. The Carolina Hurricanes' draft pick has had an impressive junior career to date and is considered to be one of the top goalies in the league. Booth has spent his entire career with the Remparts but it would not be a surprise to see him dealt during the Christmas trade period as Quebec restocks their shelves.
Rimouski Oceanic
Key Players: Alex Olivier-Voyer, Tyler Boland, Antoine Dufort-Plante, Sam Laberge, Simon Bourque (MTL)
Season Expectations: A team stacked with three high-scoring overage forwards, the Rimouski Oceanic could ride that offense to a top-ten finish in the QMJHL this upcoming season. The team could just as easily stumble in the standings due to their inexperience in net and on the backend. A mid-pack finish looks like a safe projection for this Rimouski team.
Overage returning forwards Tyler Boland, Antoine Dufort-Plante and Dylan Montcalm led the Oceanic in scoring last year and will no doubt lead the team on the scoresheet again this year. Dallas Stars' training camp invitee Sam Laberge should provide excellent secondary scoring along with preseason scoring leader Alex Olivier-Voyer, rookie Russian forward Denis Mikhnin, and breakout candidate Hunter Moreau.
The defense will be led by Montreal Canadiens' draft pick Simon Bourque who is expected to continue his trajectory into the league's upper echelon of rearguards. The well-rounded defender will see plenty of ice time in all situations and will also serve as team captain. Bourque, along with sophomores Charles-Edouard D'Astous and Dominic Cormier, will be tasked with carrying a defensive unit that will dress three rookies.
There are big questions in net as neither Alexandre Legace nor Gabriel Morency has experienced a starter's workload. The plan may be for the duo to evenly split time in net until one tender runs away with the starting job. Legace posted solid numbers with Rimouski last season following his mid-season acquisition and it may be his job to lose as the season gets underway.
Shawinigan Cataractes
Key Players: Anthony Beauvillier (NYI), Alexis D'Aoust, Dennis Yan (TB), Gabriel Gagné (OTT), Samuel Girard (NAS)
Season Expectations: The clear-cut favorites to win the East Division, the Shawinigan Cataractes have a group of top-six forwards that general managers would kill for. To pour salt in the wounds of their opposition, they also have the highest scoring defenseman in all of Junior hockey in Nashville draft pick Samuel Girard. This is a team that is built to win this year and maybe only the Saint John Sea Dogs can match up with them on paper.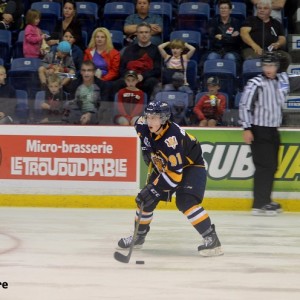 Leading the offensive charge is team captain and New York Islanders' first-round draft pick Anthony Beauvillier. The 5'11" puck wizard has already scored 206 points in his junior career and is destined to flirt with the 300-mark should he remain healthy and only miss time due to the World Juniors.
Helping Beauvillier carry the offensive load will be 98-point man Alexis D'Aoust who is returning for his overage season, Tampa Bay Lightning draft pick Dennis Yan, and New Jersey Devils' third-round pick Brandon Gignac. To add even more firepower to an already loaded Shawinigan lineup, it appears as though the Ottawa Senators will be sending overage 6'5″ forward Gabriel Gagné back to juniors for a final season as well.
The talent level doesn't drop off when looking at the Cataractes' blue line either. Undersized offensive defenseman Girard will be back running the power play and racking up points. The smooth defender will be brought along properly by the Predators so he could still have two seasons left in junior before graduating to the pros. One thing for certain is that he will be in line to see plenty of ice this winter.
The men joining Girard on the backend should not be overlooked either. Overage San Jose Sharks' property Cavan Fitzgerald has been confirmed to be returning for another year. He'll be joined by the likes of Nicholas Welsh and Gabriel Sylvestre to round out the top-four.
Not unlike Saint John, the Cataractes are entering the season with their biggest uncertainty being in goal. Russian keeper Mikhail Denisov will begin the year as the starter after serving as one of Shawinigan's backups a season ago. Young but promising rookie Zachary Bouthillier will battle Denisov for playing time and the two former second-round picks could end up splitting games pretty evenly.
Victoriaville Tigres
Key Players: Pascal Laberge (PHI), Maxime Comtois, Alexandre Goulet, Bradley Lalonde, Tristan Pomerleau
Season Expectations: Looking to improve upon last year's 11th place finish, the Victoriaville Tigres will have a lot of scoring power and should finish in the upper part of the standings. The team will have four of its top five scorers from last season back in the lineup again in 2016-17 along with the majority of the defense corps they finished the year with.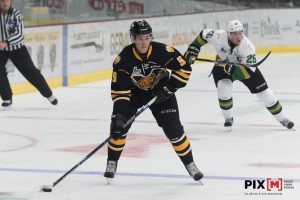 Last year's leading scorer and Philadelphia Flyers second-round pick Pascal Laberge will be back but his spot at the top of the team's scoring totem pole could be overtaken by highly-skilled sophomore Maxime Comtois. Comtois is expected to be the QMJHL's top prospect in the NHL draft this upcoming June and, together with Laberge, should see his name on the scoresheet often. Also expected to help fill the net will be third-year vet Felix Lauzon, import Ivan Kosorenkov, as well as overage forwards Alexandre Goulet and Mathieu Ayotte.
The backend lacks a true number one defender but features several returnees and is a solid group as a whole. The veteran core has loads of experience and should be able to calmly transition the puck up to the team's skilled forwards. Overage rearguard Tristan Pomerleau leads the way and is joined by steady defenders Bradley Lalonde, Jérémie Beaudin, and Vincent Lanoue in the team's top-four. Russian rookie Vladislav Utkin could also be someone to keep an eye out for.
Victoriaville's goaltending tandem consists of a pair of 19-year-olds who will likely split time in net until one of them can grab the starter's reins and run with it. Olivier Tremblay will likely get the first shot as he has the edge experience-wise and has a higher draft pedigree than partner James Povall. Realistically, it's anyone's crease and will be a battle worth watching throughout the course of the season.