Los Angeles Kings general manager Dean Lombardi expects that the earliest goaltender Jonathan Quick will return to the team is early March, according to L.A. Kings Insider's Joe Rosen.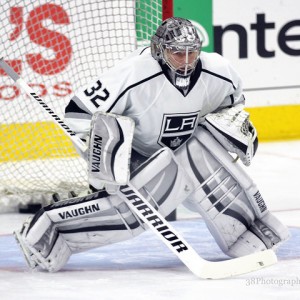 Quick has been out out of the lineup since he suffered a groin injury during their opening night matchup against the San Jose Sharks on Oct. 12. Lombardi told Rosen that Quick still hasn't resumed skating in any capacity.
The 31-year-old reminder was originally expected to be back in mid-February but that's clearly not the case anymore. It's bad news for a Kings team that with 48 points is just three behind the Calgary Flames for the last wild card playoff spot in the Western Conference.
When Quick was first lost to injury for an extended period, there had been speculation about what Lombardi may do in order to help sure up the goaltending position for the team.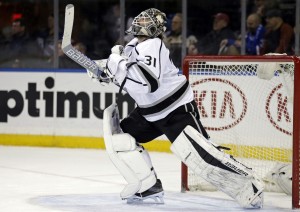 Peter Budaj has taken over the starting role this season and has posted a 20-14-3 record after seeing action in 40 of the Kings' first 48 games. However, at 34-years-old, there has been concern about being overworking him and relief efforts have been an issue.
Backup goaltender Jeff Zatkoff is 2-7-1 in 12 games and has a 2.94 goals-against average and .881 save percentage, meaning Budaj is getting the call in goal a little more often than he probably should.
With the trade deadline looming on Feb. 28 and with the Kings fighting for their playoff lives in the Western Conference, will Lombardi be forced to pull the trigger on a deal to land another netminder until Quick is healthy?
It will be something interesting to watch for in the coming weeks.
Habs' Interest in Coyotes' Hanzal
If the Montreal Canadiens want to land Arizona Coyotes forward Martin Hanzal, it will come at a price, according to Sportsnet's Elliotte Friedman.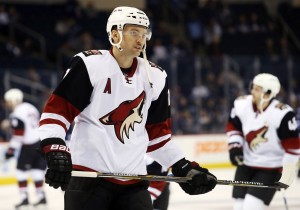 "Word is Arizona's initial ask from Montreal for Martin Hanzal was Michael McCarron and two draft picks — one a first-rounder, the other conditional. I look at it this way: You never know until you ask. But it also tells you why Hanzal is not a Canadien. We'll see if both teams circle back," Friedman wrote in his 30 Thoughts column on Tuesday.
Hanzal, 29, has registered 10 goals and eight assists in 39 games and is in the final year of a contract that pays him $3.1 million and is set to become an unrestricted free agent this summer — a prime candidate for a team like the Canadiens or another team looking to add a veteran presence as they prepare for playoff runs.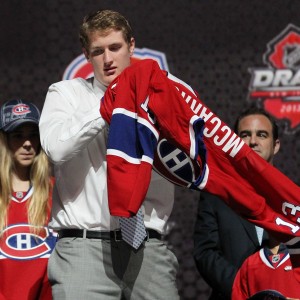 McCarron is a 21-year-old winger and was selected by the Canadiens with the 25th overall pick in the 2013 NHL Entry Draft. In 2016-17, he's tallied four points in 15 games and has suited up in 35 total games in his NHL career. He's also compiled 16 points and 44 penalty minutes in 25 games this season with the St. John's IceCaps in the American Hockey League.
While talks between the Canadiens and Coyotes look to have come to a pause — at least for now — where Hanzal lands will be worth paying attention to as teams look to secure their rosters for their respective playoff push.
Sharks' Trade Wingels to Senators
The San Jose Sharks traded forward Tommy Wingels to the Ottawa Senators for two minor league forwards and a seventh round pick in the 2017 NHL Entry Draft on Tuesday.
Wishing the best to @tommywingels57, Molly & Greta!#ThankYouTommy for all your great work for this team and community. pic.twitter.com/SNUb0QzhTL

— San Jose Sharks (@SanJoseSharks) January 24, 2017
The move comes just days after it became clear that forward Tomas Hertl is inching closer to a return from a sprained right knee that's kept him out of the lineup.  The deal also opens up some salary cap space for the Sharks, who may be looking to add another piece to their team as they prepare for a playoff run.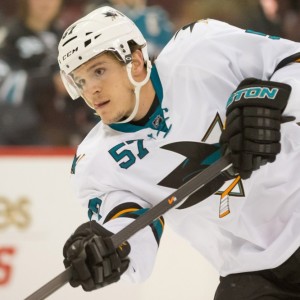 "I think it's almost day-to-day now," Hertl said about his status on Jan. 21, according to Curtis Pashelka of The Mercury News. "… I think I'm pretty close but we'll see how it goes the next couple days. I believe it'll be playing soon now."
Wingels, 28, has been an important part of the Sharks organization on the ice and in the community — but the emergence of some young forwards like Ryan Carpenter and Kevin Labanc, among others, created a situation where Wingels was seeing a decreasing role on the ice.
In 37 games of action this season, Wingels has scored five goals and added three assists while averaging 10:03 of ice time per contest.
News of Wingels' trade was something that hit home for many of his former Sharks' teammates, some of which took to Twitter to send out messages about it.
Tough day!! 😰😰l'll miss you my best friend @tommywingels57
I wish all the best.
Fun must be always🍰
Never forget that!
Peas and Carrots!

— Tomáš Hertl (@TomasHertl48) January 24, 2017
Cruel business. All the best to a world class teammate. A special guy, he will be missed. @tommywingels57 good luck Dewy

— Logan Couture (@Logancouture) January 24, 2017
Sharks general manager Doug Wilson has reportedly been working with Wingels' agent for some time in order to send the Illinois native to a team where he'd have the best chance to play.
"When you have a player who has done everything that Tommy has done for this organization, if there's not going to be a fit you want to explore the opportunity that works for everybody," Wilson said, according to Josh Dubow of The Associated Press. "That's how this really came together."
In addition to the draft pick in 2017, the Sharks received forwards Buddy Robinson and Zack Stortini, who have each been assigned to the San Jose Barracuda in the AHL.
Robinson, 25, has tallied 12 points in 33 games of action with the Binghamton Senators (AHL) this season, while Stortini, 31, has compiled three points in 22 contests with Ottawa's AHL affiliate.
Jets' Laine Returns
Patrik Laine will return to the Winnipeg Jets when they take on the San Jose Sharks on Tuesday, according to Jets head coach Paul Maurice.
Head coach Paul Maurice on @PatrikLaine29 returning to the line-up, Pavelec starting, and injury updates on Perreault, Dano, and Stafford. pic.twitter.com/y62B2wx9j2

— Winnipeg Jets (@NHLJets) January 24, 2017
The Finnish sniper has missed the past eight games with a concussion he suffered after taking a hard hit from Buffalo Sabres defenseman Jake McCabe on Jan. 7.
In 42 games, Laine is second among all rookies with 21 goals and is third with 37 points. Laine will add an immediate offensive punch to a Jets team that tallied just three wins in eight contests during his absence.
Laine returned to skating with the team on Jan. 20 and said he remembered virtually nothing about the play that put him out of the lineup.
"I got the puck and that's it," Laine said, according to The Winnipeg Sun's Paul Friesen. "Can't remember anything else."
Odds and Ends
— The Chicago Blackhawks have activated forward Marcus Kruger from the injured reserve. He's been on the IR with a hand injury since Jan. 1.
Ready to go: #Blackhawks activate forward Marcus Kruger from injured reserve. https://t.co/hpGZYhDBG5

— Chicago Blackhawks (@NHLBlackhawks) January 24, 2017
— The Washington Capitals recalled forward Chandler Stephenson from the Hershey Bears (American Hockey League) on Tuesday. He will be in the lineup when the Capitals take on the Ottawa Senators as forward Jay Beagle is out with an illness.
#Caps head coach Barry Trotz on tonight's game, Jay Beagle is out sick, Washington looks to continue the point streak. #CapsSens #RockTheRed pic.twitter.com/sBxTYEZC97

— Washington Capitals (@Capitals) January 24, 2017
— The National Women's Hockey League has unveiled the jerseys players will wear at the 2017 NWHL All-Star Game as part of the weekend of festivities planned to take place at the UPMC Lemieux Sports Complex in Pittsburgh on Feb. 11 and 12.
The hockey fashion police are in agreement: the 2017 #NWHLAllStarGame sweaters are cool. pic.twitter.com/DTkyJRnSgx

— NWHL (@NWHL) January 24, 2017