Securely among the pantheon of hockey legends with the likes of Howe and Orr, #99 needs no introduction.  If you need a refresher on his extraordinary accomplishments, check out Michael Rappaport's review of The Great One's most unbreakable records.
He'll never play in the NHL.
Rudy Pilous (2)
Gretzky sees a picture out there that no one else sees. It's difficult to describe because I've never seen the game he's looking at.
Harry Sinden (1)
You can't hit Gretzky with a handful of confetti.
Lou Nanne (1)
It's the WHA. Who's going to notice?
Paul Shmyr, in response to Glen Sather telling him that Gretzky 'wants to wear number 99.' (2)
[In Juniors] he would come in and boast to all those older guys how he was going to score four or five points against the Czechs or something.  I'd shake my head and think, 'What are you saying, kid?' Then he'd go out and get them. Unreal. I've had things go well for me before, but with him it never stops. If he ever has a comeuppance, it's going to be a dandy.
Dan Lucas (1)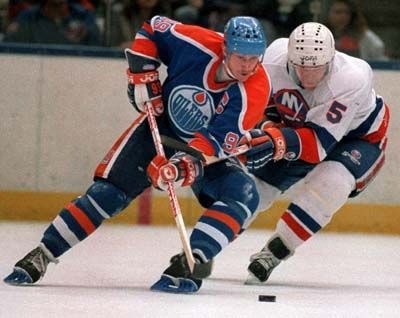 He has the lowest panic point in hockey.
Glen Sather (1)
All other hockey skills are secondary to whatever-it-was that Gretzky had.
Justin Bourne (3)
[Hitting him] was like trying to hit a feather when it's in flight.
Dennis Sobchuk (2)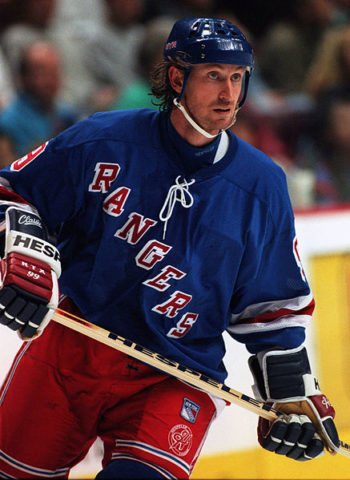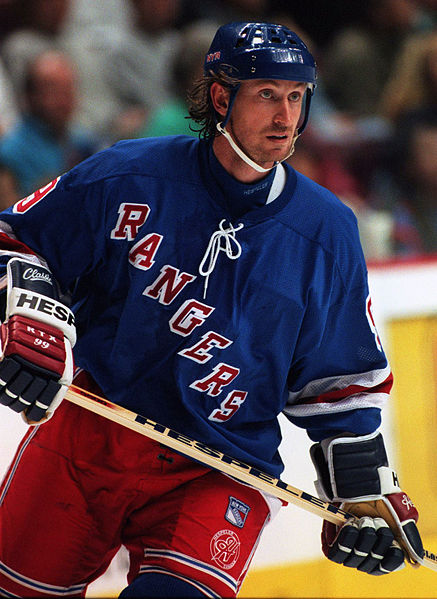 I know everything that's been written about you. I think none of it is adequate.
Bobby Clarke, to Gretzky after he scored goals #46-50 against the Flyers in game 39 of the season, setting a new record. (1)
My dad would show me articles, this guy did this much work, this guy lifted weights, this guy ran, you know that kind of stuff, but for me, I remember I was six, I would skate eight hours a day and if people say 'Jeez he's working hard' … well if I'd thought of it that way I wouldn't have done it. What I enjoyed doing was skating all afternoon.
Wayne Gretzky (1)
No one worked harder on a sheet of ice than Gretzky. That effort, however, was channelled in a distinctly different way than Sid the Kid's. Gretzky was an apparition; Crosby is a force of nature.
George Johnson (4)
Everyone will tell you, 'Oh yeah, I saw it right away. He was a genius on the ice.' They're lying. To me, he looked like somebody's little brother. It looked like he was going to get f**king killed. But he made one pass that season that made me stop and think. He was behind the net with two guys, and he made this back pass to Blair MacDonald. I remember thinking, 'How did he know he was there?'
Tom McVie (2)
The thing that's going to set him apart forever is that from the time he was ten years old, he has always understood the responsibilities that go with being Wayne Gretzky.
Jim Taylor (1)
Gretzky is like an invisible man. He appears out of nowhere, passes to nowhere, and a goal is scored.
Igor Dmitriev (1)
SOURCES:
1. Bonander, Ross. Hockey Talk: Quotations About the Great Sport of Hockey From the Players and Coaches Who Made It Great. Delabarre Publishing, 2011.
2. Willes, Ed. The Rebel League: The Short and Unruly Life of the World Hockey Association. McClelland & Stewart, 2004.
3. Bourne, Justin. "Why hockey sense is more important than star talent." Bourne Blog, 26 Oct 2010.
4. Johnson, George. "Crosby a rare combination of star and working man's hero." ESPN.com, 11 Dec 2007.