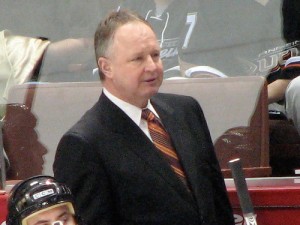 The Toronto Maple Leafs 5 points out of the playoffs, and they are 1-8-1 in their last 10 games. Something needed to change if they are going to have any chance of trying to make a comeback. The trade deadline has passed so it is too late to bring in new players, so the only change that could be made is the coach. Ron Wilson was fired and now the new coach is Randy Carlyle who was fired as the ducks coach just 4 months ago.
Here is the Carlyle hiring from a Ducks fan perspective. Since I have followed Carlyle closely in his NHL coaching career I can tell you a little bit of what you may expect of the new coach of the Toronto Maple Leafs.
Randy Carlyle is a tough "his way or the highway" type of coach that try his hardest to get the most out of all of the players on the team. This is something that might be great for this last stretch for the playoff run as it might just help add the spark that a team needs for a playoff push. He is a great leader that can turn a good team into a great team. It has been said however that his defensive system takes a little while to get the hang of, and it will be very interesting to see how the players adapt to it. If it does take the team too long to adapt, and they do end up missing the playoffs all hope is not lost. Next season with a fresh start, a new training camp, and pre-season I believe Carlyle can be a very good coach at least for the term of his 3 year contract.
Being the tough demanding coach does have some advantages like getting the most out of your players. It also however at least in the Ducks case over time seem to lose its effectiveness after a while. The same players can only take the same person yelling the same thing for so long. Carlyle seemed like a great fit at start as evidence with the 2007 cup, but over a time it seemed to take its toll on the players. The message eventually seemed to lose its effectiveness. I am not saying that is what will happen in Toronto, I am just saying from my point of view that is what happened when he was coaching The Ducks.
I wish Carlyle the best of luck with Toronto. Without him the Ducks may not have a Stanley Cup. I will be watching very closely to see how he does in Toronto to finish this season, and over the next few years.