Author Note (12/04/2020): Article has been updated to address the absence of Kaapo Kakko.
The New York Rangers are primed for a successful 2020-21 season. Coming off of a decent regular season and a disappointing three-game sweep handed to them by the Carolina Hurricanes in the Toronto bubble, they moved forward and made some great draft picks and signings.
The headliner of the offseason was No. 1 overall pick Alexis Lafreniere, the left-wing who was signed shortly after this year's virtual 2020 NHL Entry Draft. Aside from Lafreniere, the Rangers retained restricted free agents (RFAs) Tony DeAngelo, Alexandar Georgiev, center Ryan Strome and gritty forward Brendan Lemieux, along with Ryan Di Giuseppe.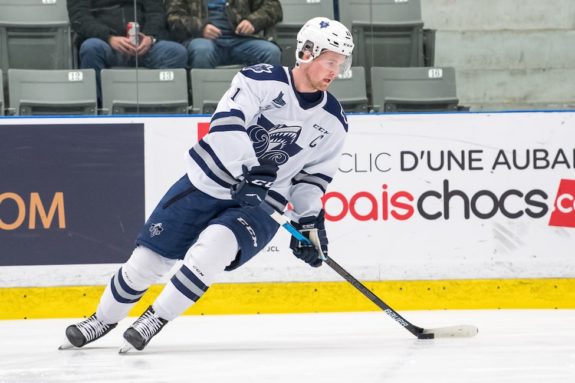 Here, we're going to look at the projected line combinations on the front end and then I'll put my two cents in on what I believe or think might play out throughout the year.
Projected Lines
The Rangers' forward lines will look like this whenever the 2020-21 season does get underway.
The top line will have Mika Zibanejad centering Chris Kreider on the left and Pavel Buchnevich on the right. The second line will feature MVP candidate Artemi Panarin on the left side with newly signed RFA Ryan Strome at center and Kaapo Kakko on the right-wing. The third line is projected to have Lafreniere on the left-wing and Julien Gauthier on the right with Filip Chytil in the middle. The fourth line is expected to have Brett Howden in between Kevin Rooney on the right-wing and Brendan Lemieux on the left side.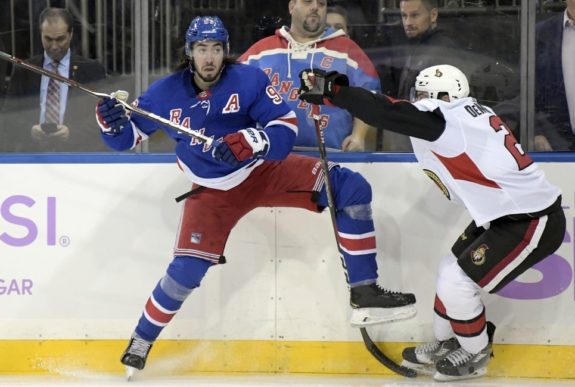 These line combinations are also subject to change during and after training camp. Things happen in camp such as injuries and someone coming in out of shape, or simply having a bad camp. That shakes up teams' depth charts quite often. Also, sometimes a kid comes into camp that was way low on the depth chart and wasn't thought to be ready to make the jump to the NHL, but he makes it almost impossible for the team to send him down to the minors or back to his respective junior club or pro team overseas.
A Deeper Dive
Let's take a deeper dive into some possible scenarios and interesting things that might sway head coach Dave Quinn one way or another.
Brett Howden is an interesting case. He is a 6-foot-3, 197-pound center/left-wing that ultimately finished the shortened 2019-20 regular season on the left side. However, he played the three play-in games in the middle. During the three-game sweep at the hand of the Hurricanes, Howden stood out while playing center as one of the few Rangers trying to make things happen.
Another thing to keep in mind is that the Rangers were awful on faceoffs last season. They were second to last in the entire league ahead of only the Buffalo Sabres in face-off percentage. Howden won 48.2% at the faceoff dots. He was sent in to take draws the third most on the team behind Zibanejad and Strome who won 49.2% and 47.5% respectively.
One more thing to put into the mix when it comes to Howden is Morgan Barron. Barron, who the Rangers signed this past July has been training with Chris Kreider and sources say he's in 'Beast-Body Mode', according to Larry Brooks of the New York Post. If Barron comes into camp in "Beast-Mode" then he may challenge for a spot at center or be moved to left-wing as well. (From 'Rangers' plan for Vitali Kravtsov could work out for everyone' – The New York Post – 11/11/20)
The Vitali Kravtsov Saga
It's been pretty well-documented that the relationship between the Rangers and prospect Vitali Kravtsov has been a bit rocky. Kravtsov has shown moments of brilliance in Rangers' prospect camps as well as the Traverse City Tournament before last season. However, he didn't handle being sent to their minor league affiliate, the Hartford Wolf Pack, very well. He's currently playing for Traktor of the KHL and reports are that he's doing the things he needs to do to make it back to New York.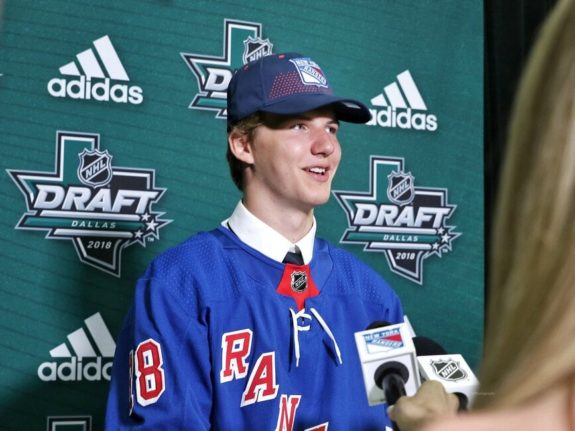 In the same New York Post article mentioned above, Brooks confirmed that the Rangers can call Kravtsov back at any moment. However, it's reported that the Rangers want Kravtsov to stay overseas and develop while finishing out the KHL season. This means he won't be at training camp in December or January which is what the league is projecting as a start for the 2020-21 season.
The KHL playoffs will finish around the end of April. So that could mean Kravtsov is back in NY anywhere from March to the end of April, depending on how Traktor fares. If he were to come at the end of March he'd be joining the team at about the halfway mark of the regular season.
Reports are that Kravtsov is honing his two-way game while scoring at a decent pace. He also seems more committed and his work ethic has improved. If this keeps up, he'll most likely grab one of the top three spots at either wing when he returns. Kravtsov is a left-handed shot but could fit in on the right side.
A lot can and will happen between training camp, opening night and the end of the season. These are my projected lines for the Rangers when they open their 2020-21 playoff run, assuming they make it (which they should):
[table id=408 /]
On the first line, the Rangers will have Panarin and Kravtsov on left and right-wing respectively with Strome in the middle. The second line will feature Zibanejad in the middle between Kreider and Buchnevich.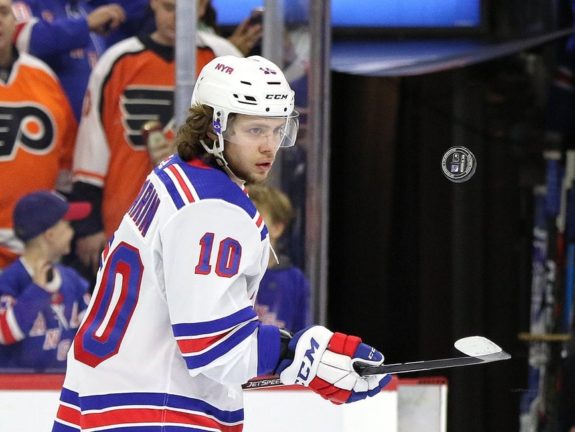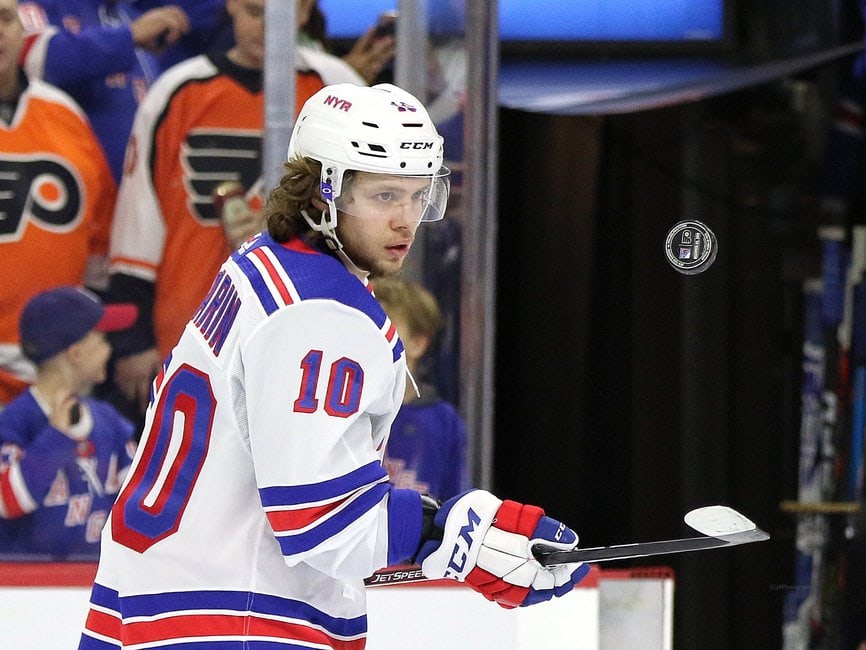 The third line I think will see Howden in the middle between Lafreniere on the left side and Lemieux will move over to the right. To round out the projected line combinations, we'll put Filip Chytil at center between Philip Di Giuseppe who played in 20 games for the Rangers last season as well as the three play-in games on left-wing and Julian Gauthier on right-wing.
Where's Kaapo Kakko?
Let's address something that may be puzzling to some readers. Kaapo Kakko is nowhere to be found. Here's why: many things happen throughout a season, including injuries, poor play, trades, etc. It's my feeling, for one reason or another, that Kakko won't be there. Whether it is his inexperience or being a bit soft when it comes to playoff hockey, he was a minus-1 and pretty much nonexistent in the three games against Carolina in the bubble.
Plus, I think Quinn will bear down on them even more, with this season wanting them to be harder to play against teams like Rod Brind'Amour's Hurricanes. In my eyes, Kakko still hasn't proven himself to be an automatic regular at this point. Yes, he was a No. 2 overall pick in 2019. Yes, he was able to stay with the big team all of last season and played in 66 out of 70 games. But, he was a minus-26 and only had 23 points. He did get some decent ice time, too, at around 15 minutes per game. So it's not like he was playing scarce minutes all season that would have stunted his production.
What Does it All Add up To?
The best way to look at it is that the Rangers are chock full of talent and they're one of the younger teams in the league. The battle for roster spots, especially on the left side, will be fierce come training camp. With the exception of a few of the veterans up-front, most of the forwards will constantly be under the microscope of coach Quinn knowing that someone is very capable of taking their spot in the lineup. We'll just have to wait and see.
---
---