With the nature of the 2010-21 NHL season's schedule, a team's ability to adjust and adapt from game to game will be a big factor in their success. Since teams are only playing against their division rivals, they will know who to watch out for and what to expect from their opponents.
Being able to change tactics and adapt to how the other team plays is going to be a big key to success. This makes coaching more important now than it has been in recent years, they are the ones who generally dictate how a team plays. David Quinn of the New York Rangers is going to have a big test this season that truly shows what kind of coach he is. 
Problems That Need to Be Surmounted
Quinn is in his third season as the Rangers bench boss. As a former NCAA coach, it was a smart and savvy hiring since he had plenty of experience with younger players. (from 'David Quinn Comes to the Rangers With a Gift for Developing Young Players,' New York Times, 05/24/2018). He has made his expectations for his team very simple, play a hard-nosed in your face style of hockey. He expects his players to come out and compete night in and night out. We got a better look at what he wants after the Rangers' early departure from the bubble, he wants to be a harder team to play against.
The Rangers had that type of player in Jesper Fast but he left the team during free agency which not only left a gaping hole in the penalty kill but also at even strength. Based on the first game, it looked like his forecheck and willingness to play in the tougher areas was sorely missed. His ability to create room for his linemates was a very underappreciated asset of his game. Fast was also one of the best two-way players on the entire team and the Rangers were already one of the lesser teams in terms of defense. Finding a way to make up for that loss will be a challenge for Quinn.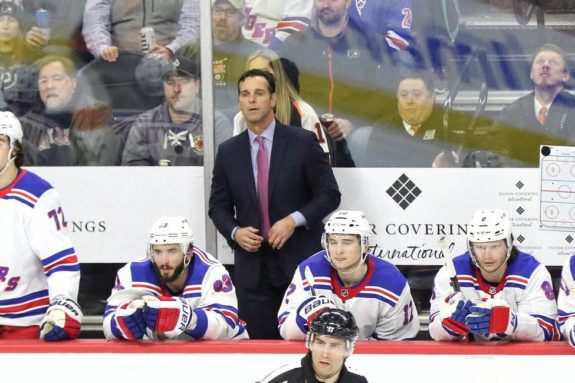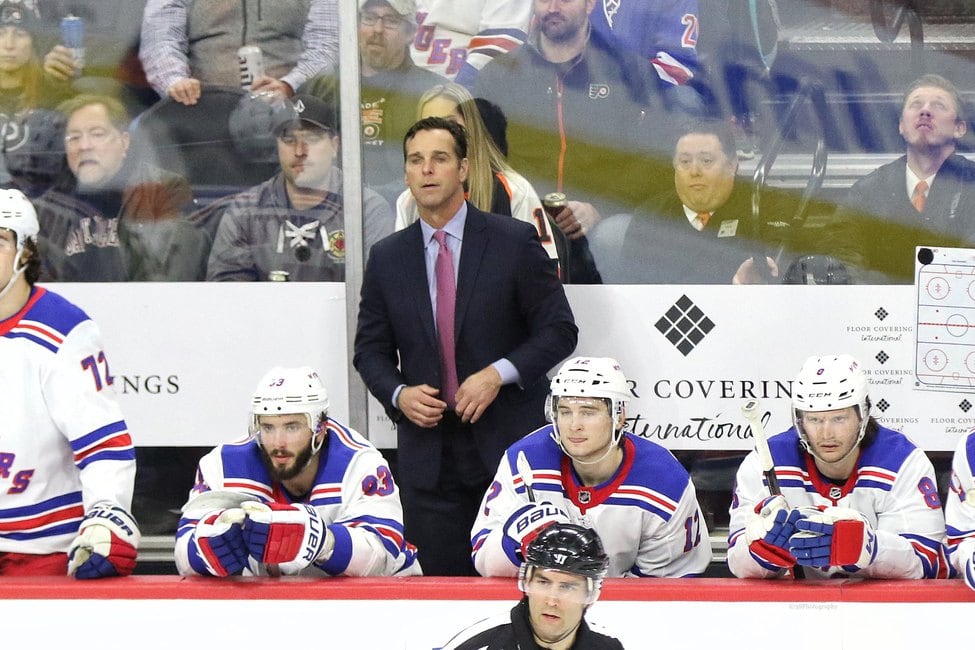 In terms of some of the big problems the Rangers had last season, they were notorious for giving up early goals, taking an early penalty and being caught with too many men on the ice. All of those issues came up in their season opener against the New York Islanders, a team that came ready to go. It will ultimately be up to Quinn to right the ship and help his team get through a problem that continues to hamper them.
One of the most important problems in patching up holes in the team's game is identifying the problems. Quinn has tried shuffling his lineup, making Tony DeAngelo a healthy scratch as a result of his unsportsmanlike conduct penalty, reuniting Kaapo Kakko, Filip Chytil and Phil DiGiuseppe as the third line and moving Alexis Lafreniere to the top six to name a few. The Rangers played a far better game in the second meeting of the Battle of New York but whether the constant shifting of lines works will only be answered later in the season. When the lines are constantly being changed, it is harder for players to develop chemistry.
Defensively there are some recurring issues, the defensemen are still struggling to tie up players in front of their net. The season opener is a bad example as the entire team struggled and two games is a very small sample size. Saturday's game was a much better effort and polar opposite in comparison. (from 'David Quinn pushed the right buttons in Rangers' bounce-back win,' New York Post, 01/17/2021). In only two games it is far too early to decide which effort will be the true Rangers, but the turnaround is encouraging.
The Rangers have nine skaters on their roster who have two or fewer full seasons of NHL experience, two of them being rookies and four of them being second-year players along with a rookie goalie. They are still learning and adjusting to life in the NHL and they are still very much wildcards at this point in their careers. Player development curves are almost never linear and the coaches need to be aware of where each player is on their curve.
The Schedule's Structure Makes it All More Important
The Rangers have 21 sets of games where they will be playing the same team in back to back games over the course of the season, including four games in a row against the New Jersey Devils in April. These back to backs will show how well the Rangers can adjust in their strategies from game to game. The series with the Devils will be the biggest indicator if the Rangers can adapt to what is thrown at them and find a way to counter it. 
With fewer games, each one holds greater weight than before. The Rangers' tendency to start slow is going to be an even bigger issue for them, as games are too important to drop. The brief training camp surely played a part but every team had the same disadvantage, the Rangers need to be able to win games despite less preparation time.
This is added to the fact the only teams the Rangers play are in their division and competing with each other for playoff spots. Every game essentially becomes a four-point game. The Rangers division is extremely deep; the Boston Bruins, Washington Capitals and Philadelphia Flyers were three of the top four teams in the Eastern Conference last season. Each of those teams could essentially be locks for playoff spots. That leaves one more playoff spot for the five other teams to compete for. 
If they want a return trip to the playoffs, being able to add flexibility to the team's game is extremely important, not just in the regular season but even more so in the postseason. When the Rangers play one way and succeed, naturally the opponent is going to adjust their tactics to try and find better results. It will be important for the Rangers to adapt to new styles and strategies. A big part of that comes from the coaching staff changing things around in-game and making sure players are prepared. 
One tactic Quinn has used quite often in his coaching career is shifting guys in and out of the lineup based on the team in front of them and how well one player has looked on the ice. This was regardless of injuries. In a shortened season with less time off, being able to give players a day off can be a factor. Not only in just making sure they do not burn out by the end of the season but also to motivate players to show they should be a regular in the lineup. 
A shortened season provides a number of hurdles for teams to overcome and this season gives a bigger one for the coaching staff to clear. Their job is notably more important this season and for the Rangers front office, it should be used as a test for their coach. Quinn will truly get an opportunity to show how well he can lead a team and test his mettle as a head coach.
---
---