After the excitement of selecting Alexis Lafreniere with the first pick of the 2020 NHL Draft, the New York Rangers lost three key veteran players in Henrik Lundqvist, Marc Staal and Jesper Fast. While Lundqvist and Staal are nearing the end of their careers, Fast is just 28 years old and coming off the best season of his career. While it is disappointing to lose the gritty winger, the Blueshirts have multiple options to replace him already on the roster.
Replacing Fast on Panarin's Line
Last season, Fast benefited from playing right wing on a line with Artemi Panarin and Ryan Strome, and was on pace to set career-highs in goals and points when the season was suspended due to the COVID-19 pandemic. All three players formed excellent chemistry together and allowed the Rangers to split up Panarin and Mika Zibanejad in order to have a star on each of their top two lines.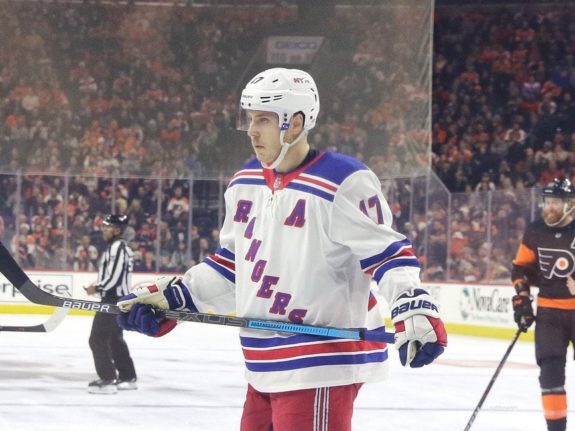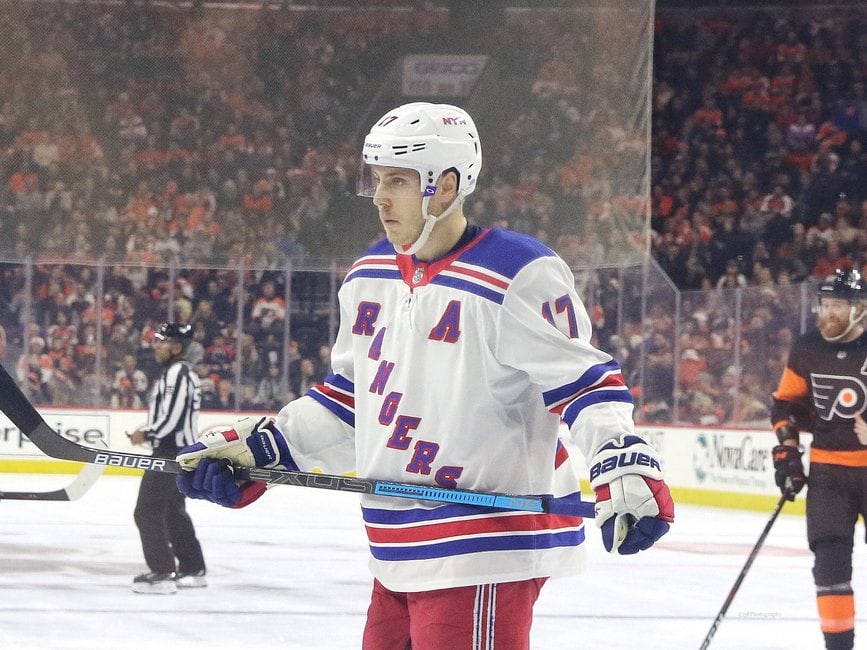 While the Rangers don't have as much depth at winger on the right side of the ice as they do on the left side, they do have a few players who could benefit greatly from playing on a line with Panarin. The most obvious candidate is Kaapo Kakko, who bounced around on different lines and struggled with consistency last season. He has tons of talent and should benefit from some time off after he wore down late in rookie season.
Kakko has the potential to be an elite scorer, and playing with Panarin, who is an elite playmaker, could lead to a breakout season for him. He finished with 10 goals and 13 assists in 66 games last season but showed flashes of his potential. In order to play on a line with Panarin, he will have to prove he can play at a high level with more consistency than he did last season.
If Kakko struggles, New York could give Julien Gauthier a chance to play with Panarin. The big winger played sparingly last season but showed off his great speed and strength by creating scoring opportunities. He failed to score last season but if he can start capitalizing on the opportunities he creates as well as the ones created by linemates he should get more playing time and become a key player for the Blueshirts.
The Rangers could also choose to replace Fast with another gritty player and Brendan Lemieux can do a lot of the same things as Fast. While Lemieux has played as a left wing, he would likely be ecstatic to switch to the right side to play with Panarin, just as Pavel Buchnevich did last season in order to play on a line with Zibanejad and Chris Kreider.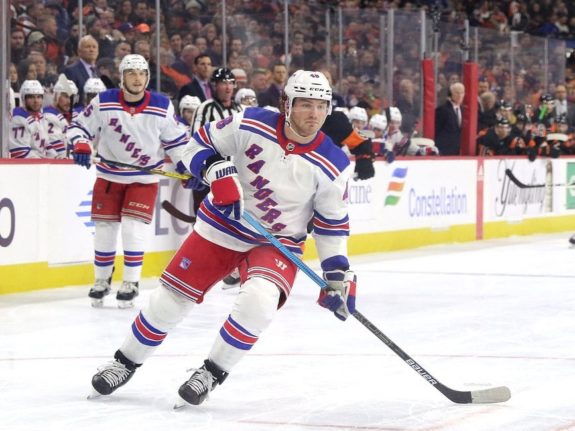 Lemieux is a relentless forechecker, who is willing to go to the front of the net and take punishment to make plays. He is also a good defensive forward, who, like Fast, is willing to backcheck and block shots. He isn't flashy but is an effective player and could be an effective replacement for Fast.
Replacing Fast on the Penalty Kill
While Fast only played on a top line for the Rangers last season, he has been one of their best penalty-killing forwards since he made his NHL debut for them during the 2013-14 season. He is smart, fearless and gritty, which helped him excel on the penalty kill and the Blueshirts will miss him. However, they signed a few forwards who can help kill penalties even though they aren't expected to score much.
One of the Rangers' free-agent signings is Kevin Rooney, who played for the rival New Jersey Devils last season. Over his last two seasons with the Devils, he combined for only 10 goals and nine assists in 90 games but he was an effective penalty killer. He also provides value because unlike Fast, he's a center. Of his 10 goals over the last two seasons, three have come shorthanded.
Other veteran options include center Colin Blackwell, who New York signed as a free agent after he played for the Nashville Predators last season, and winger Phil Di Giuseppe, who the Rangers re-signed this offseason. Neither one is a big scorer but both can contribute with their defensive play.
The Rangers are also looking to develop young center Filip Chytil as a penalty killer, and he may see increased ice time shorthanded with Fast gone.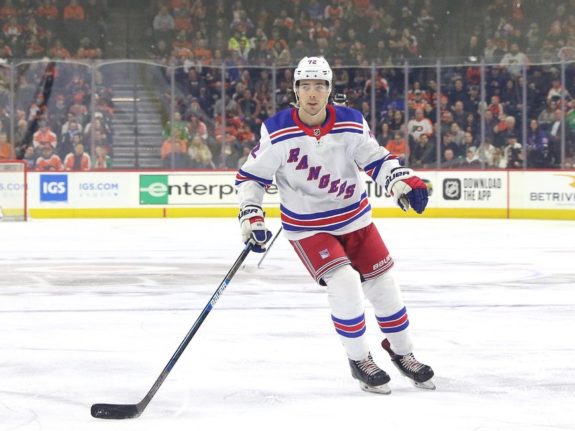 New York had a mediocre penalty kill last season and Fast was one of their most reliable penalty killers, but they can look to replace him by committee and see which players step up. It's unlikely that Rooney, Blackwell and Di Giuseppe will all be in the lineup together, and Rooney has the most experience killing penalties of the three, which could give him an advantage as they compete for a spot in the lineup and ice time.
Moving Forward
The Rangers will certainly miss Fast but they have plenty of players who are candidates to replace him. They can look to play a more highly skilled offensive player on a line with Panarin or look to use another gritty, defensive-minded forward.
As for the penalty kill, the Rangers signed multiple forwards who struggle offensively but play well defensively to short-term contracts. Those players should help soften the blow of losing Fast and the Blueshirts could also begin developing some of their young forwards as penalty killers.
One thing Fast provided that will be difficult to replace was his leadership. He was an alternate captain for the Rangers and led by example with his play. With Lundqvist and Staal also gone, players like Zibanejad, Kreider and Panarin will have to provide leadership and mentor the team's younger players. They were one of the youngest teams in the NHL last season and have become an even younger team this offseason.
While the Rangers will miss Fast for his versatility, leadership and grit, they have plenty of options to fill the void he will leave and should have high expectations heading into next season.
---
---