Following another failed campaign from his Toronto Maple Leafs, general manager Kyle Dubas has been active this offseason. His philosophy hasn't proven ineffective just yet, though, as he's only entering his third year at the helm. In the meantime, Dubas has shown his ability to adapt, spending wisely to acquire what his team lacks while avoiding an expense that wouldn't have garnered the same type of return.
RELATED – 2020's Stanley Cup Deserves an Asterisk for All the Right Reasons
Toronto was able to address areas that need the most attention, for prices and terms that are hard to refute. For as many acquisitions as they've recently made, none signal that the overall style of this team is set to change. These are simply pieces that each have their individual fit amongst the puzzle already in place. And they didn't cost as much as Alex Pietrangelo would have.
Pietrangelo Wasn't the Missing Piece
There is no denying that Pietrangelo is amongst the best defensemen in the league as an undisputed superstar. He has been for years and has time ahead of him to accomplish even more. Adding a Stanley Cup to his accolades in 2019 certainly helped elevate his value, too.
Even though his name was closely connected to Toronto leading up to free agency, fans should be happy that they avoided signing him. That may sound strange, given what he'd provide. However, the Maple Leafs were more strategic in extracting as much out of their funds as possible as opposed to spending it all in one place.
How the Math Adds Up
Judging his deals purely from a quantity over quality perspective, Dubas acquired four for the price of one. The $8.8 million that the Vegas Golden Knights are paying Pietrangelo is more than the Maple Leafs spent on their four most experienced additions combined.
T.J. Brodie signed for $5 million, Wayne Simmonds is locked in for $1.5 million, Zach Bogosian joined the club for $1 million, and Joe Thornton is now a Maple Leaf for only $700,000. Brodie's is the sole multi-year deal, as the other three expire at the end of the 2020-21 campaign.
In total, the four noted are making $8.2 million playing in Toronto next season. That's $600,000 less than Pietrangelo is being paid for his talents alone. Constructing an effective roster involves more than simply clogging its holes. Dubas didn't just add bodies, he enhanced his lineup with what these acquisitions bring to the team.
Improving Defense the Right Way
Toronto's lack of defensive options has seemed like a never-ending storyline for some time, especially the need for improvement down their right side. Adding in that both Tyson Barrie and Cody Ceci would not be re-signed by the Maple Leafs following 2019-20, that created two right defensemen spots that would need refilling.
Dubas was able to land a top-pairing option in Brodie, who will be expected to produce while logging minutes through a variety of situations. He spent the majority of recent seasons playing alongside former Norris Trophy winner Mark Giordano. That experience will help him elevate the game of those who slot in beside him on Toronto's blue line.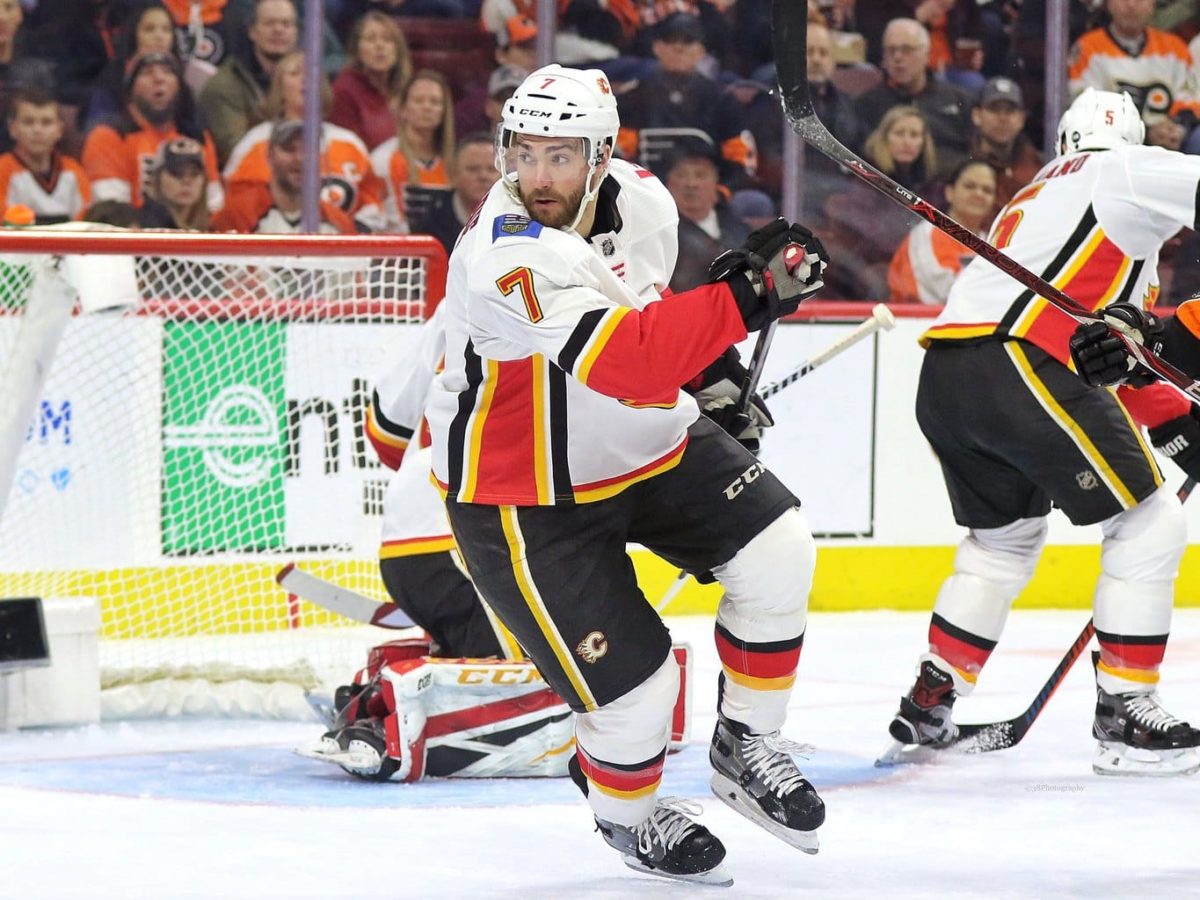 The Maple Leafs were also able to attract veteran Zach Bogosian to help further balance their right side. Overcoming career uncertainty in recent years, Bogosian took advantage of the opportunity he was granted by the Tampa Bay Lightning, helping them hoist the 2020 Stanley Cup. Toronto hopes he can continue his resurgence in a Maple Leafs uniform.
Size, Strength, & Scoring
Toronto's roster is not short of talent. Yet, it's never a bad idea to have more of it. Their bottom-six has not been quite as dangerous as their top-two lines, so adding proven production would be a benefit, especially if it came with the versatility to play either right or left wing, up and down throughout the lineup.
RELATED – Maple Leafs Would Dominate a Canadian Division in 2020-21
With over 900 games played, Simmonds is one point shy of 500 with over 1,650 hits to date. Even if the former 30-goal scorer's most productive days are behind him, his physicality has yet to let up. The 145 hits he landed through 2019-20 was 36 more than Toronto's leader in that category and he's averaged 153 each of the past five campaigns.
Inexpensive, Yet Invaluable Experience
Toronto's least expensive addition is also their most experienced. Entering his 23rd year in the league, Thornton has racked up over 1,500 points. He's won a multitude of awards, played in numerous All-Star games, and is approaching the 500-goal club. Missing the Stanley Cup from his trophy case, Thornton hopes to help Toronto win their first since 1967.
In any other case, it may seem illogical to add a 41-year-old to a team built like the Maple Leafs. However, when a future Hall of Famer's leadership, achievements, and presence can be infused into the plan for risk as low as the league minimum in salary and term, it's a no brainer.
Making Sense of Added Age & Weight
It's known that the Maple Leafs are structured around youth, with a focus on speed and skill. Outside of their 30-year-old captain, John Tavares, the majority that fills Toronto's talent pool are far from their peak playing age. 23-year-old Auston Matthews, 23-year-old Mitch Marner, 24-year-old William Nylander, and 26-year-old Morgan Rielly are all part of Toronto's core.
RELATED – NHL Playoffs and the Myth of 'Canada's Team'
The four additions add an average age of over 33 years old each. Yet, these acquisitions do not overshadow the rest of the team's youthful standard. Their experience will most certainly influence further development within Toronto's young leaders, who will continue to maintain the focus of fans.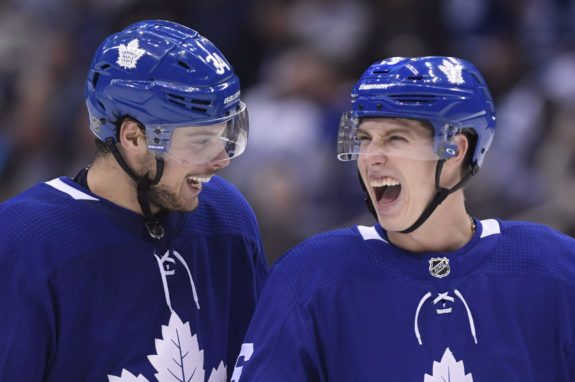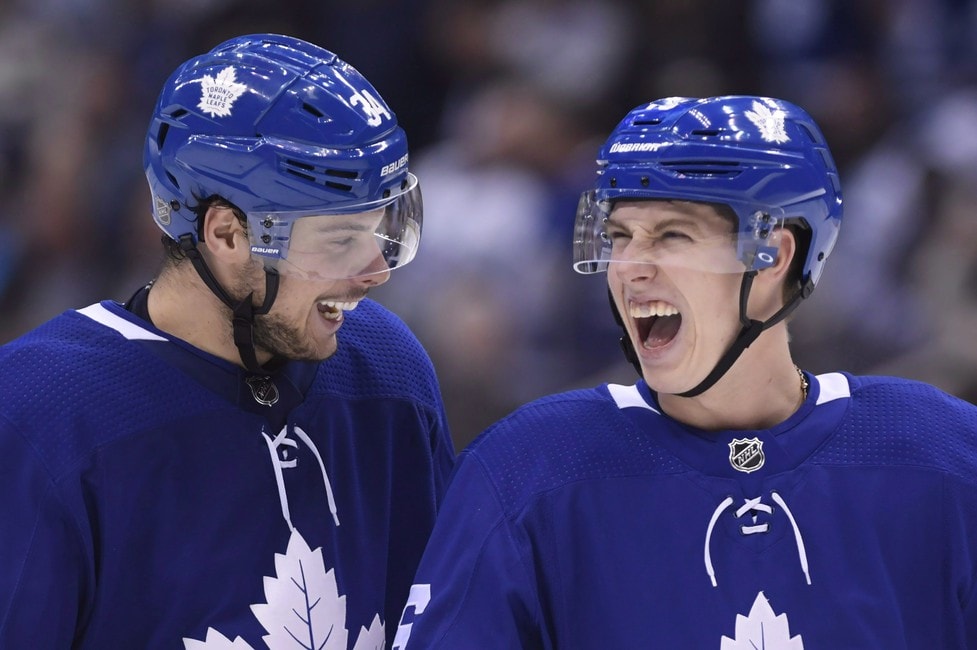 Brodie, Simmonds, Bogosian, and Thornton also come with a mean height of over 6-foot-2 and average weight greater than 200 pounds. Although this lineup isn't obsessed with size, gaining it alongside the benefits these players bring is a bonus that will better protect the rest of the team.
Piecing It All Together
Dubas was able to not only fill necessary voids, he also acquired valuable pieces to further strengthen Toronto's strategy. Any skepticism from adding aging athletes who may otherwise seem to be nearing the end of their careers, can be shut down given the names involved. They improve Toronto's design.
All in all, the Maple Leafs were able to effectively balance their lack of defensive stability down the right side, force more strength into their lineup, and establish further depth through their bottom-six. They did all of that for $8.2 million while avoiding spending even more to only address one of those areas. Dubas succeeded this offseason, now it's up to his team to help prove him right.
---
---