The changing of the guard at Madison Square Garden will really start to ramp up in June, when the New York Rangers enter an NHL Entry Draft in which they have three first-round picks, two second-rounders (one that could become a future first) and two thirds to work with among 10 total picks. Perhaps they'll make all of those selections, perhaps some will be packaged in trades for established players, or perhaps they'll be used to move up in the draft. It's certain, though, that more youngsters will be added by an organization that necessarily committed to a full-on rebuild during the past season.
What seems less certain is the status of some of the younger players already on the roster. Some of them had the look of future franchise cornerstones at the outset of 2017-18, only to suffer, in some cases, alarming regression. Already in possession of a bunch of kids through last year's draft and their pre-deadline sell-off, the Rangers must make tricky decisions on whether the holdovers are worthy of long-term commitments – and if making them results in higher-end talents being blocked on Broadway.
Here are five such players, who, even at young ages, appear to be a crossroads for 2018-19.
Brady Skjei
The big fellow looked like he was on his way to becoming the Blueshirts' top-pair left-hander in his first full season of 2016-17, when he recorded 39 points and posted a plus-11 rating in 80 games. Former coach Alain Vigneault referred to him as the prototypical modern NHL defenseman then, given his combination of size, skating ability and puck-handling prowess.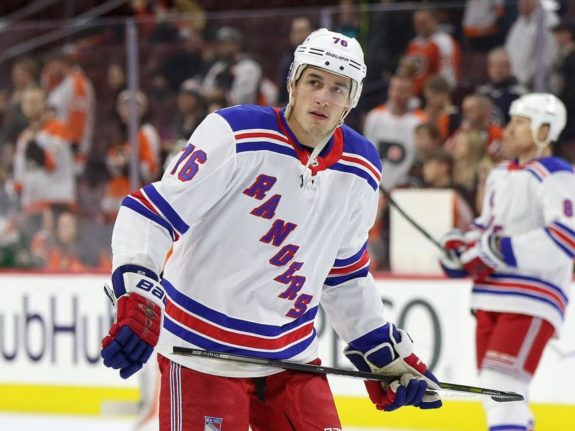 That lofty label wasn't heard much last season, as Skjei finished with a ghastly minus-27 rating – among the worst in the league among defenders – in a startling step back for the 6-foot-3, 211-pounder. Opening the season in a pairing with Brendan Smith didn't help, but Skjei, who did play in all 82 games, simply didn't exhibit the tantalizing combination of skills he did the previous season. Like all of the Rangers D-men, his defensive zone coverage needs work, and Skjei also might need to find a nastier edge to take the next step.
He's a restricted free agent after completing his entry-level contract and the Rangers are likely to re-sign him, but his "bridge" deal will probably be of the "prove it" variety (i.e. for less money than he would have made with another strong season). Libor Hajek, Ryan Lindgren and Yegor Rykov, acquired in trade deadline deals, are fellow young lefty defensemen waiting in the wings for a shot. Skjei needs to start fighting for a spot on the Rangers' future blue line next season.
Jimmy Vesey
Vesey was, seemingly, another coup of a signing in the Kevin Hayes mold after choosing not to sign with Nashville out of college, which drafted him in the third round in 2012. 16 goals, 11 assists and plenty of typical rookie ups and downs in 2016-17 seemed to carry the promise of more to come.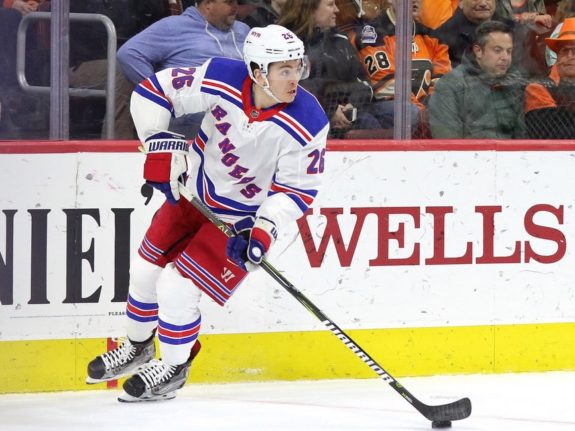 Vesey, though, clearly hadn't figured out what it takes to be an all-around NHL player last season, when he recorded 17 goals and 11 assists but was a minus-18 and found himself benched for extended stretches by Vigneault amidst turnovers, poor decisions and a lack of defensive responsibility. The Harvard product again showed his proficiency and touch finishing in close around the net, which will likely be his ticket to thriving in the NHL, but the jagged edge he played with in 2016-17 was noticeably absent.
It seems reasonable to question whether preparation and focus were absent as well. Vesey's physical play and ability to score from the dirty areas are sorely needed by the Rangers, but assuming the restricted free agent is re-signed, he'll have to come to camp prepared to make changes and learn.
Pavel Buchnevich
The Russian made his debut the same season as Vesey, with the Rangers harboring similar hopes that Buchnevich could develop into a future top-six forward. Like Vesey, Buchnevich mostly got a pass as a rookie, with the team realizing that he was facing a huge dual learning curve in adjusting to the NHL as well as making the cultural adjustment to living in the United States.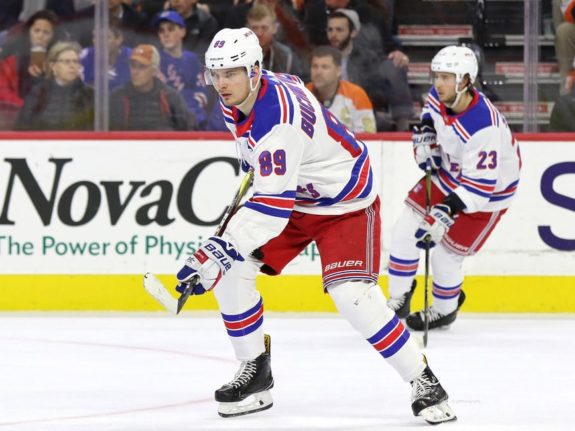 The recently turned 23-year-old also struggled with core muscle issues but managed to record eight goals and 12 assists in 41 games and a leap was expected in his second season. His totals rose to 14 and 29 in 74 games in 2017-18, but he was still plagued by inconsistency. Buchnevich recorded seven goals and five assists in 10 games from Oct. 23-Nov. 15, but he scored two goals in his final 24 games and none in his last 13.
Apparently more of a passer than a scorer, Buchnevich may still be figuring it all out, and the great hands and vision on the ice might require a little extra patience from the organization as it tries to develop this talented offensive player. A similar performance or regression in season No. 3, though, could mean the organization misjudged the potential of the 2013 third-round pick.
Tony DeAngelo
Though just 22, time could already be running out for this offensively skilled defenseman, who was something of a throw-in to the Derek Stepan trade that netted the Rangers the seventh-overall draft pick in 2017, to establish himself as part of the Rangers' future. A combined minus-31 in 71 total NHL games, immaturity played a role in his departure from Arizona. He started the season with the Rangers but was sent down to Hartford on Oct. 24 before getting an extended look on Broadway when he was recalled Jan. 20.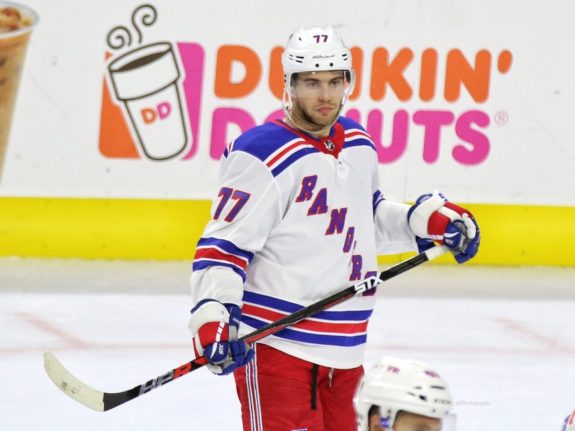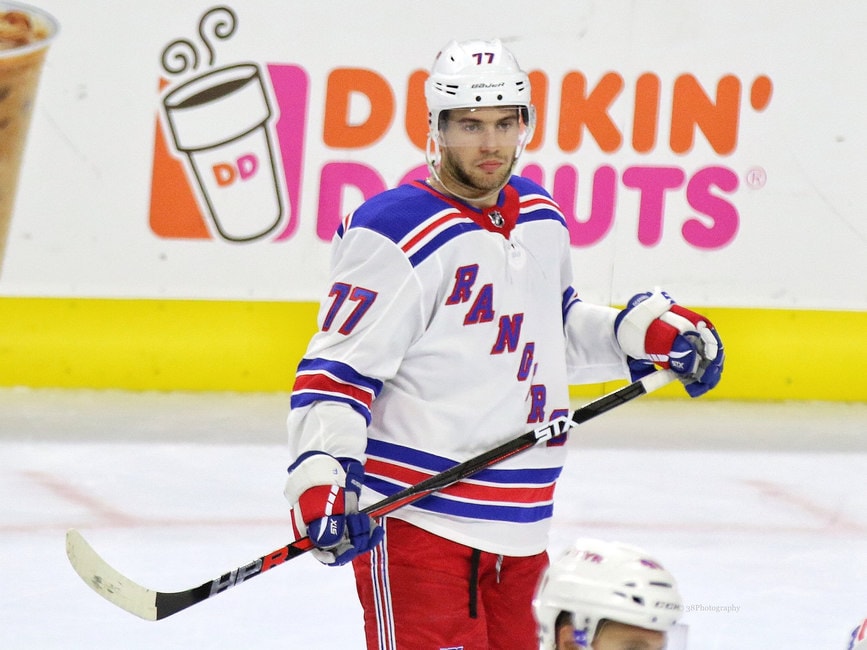 DeAngelo, though, had his season end March 12 when he suffered an ankle injury in a crash into the boards against Carolina. Vigneault spoke of his obvious offensive skills and felt DeAngelo had been making strides. He also spoke of how far the right-handed D-man – a commodity in the NHL – needed to go to reach an overall understanding of the game.
DeAngelo, if he's still around, will compete for a spot on the blue line in training camp, but a lack of progress could mark the beginning of the end for him in New York. Fellow young right-handed defenseman Neal Pionk showed considerably more than DeAngelo in his 28-game audition last season and will be a prime candidate to win a spot on the roster.
Vladislav Namestnikov
It seems unlikely the Rangers would give up on him too quickly after acquiring him as part of the Ryan McDonagh blockbuster trade with Tampa Bay, but Namestnikov's performance after leaving Stanley Cup-contending Tampa Bay for rebuilding New York can't be completely ignored. Enjoying a career season with 20 goals and 24 assists before the trade, the 25-year-old forward managed two goals and two assists in 19 games with the Blueshirts, posting a minus-five rating.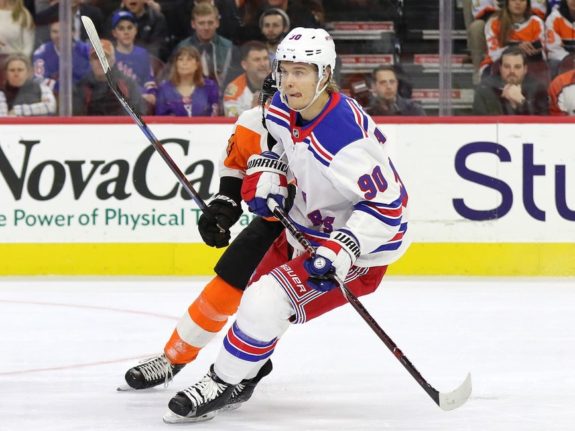 It's sometimes difficult to accurately judge the reasons for the effect of moving between teams at opposite ends of the spectrum; J.T. Miller's rise with the powerful Lightning after heading south as part of the McDonagh trade provides the perfect example. The Rangers need to decide whether to re-sign the restricted free agent Namestnikov, and that means arriving at a conclusion about whether he's a future offensive building block or someone who benefited from his presence in the loaded Tampa lineup.