Nazem Kadri is set to return from his three-game suspension Saturday night, Game 5 of his Toronto Maple Leafs' first-round series against the Boston Bruins.
Kadri's return couldn't be timelier for the Maple Leafs, who are facing elimination after a 3-1 loss Thursday night at the Air Canada Centre. Though Toronto's play improved during their two games at home, their Game 3 victory was decidedly lucky and, despite outplaying the Bruins in Game 4, the Leafs simply couldn't score enough to compensate for their mistakes and Boston's subsequent capitalisation.
If the Maple Leafs hope to move on in the 2018 Stanley Cup Playoffs, they'll need to win three straight games, including two in the decidedly unfriendly confines of Boston's TD Garden.
A lineup featuring Kadri is their best shot at doing so.
Kadri's Offensive Impact Immediate, Imperative for Maple Leafs
With back-to-back 32-goal campaigns, Kadri is a bona fide offensive threat in the National Hockey League. Adding him to any lineup, let alone one gathering steam, makes that team instantly better. His speed and skill will be welcome additions to a Toronto team whose embarrassment of riches in these regards began to expose the Bruins in Games 3 and 4.
The offensive augmentation Kadri can provide may be a necessity for the postseason survival of the Maple Leafs.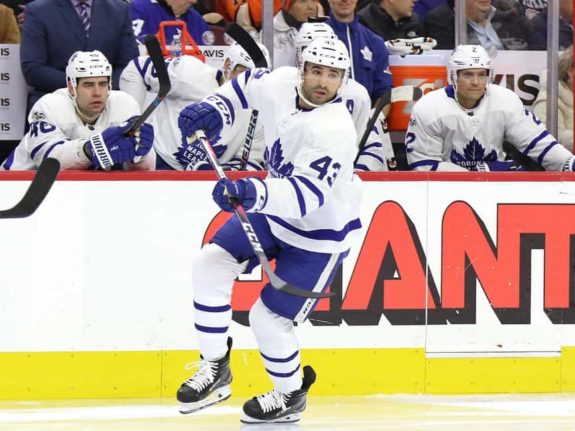 Two of Toronto's top three regular-season scorers, Auston Matthews and William Nylander, have been effectively neutralised by a strong-checking Boston team, each managing just a single point through four games. Some secondary scoring is definitely needed, and Kadri's return adds another weapon to Toronto's arsenal.
Kadri will also provide another option for the Maple Leafs' power play which, though far from ineffective, could really benefit from having its top finisher (Kadri's 12 power-play goals during the regular season led the team; his 19 points were fourth) back in the saddle.
The Maple Leafs are a much more dangerous offensive team with Kadri in the lineup. They'll have to be, if they have any chance of coming back in this series.
Kadri Cleans Up Maple Leafs' Defensive Game
But let's not overlook Kadri's strong defensive game.
Kadri is the team's best two-way centre, and it's no secret Maple Leafs head coach Mike Babcock leans heavily on the 27-year-old. Kadri has flourished in this role, and his presence in Game 5 should go a long way towards cleaning up some of the mistakes that have resulted in Boston goals throughout this series.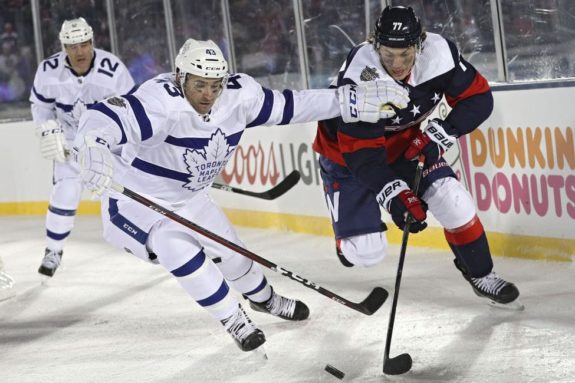 Through the first four games of this series – even their Game 3 victory, the Maple Leafs have shown an inexplicable lack of basic defensive awareness. From leaving Bruins unmarked in front of the net, to poor pinch protection for defensemen, to downright lazy backchecking, the Maple Leafs have handed the Bruins as many goals as the Bostonians have earned themselves.
Though it looks like stopping the Bruins' top line altogether may be a futile endeavour, Kadri should at least help stem the tide of the Bruins' offensive onslaught. The bolstering of the Maple Leafs' defense is particularly important given the team has, thus far, been severely limited on their side of the scoreboard by the exceptional play of Tuukka Rask in the Boston net.
Kadri's Career History Tantalising, Troubling
In terms of career history, Kadri has put up eight goals and 18 points in 29 career regular-season games against the Bruins, many of which came during the Leafs' lengthy era of ineffectively using him. He also tallied four points in Toronto's heartbreaking seven-game loss to the Bruins in 2013. Not Connor McDavid levels of production, but reasonable nonetheless, especially considering the aforementioned circumstances.
However, he's also shown a penchant for recklessness. Prior to his well-deserved suspension for braining Tommy Wingels, Kadri had already accrued three suspensions for hits to the head on his NHL record. Anyone who has followed the Maple Leafs during Kadri's tenure knows he has a tendency to get…excitable when things get heated.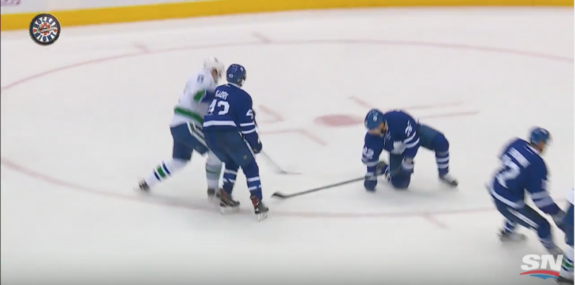 Though an excellent agitator himself, Kadri sometimes struggles to rein in his emotions, often culminating in him crossing the line to the detriment of his team. Obviously, his 17 minutes in penalties in Game 1 were evidence of that, but he also took 10 during the 2013 series against the Bruins.
Compare that to agitator extraordinaire Brad Marchand, who has just two penalty minutes (and seven points!) this series – and had only four against the Leafs in 2013. The two play a very similar game; Marchand just knows where the line is and when to let things go. Kadri, meanwhile, sees the "red mist" far, far too often.
The Bruins' game is exasperatingly pestilent, and Kadri has shown a propensity to be aggravated by such styles of play. Kadri is most effective when he, too, is playing as such, but it will be critical for him to keep control of himself from here on out, lest he again scuttle his team's chances of winning.
Kadri's Return Maple Leafs' Last Stand
Kadri has proved costly to the Maple Leafs this postseason. He let his emotions get the better of him, parlaying a selfish – and dangerous – third period in Game 1 into a three-game suspension. That just cannot happen when you're a regular on an NHL team, let alone a team's second-best centre.
Now though, after having sat out three games, he has a shot at redemption. If Toronto does anything less than win the next three games, Kadri, rightly or wrongly, will go down in history as the player who cost the Leafs their season. However, if his return gives the Maple Leafs the boost they need – whether in spirit and or on the scoreboard, and they come back and win, all will no doubt be forgotten.
That's a big hill to climb for Kadri, but it's a hill of his own making. How he responds in the games ahead will determine his reputation for years to come.