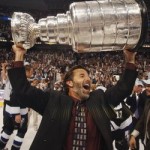 Ranger coach John Tortorella sounded like a man who had just taken a seminar in redundancy 101 last night during his post game remarks at Madison Square Garden. Unfortunately, after losing 4-2 to the Capitals, on the night Alex Ovechkin returned, the coaches press conference had a familiar theme.
"Our biggest weakness…we're just not getting any secondary scoring." In fact, leading scorer Marian Gaborik was the only Ranger to hit the twine, doing it twice, once on the power play.
Besides the lack of scoring prowess that this Ranger team has a fond proclivity for in general, they also scored just one even strength goal again, giving them 10 in their last 9 games. Going almost 19 minutes without a shot on goal last night doesn't help their cause either. And that's against a team not known for playing stellar defense. One might say that the Capitals looked like the 1995 version of Jacques Lemaire's Devils, giving up only 11 shots through two periods last night.
Averaging just about one goal a game, aside from the power play, Tortorella lamented about his special teams unit, "we're just depending on it too much."
As far as Alex Ovechkin, the star forward scored on his lone shot of the night, a blistering slap shot from just inside the blue line on the power play. What was noteworthy was that  unlike the Caps first power play chance of the night, Ovechkin was moved back up high on the unit, a position he started the season at. Originally the staff thought they would ease the great one back in the line-up. That strategy was quickly abandoned and Ovechkin proved that a few weeks off has not diminished his scoring touch.
When a teams not scoring, defensive lapses tend to stand out. None could have been more egregious than Wade Redden's mishap just past the 15:00 mark in the Caps zone. With the score tied at 2, Redden held his ground at the blue line but Matt Bradley was able to chip the puck past him, race down ice and beat Lunqvist up high for the game winner.
That was the same Matt Bradley who found himself badly bloodied just minutes into the game, after an altercation with Ranger forward Aaron Voros. The Rangers had taken an early lead just seconds into the game. So off a face-off, Bradley took it upon himself to talk Voros into fighting. The puck dropped as did Bradley shortly thereafter. The Caps forward however, was no worse for wear, as he was regaled in the winners locker room afterwards.
Coach Bruce Boudreau was particularly impressed. "It was nice to see…when your teammate gets bloodied like that, it seems on this team it has really rallied them in the past. I thought it made us play better for sure."
And the NHL wants to get rid of "staged" fighting?