The New York Rangers have played 11 of 56 games in this shortened 2020-21 NHL season. About a fifth of the way through the season, the Blueshirts have been average at best. Though they hope to get a sniff, not many people expect them to make the playoffs. The MassMutual East Division is strong with some playoff mainstays at the top, and most pundits feel it's a five-team race for the four spots; spots that the Rangers, the Buffalo Sabres and New Jersey Devils aren't going to get. However, it's the modern NHL with no red line, three-on-three overtime, and, even this season, players are having a tilt or two, so anything can happen.
A Fifth of the Way
As far as bright spots go, Artemi Panarin has been solid. He leads the squad in goals, assists and points (5, 10 and 15, respectively). On some nights, he's been the only forward with a jump in his skates for three full periods. Another bright spot has been K'Andre Miller. He's been given a good amount of ice time (just over 20 minutes per game), some of which have been in key situations. He's made great decisions with and without the puck, threw some great passes to spring players like this one, and he has already scored his first NHL goal. 
Rangers head coach David Quinn had this to say about Miller during training camp and it's pretty much held up: "He just moves so well, he takes up so much space, he's got such a long reach, he closes on people quickly. His puck decisions, to me, have really been the surprise to all of us. We knew he made some good decisions, but to adapt as quickly as he has so far — and again, let's keep it in check, it's bubble practices and now it's training camp — but he's certainly shown a lot of things you look for in a defenseman," (from 'K'Andre Miller playing way into Rangers lineup' – NY Post – 1/8/21).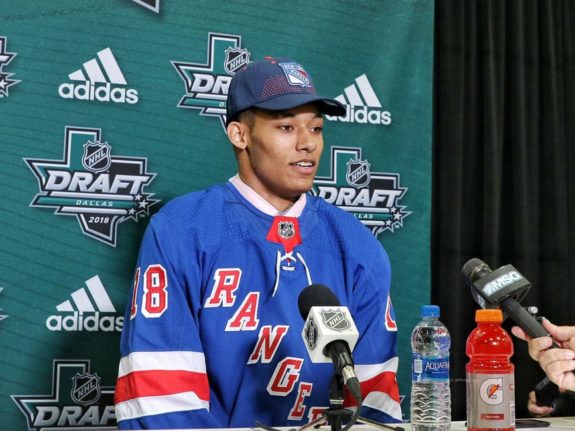 The fourth line has been doing their job, and Brendan Lemieux and Kevin Rooney have meshed well. On many nights, the third piece has changed, but whoever has stepped in has fit pretty well, like Jonny Brodzinski against the Pittsburgh Penguins last week. This line usually wreaks havoc and lets their presence be known out there. 
As far as disappointments go, Mika Zibanejad tops the list. After posting career bests in 2019-20, he's struggled out of the gate. Zibanejad only has one goal and two assists, and he's minus-4. He seems like he doesn't have the same explosiveness he's shown in the past, but there hasn't been any significant injury reported, so who knows what the problem is. He has one fewer point than rookie defenseman Miller, who's also plus-7.
After a strong training camp and the first few games of the season, Jacob Trouba has been struggling as well. He has two points and is plus-2, but all too often, he's not making sound decisions for a player of his caliber.
Drury Promoted to Associate GM
Former Rangers forward, and Stanley Cup-winner with the Colorado Avalanche, Chris Drury was promoted to associate general manager. Drury played 892 games in the NHL, 274 of them with the Blueshirts. The Quebec Nordiques' 1994 third-round draft pick retired in a Rangers uniform in 2011 and has worked in the team's front office since 2015.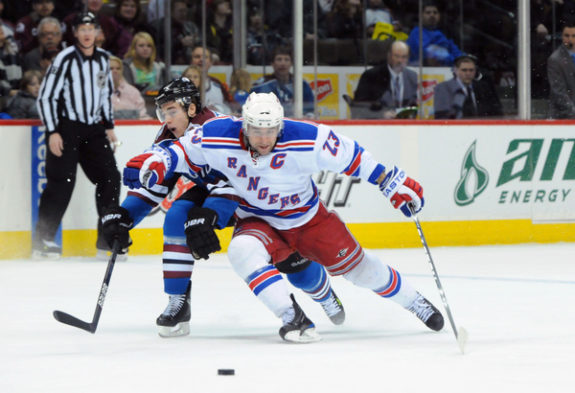 He's held several titles with the Rangers, such as director of player development, assistant GM, and he's also been the GM of the Rangers' affiliate Hartford Wolf Pack since 2017. Drury will continue to assist general manager Jeff Gorton with contract negotiations and other player transactions. He'll also be looking over all hockey matters with the Wolf Pack.
Rangers Partner with PWHPA
The Rangers are the first NHL team to partner with the PWHPA (Professional Women's Hockey Players Association) in 2021. On Feb. 28, they'll host teams from Minnesota and New Hampshire at MSG for the 2021 Secret® Dream Gap Tour showcase.
Jayna Hefford, PWHPA operations consultant had this to say: "This is a major milestone for women's hockey and young girls who aspire to play professional hockey but don't have the option to make it a career today…NHL teams are uniquely positioned to elevate women's hockey to the next level. They bring major brand strength, corporate relationships and access to a fan base. I want to thank the New York Rangers and Bauer Hockey for helping us reach this achievement. We're even more excited to celebrate this milestone on National Girls and Women in Sports Day," which was on Feb. 3.
The goal of the PWHPA is to create opportunities for women to play hockey and earn a living wage while supporting a sustainable league, and to provide players with the elite-level resources they need to excel. They also strive for marketing investments that allow them to promote their players and the game.
Rangers president, John Davidson had this to say about the partnership: "The talent level of women's hockey is simply incredible, and the Rangers organization is honored to host this game. We're excited to play even a small role in helping elevate visibility for the women's game." Davidson added, "We all love this sport so much and any opportunity the Rangers have to participate in its advancement is something we want to be a part of. It's a win for everyone involved."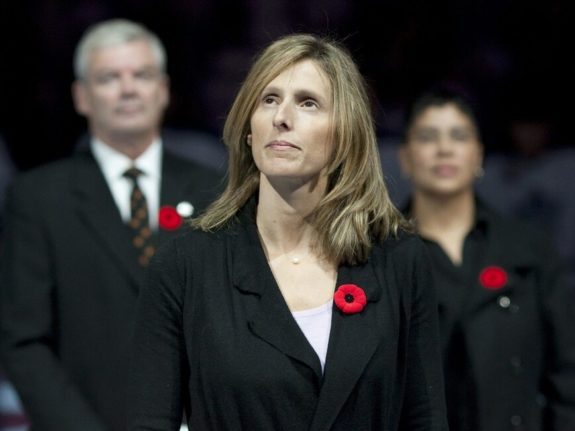 The PWHPA had one previous event in 2021 that also involved the Minnesota and New Hampshire squads. They traveled to Tampa, FL, to play against USPHL teams for two weeks at AdventHealth Center Ice. The USPHL is the nation's largest amateur hockey league, made up of 11,000 players aged 6-20 with 550 teams. Hopefully, that event, along with the upcoming game on the 28th, will keep the torch burning that was passed on from players like Cammi Granato, Hayley Wickenheiser, Meghan Duggan and others. Let's not forget that the Preston Rivulettes were among the pioneers of women's hockey in the early 1900s.
45 More
With 45 games left, the Rangers will experience more growing pains. They need it, and they need to fight through it. If they do, they'll come out better and sooner than some might think. No matter what's happening now, the future is bright for K'Andre Miller, Chris Drury, the Rangers, and especially the PWHPA.
---
---