There are a large number of lineup changes for the Toronto Maple Leafs as the team prepares for its game against the Montreal Canadiens this evening. In this edition of Maple Leafs News & Rumors, I'll take a look at some of the roster changes that are happening as the team prepares for this game. 
Related: Tkachuk Shows His Ignorance Discussing Maple Leafs' Campbell Injury
I'll also do an injury update to help Maple Leafs fans stay up-to-date about what's happened to key Maple Leafs' players who have either have been injured in the recent past or who are currently entering long-term injured reserve (LTIR).
Item One: Jack Campbell Was Placed Retroactively on LTIR

Backup goalie Jack Campbell, who's out with a leg injury, has been placed on the long-term injured reserve retroactive to January 24. Because Campbell still remains quite some time away from returning to the active lineup, the Maple Leafs will be able to take advantage of some salary-cap relief by placing him on the LTIR. 
That move also means that it is likely that Campbell will miss at least four more games. The earliest he'd be able to return to the active lineup would be on Feb. 18 against the Ottawa Senators. However, because the 29-year-old Campbell hasn't even begun to skate yet, it's impossible to know what a realistic timeline might be for his return. He may be further from returning than the middle of February.
In the meantime, look for starter Frederik Andersen to carry the bulk of the load with Michael Hutchinson being the team's backup. Campbell had a 2-0-0 this season with a goals-against-average of 2.00 and a save percentage of .923. 
Item Two: Wayne Simmonds Also Placed on LTIR
Wayne Simmonds' wrist injury has forced the Maple Leafs to place him on LTIR retroactive to Saturday when the injury occurred. The word we have on Simmonds' return is that he'll likely be out for at least six weeks with a broken wrist.  
Related: Terry Sawchuk – How the Maple Leafs Snagged the Hall of Fame Goalie
I don't think it's just me, but he was missed the other night during the third game of the Vancouver Canucks' series. The team simply doesn't have anyone else quite like him. The team's power play looked completely different without Simmons throwing up a wall in front of the opponent's goalie. It wasn't nearly as effective.
Perhaps Maple Leafs fans should expect Alexander Barabanov to expand his role with the team during the time Simmonds will be on the mend. Simmonds was playing some of his best hockey in years and was obviously also enjoying playing for his hometown Maple Leafs. He had five goals during his 12 games. 
Item Three: Kalle Kossila Was Assigned to the Minors
For those fans who don't know Kalle Kossila, he's a 27-year-old Finn who for three seasons (between 2016-2018) played 19 games with the Anaheim Ducks. He was first signed by the Maple Leafs during the summer of 2019 to a two-year contract. However, because of a variety of injuries he only played 12 total games with the AHL Toronto Marlies. He was signed to be a depth option; instead, recently injuries have limited him to only 12 games with the Marlies.
Kossila played in Finland when he was much younger, then moved to St. Cloud State University. Since then, he's had moderate success both in the AHL and the NHL. As noted, because of his injuries he's never played a full NHL or AHL season since leaving NCAA hockey.
Related: Val James: The Forgotten Trailblazer
Kossila was assigned to the AHL Marlies yesterday, so it looks as if he won't be suiting up soon with the Maple Leafs lineup.
Item Four: Timothy Liljegren Moved to Taxi Squad
Timothy Liljegren was moved to the Maple Leafs' taxi squad yesterday. He hasn't played a game in the NHL this season; however, there's a chance he might play against the Canadiens tonight. Last season, in his 11 games with the team, he scored a single assist. 
Item Five: Travis Dermott's Injury Is Healed and He's Ready to Play
Travis Dermott's leg is ready for action, and he'll be a possibility to draw into the lineup tonight against the Canadiens. During Tuesday's practice, Dermott skated on the team's third defensive pairing. So, if what happens during practice translates to what will happen in the forthcoming game, it looks as if Dermott will likely draw into the lineup.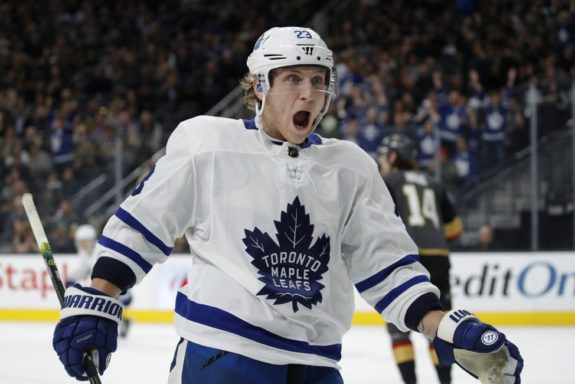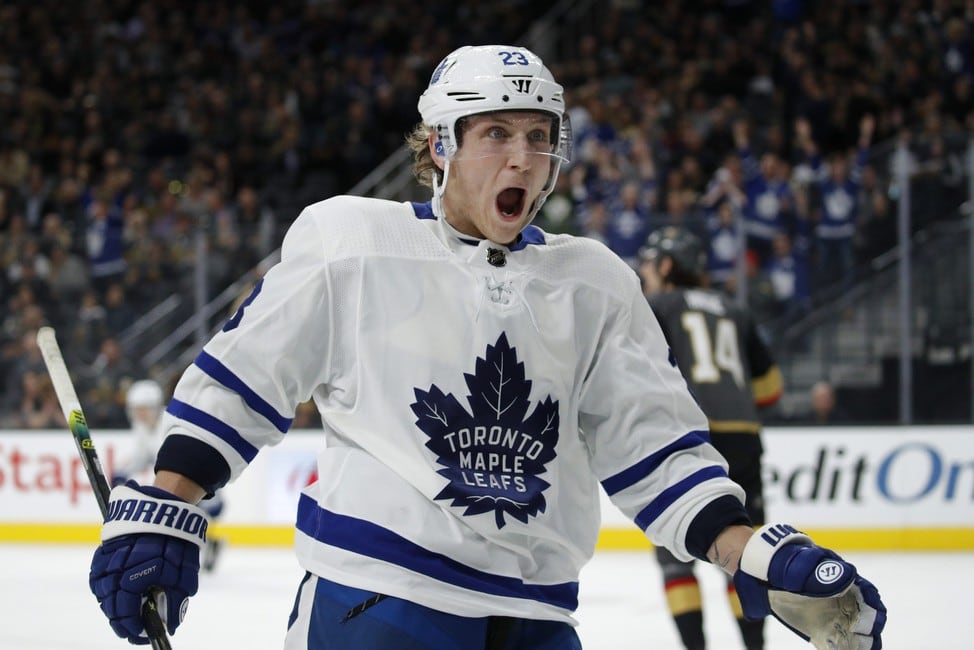 As a result of his injury, he missed two games. In the nine games he's played this season, he hasn't hit the scoresheet yet.
Item Six: Nick Robertson Is Back Practicing
There's good news on the Nick Robertson front. It looks as if his knee injury has healed, because he returned to practice on Tuesday. Sadly for the youngster, he suffered his knee injury during his NHL debut during the game on Jan. 16 against the  Ottawa Senators. 
Although Robertson needs to be activated off LTIR before he's eligible to  return to play, it looks as if the 19-year-old Robertson's return might be imminent. Maple Leafs fans should watch for a team announcement soon.
What's Next for the Maple Leafs?
The Maple Leafs and the Canadiens currently hold the first and second spots in the all-Canadian North Division. Both teams have played well during the season. 
There are two surprises with the Canadiens. First, the Canadiens' All-Star goalie Carey Price has been winning, but he hasn't been playing the kind of stellar hockey we all expect from him. 
Related: Vancouver Canucks Calling: Carey Price, Please Come Home
The second surprise is how well forward Tyler Toffoli has played with the Canadians. After Auston Matthews' 11 goals, which leads the NHL in goal-scoring, Toffoli is tied with two other players – the Edmonton Oilers' great Connor McDavid and the Canucks' Brock Boeser with nine goals for the season.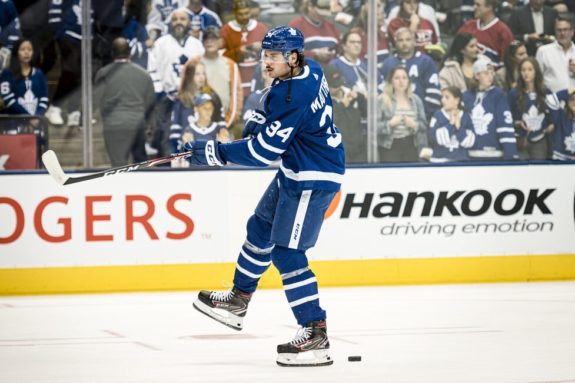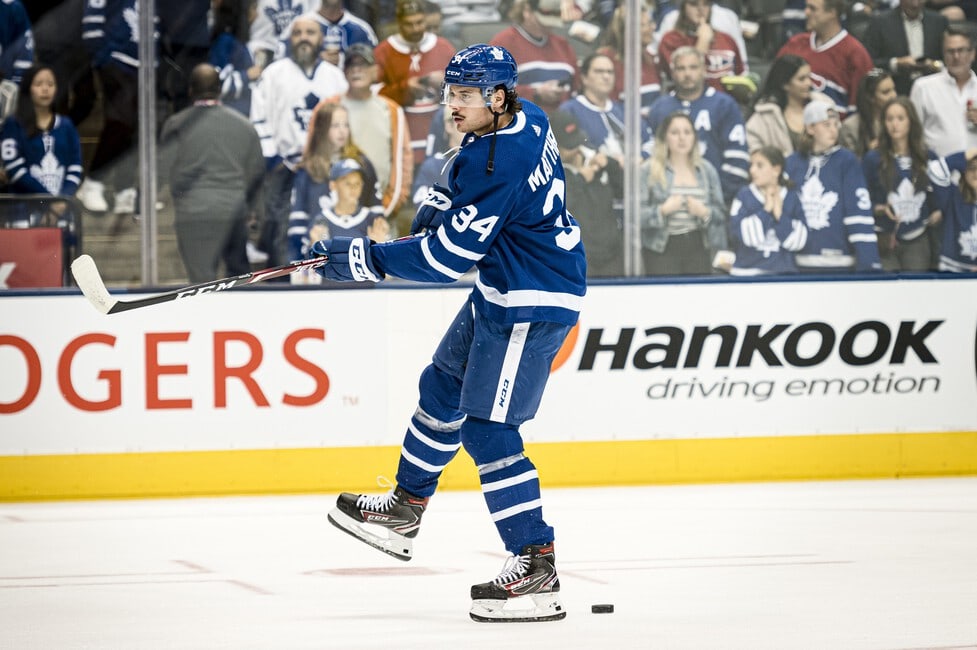 Tonight's game should be fun for fans to watch. It's hard to say whether it will be a low-scoring or a high-scoring affair. It simply depends on how well the goalies play.
---
---
:
The Old Prof (Jim Parsons, Sr.) taught for more than 40 years in the Faculty of Education at the University of Alberta. He's a Canadian boy, who has two degrees from the University of Kentucky and a doctorate from the University of Texas. He is now retired on Vancouver Island, where he lives with his family. His hobbies include playing with his hockey cards and simply being a sports fan – hockey, the Toronto Raptors, and CFL football (thinks Ricky Ray personifies how a professional athlete should act).
If you wonder why he doesn't use his real name, it's because his son – who's also Jim Parsons – wrote for The Hockey Writers first and asked Jim Sr. to use another name so readers wouldn't confuse their work.
Because Jim Sr. had worked in China, he adopted the Mandarin word for teacher (老師). The first character lǎo (老) means "old," and the second character shī (師) means "teacher." The literal translation of lǎoshī is "old teacher." That became his pen name. Today, other than writing for The Hockey Writers, he teaches graduate students research design at several Canadian universities.
He looks forward to sharing his insights about the Toronto Maple Leafs and about how sports engages life more fully. His Twitter address is https://twitter.com/TheOldProf