The New York Rangers clinched their second consecutive playoff berth on March 27. They have high expectations following last year's postseason in which they reached the Eastern Conference Final. The expectations this year heightened further following their trade deadline additions of Vladimir Tarasenko and Patrick Kane.
The 2022-23 regular season is winding down and the Rangers are aiming to end the year on a high note. The club will continue to get accustomed to the top six featuring Tarasenko and Kane. Let's take a look at four players to watch during the final stretch to the 2023 Stanley Cup Playoffs.
Filip Chytil
Filip Chytil is having his most productive season in his sixth NHL campaign with 22 goals and 21 assists in 68 games played. He had a good postseason last year with seven goals in 20 playoff contests for the Rangers. He tends to produce points in bunches and has developed the reputation of being a streaky player. Five of his seven tallies in the 2022 Playoffs came in three consecutive games and he had a stretch of seven goals in five games this season from Jan. 23 to Feb. 8.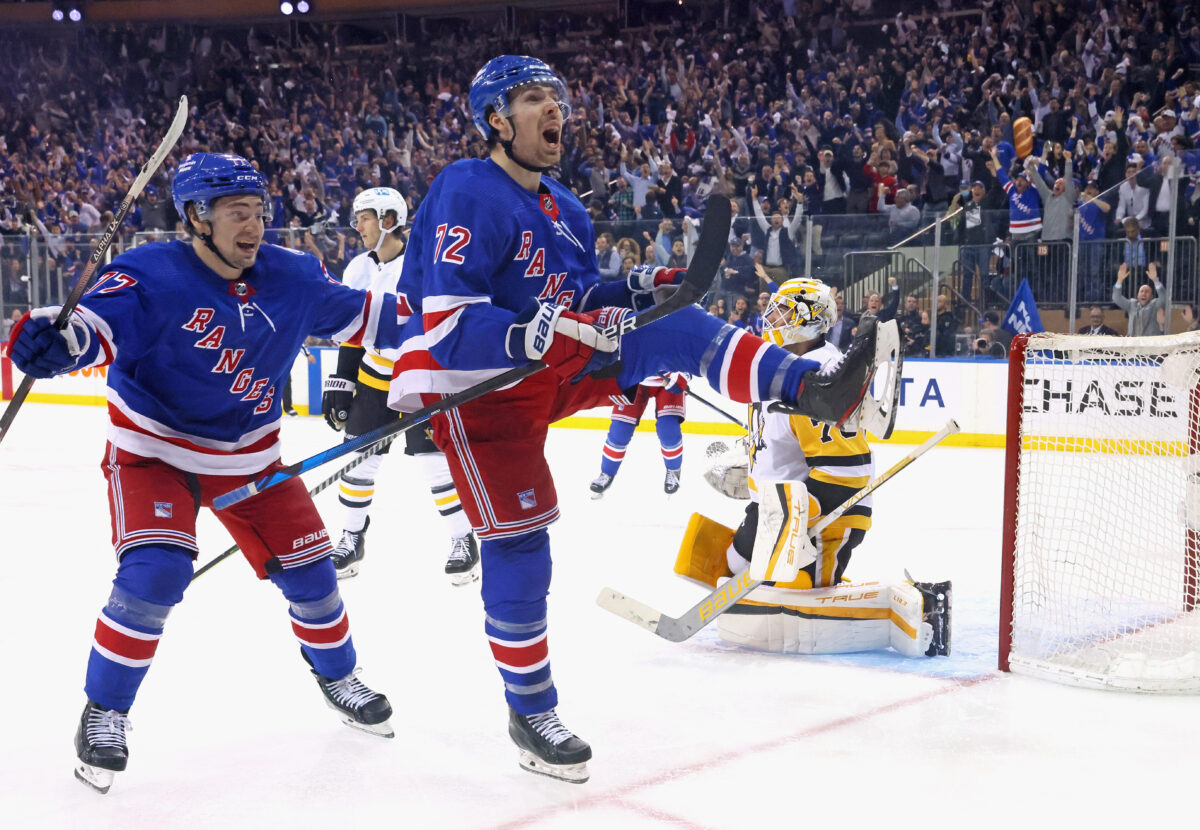 He was due to be a restricted free agent (RFA) in the offseason but the Rangers agreed to a four-year, $17.75 million contract extension with Chytil on March 29. The 23-year-old forward is happy to remain with New York, the club that drafted him 21st overall in the 2017 NHL Draft. "That's what I was focusing [on] the most, staying with this team. Happy for four more years. I know what player I can be. I see how much progress I make every year. So for me, nothing changes. Keep doing the same things. Keep working hard and just make myself better" (from 'Filip Chytil happy 'hard work pays off' with Rangers contract extension,' New York Post, 3/31/23).
Chytil may not be featured in the Rangers' top six frequently, but his production is significant because it takes the pressure off of their top players such as Mika Zibanejad, Artemi Panarin, and Chris Kreider. He is more experienced than his other young linemates in Alexis Lafreniere and Kaapo Kakko but all three of them are critical to New York's future. Chytil's continued development will be worth watching in the remaining regular season games to see if he enters the 2023 Playoffs playing well.
Ryan Lindgren
Following leaving the Feb. 25 contest against the Washington Capitals due to a shoulder injury, Ryan Lindgren has played in one game – on March 21 versus the Carolina Hurricanes. The Rangers have gone 10-4-1 following his exit from the lineup but his presence is significant to their success. Lindgren's absence was evident during three of the playoff contests last year versus the Pittsburgh Penguins.
Lindgren has been practicing with the Rangers but head coach Gerard Gallant wants him as close to fully healthy with the start of the postseason near. The head coach will likely put him into the lineup soon so the defenseman can get back into game shape before their first-round series. The pair of Lindgren and Adam Fox is effective because they provide a balance in their playing styles; Lindgren is a physical, defensive blueliner while Fox is one of the top offensive playmakers at his position.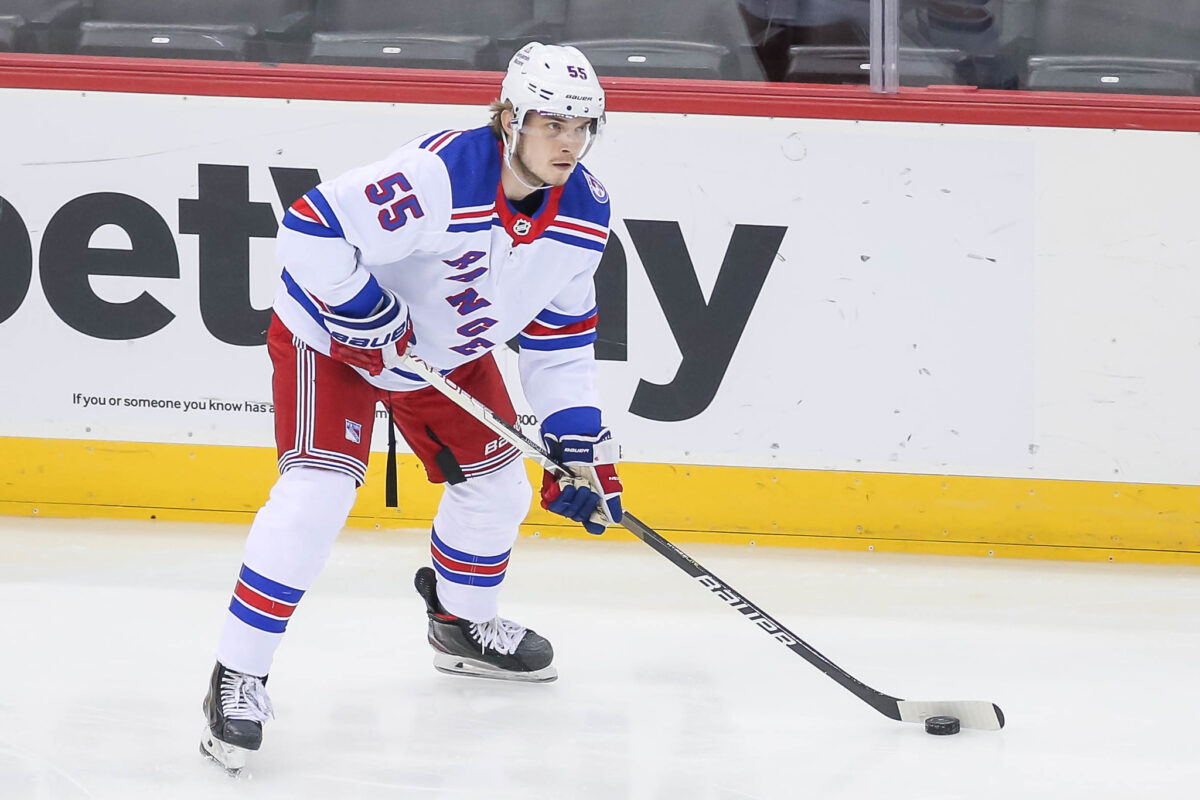 The Rangers acquired Niko Mikkola in the Tarasenko trade and the defenseman has filled in well for Lindgren on the top defensive pairing. However, the Minneapolis, Minnesota native's presence makes the Rangers' blue line more effective. He is one of their underrated players due to his playing style and how he enhances the play of Fox.
Alexis Lafreniere
Alexis Lafreniere is due to be a restricted free agent in the offseason and will look to prove further that he is progressing in his third NHL season. Similar to Chytil and Kakko, the number one overall pick in the 2020 NHL Draft tends to be streaky with his point production. He has points in three of his last four contests including one goal and four assists.
Lafreniere has an opportunity to end the regular season positively with six games remaining on the Rangers' schedule. He had two goals and seven assists in 20 playoff games last year and Gallant needs to see he has made improvements in his game from last season. He continues to be durable and has set a new career high in points with 37.
The 'Kid Line' has a good chance of remaining together throughout the postseason following the additions of Tarasenko and Kane. Given the chemistry Lafreniere, Chytil, and Kakko have demonstrated playing together, Gallant will be seeing if the trio can develop further into an effective complementary unit for the Rangers during the playoffs. Lafreniere can prove he is capable of being an impact player by continuing to play well with the 2023 Playoffs on the horizon.
---
Latest News & Highlights
---
Gallant has trusted Lafreniere more on the power play as the forward has logged over 107 minutes on the man advantage which surpasses last year's regular season total of over 94 minutes per Natural Stat Trick. The forward is on the right track to getting better early on in his career and has an opportunity to help the Rangers close out the regular season strong with an opportunity to win a championship.
Patrick Kane
Kane has been a difference-maker throughout his career with the Chicago Blackhawks, as he was an instrumental player in helping them win three Stanley Cups in six seasons. His reputation is why Rangers' president and general manager (GM) Chris Drury still decided to acquire him following the addition of Tarasenko. Kane has dealt with adjusting to his new club during March which is a reason why he has occasionally appeared apprehensive.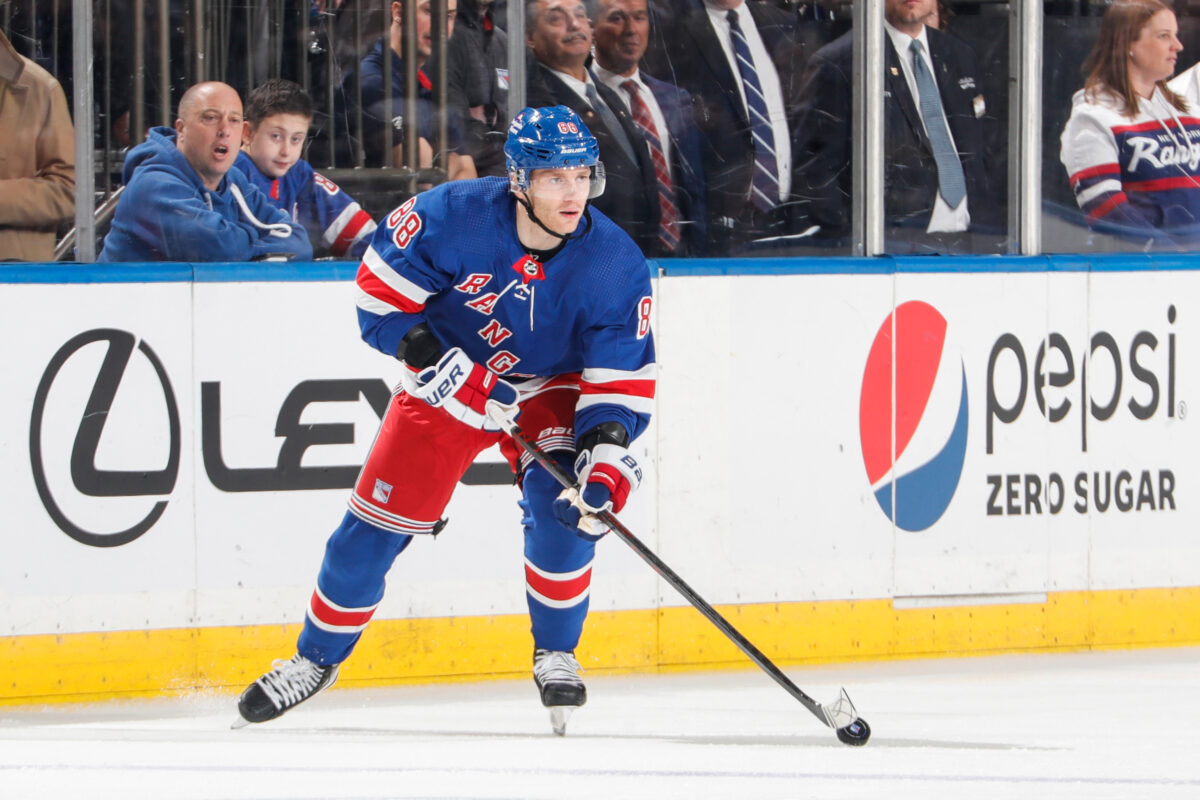 Kane has five goals and four assists in 15 contests with the Rangers including tallies in back-to-back games on March 25 against the Florida Panthers and versus the Columbus Blue Jackets on March 28. He is a player worth watching for New York down the stretch due to his big play potential.
The Rangers have a player in Kane who is capable of performing like their best player during the playoffs. Gallant currently has him on the second line with Kreider and Vincent Trocheck and featured on the first power play (PP) unit with Zibanejad, Panarin, Fox, and Kreider. No matter where and with whom Gallant places Kane, the elite forward is capable of producing.
Related: 4 Rangers Crucial to Team's Postseason Success
The expectation is that Kane will be further acclimated to playing for the Rangers before the beginning of the playoffs in mid-April. If he produces more points on the power play, that will make them more of a threat on the man advantage entering the postseason. They have shown they can score multiple goals in a hurry and his presence is a reason for their increased offensive output.
The Rangers will continue to work through their inconsistent play over the remaining six games in the 2022-23 regular season. Even though the Tampa Bay Lightning and Toronto Maple Leafs are the only playoff clubs remaining on their schedule, it is significant they are playing well no matter how good their opponents are. They have high expectations this year and need players such as Chytil, Lindgren, Lafreniere, and Kane to all be effective to win a Stanley Cup.
---
---