Easily the biggest move the New York Rangers made in the 2016 offseason was bringing in Mika Zibanejad. The Rangers traded an integral member of their core, Derick Brassard, in order to get younger up the middle. Zibanejad's first year on Broadway was far from perfect, as he suffered a broken leg and self-proclaimed inconsistency throughout the season.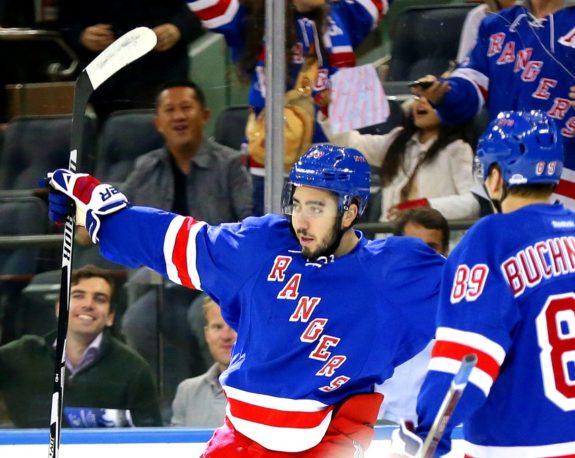 Despite these obstacles, the 24-year-old Swedish-born center did plenty of good things over the long-run, most notably with Chris Kreider and Mats Zuccarello on his sides and in the Stanley Cup Playoffs.
Zibanejad's Good but Inconsistent Season
Zibanejad had a very nice debut season for the Rangers, but his inconsistencies were real. While he only played in 56 of a possible 82 games in 2016-17, due to a broken leg, he still put up 37 points, good for 10th on the team. His biggest contributions came on the power play where he tallied 11 points with the man advantage, one of only five Rangers to eclipse the ten point mark.
He not only offers the Rangers a power play presence, but he is also important at five-on-five, as evidenced by his shot location graph: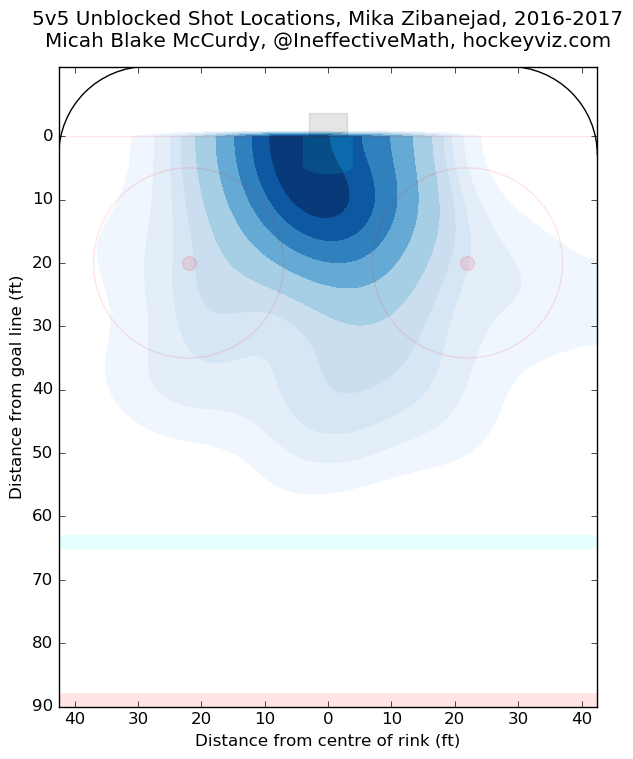 Zibanejad was a presence at the net. Consistently putting together high-danger shots such as these is a godsend for any team as it puts more pressure on the goalie and opens him up for tip-ins or rebounds. His overtime winner against the Montreal Canadiens in the playoffs is a perfect example of what he did well all season: he drove hard to the net where a deflection led to a relatively easy goal.
He also put himself in good spots offensively this season, more than any other Ranger did, as the following charts depict: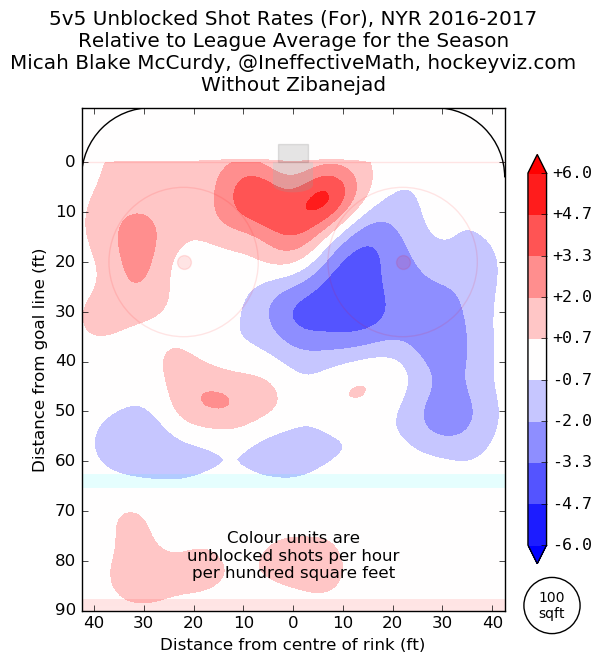 As you can see, the Rangers have much more of a presence at the front of the net when Zibanejad plays than when he doesn't. There are also more shots in general when Zibanejad gets ice time. While, over the course of the full season, he was a positive force for the Rangers, he had some tough stretches this year particularly towards the latter half of the year: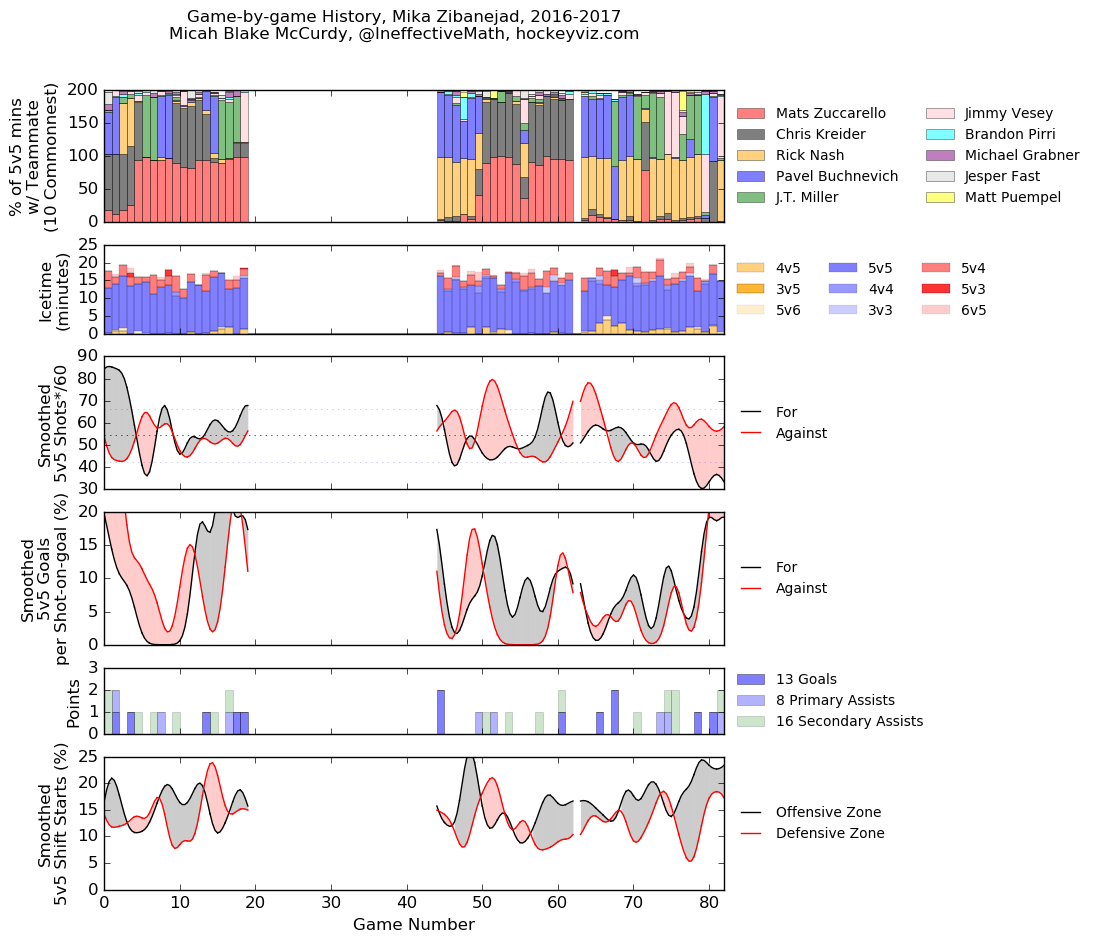 The chart above has a bevy of information, including that the majority of his ice time was spent with Kreider and Zuccarello (but more on that later). The most notable thing about this chart is the big block of empty space from around game 20 to around game 45, being the time he missed after breaking his leg.
The second to last chart (the one that most easily shows his inconsistency) displays his points from game to game. Before the leg break, he was rarely left off the scoresheet. However, there were plenty of times post-leg break that he was pointless. This, compounded with what the bottom chart is telling you – that Zibanejad started to get more offensive zone shift starts than before – shows how he struggled to find his form after his broken leg (which is hard to criticize him for).
The fourth chart from the bottom – showing five-on-five shots for and against – perhaps tell the biggest story of his post-injury struggles. Before the injury, He was only out-shot a handful of times but after the injury, he was out-shot quite a few times. The leg break was a tough blow for Zibanejad and caused inconsistent play.
A Solid Line
Zibanejad's spent plenty of time with Kreider and Zuccarello this season. He played 257 minutes with those linemates, beating out the 124 minutes he played with Rick Nash and rookie Pavel Buchnevich. The returns were much better with the Kreider and Zuccarello as his linemates. They posted a score-adjusted CF percentage of 54.3% together, and a positive five goal differential. With the lesser-used Nash and Buchnevich line, he posted a sub-optimal 48.2% score-adjusted CF percentage and a positive goal differential of three.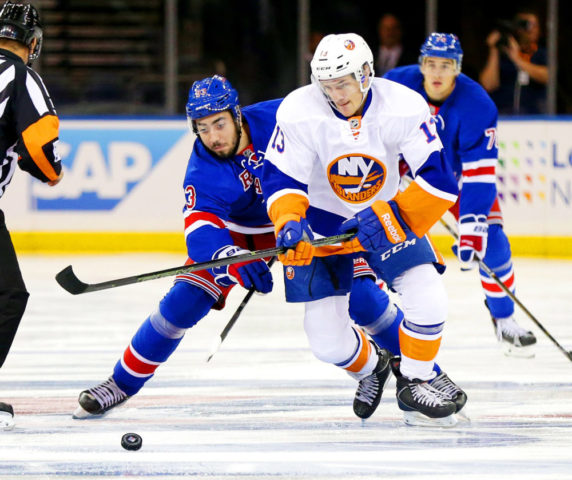 Centering Kreider and Zuccarello was not only Zibanejad's best line combination, it was one of the best lines the Rangers had overall. There were only three lines the Rangers rolled out that had over 100 minutes together with a score-adjusted CF percentage above 50%. Kreider, Zibanejad, Zuccarello led the Rangers with their score-adjusted CF percentage of 54.3% in their 279 minutes together.
Coming up right behind them was Stepan centering Kreider and Zuccarello. They saw the most time out of any Rangers line combination, 535 minutes, and had a score-adjusted CF percentage of 53.7%. The only other line to fit this criteria was Nash, Stepan and Jimmy Vesey (328 minutes, 51.6%).
It is not a surprise when some of the Rangers' best forwards combine for their best lines in terms of possession, but it is a good sign that someone as young as Zibanejad stepped right into the spotlight at Madison Square Garden and performed at a high level. The Kreider, Zibanejad, Zuccarello line can do real damage as they grow together and learn each other's games even more than they do now.
Playoffs and the Future
Zibanejad had an up and down end to the season due to his broken leg, but he made up for it in the playoffs. Despite a measly 5.9% shooting percentage, he had nine points (two goals, seven assists) which led all Rangers. Despite a frustrating playoff exit, he was a bright spot on the team.
Obtaining Zibanejad could prove fruitful for the Rangers for years as he is a restricted free agent and should be in line for a nice extension. If his first season is any indication, he could be a key cog of the Rangers for years to come.
Note: All possession stats are from datarink, and all points totals are from Puckbase.