Coming off the worst season of any NHL team in the last 20 years, the Colorado Avalanche need to accomplish a lot. They need to turn over the roster, they need to find a new set of assistant coaches and they need to prepare for the upcoming draft. However, all of this plays second-fiddle to the most important job that the Avalanche have this offseason: they need to give the fans a sense of hope.
A Change of Direction
The man that will ultimately be judged on how the team changes is Avalanche GM, Joe Sakic, who has already promised "a lot of turnover" this offseason. Despite this promise, he took a while to get things rolling. Though the Avalanche finished their season in April, it took until the end of May for Sakic to officially make the decision to release Assistant Coaches Tim Army, Dave Farrish and Francois Allaire. Given exactly how obvious these changes were needed, it left many perplexed as to why Sakic took so long to drop the axe.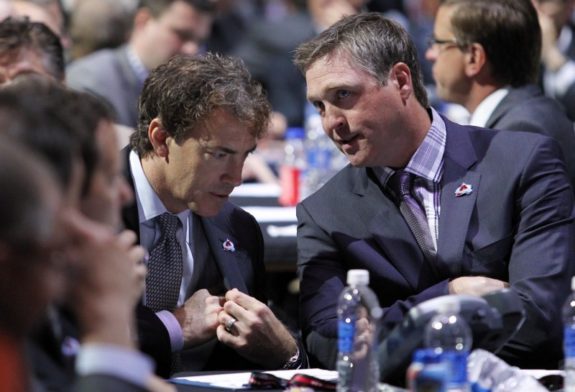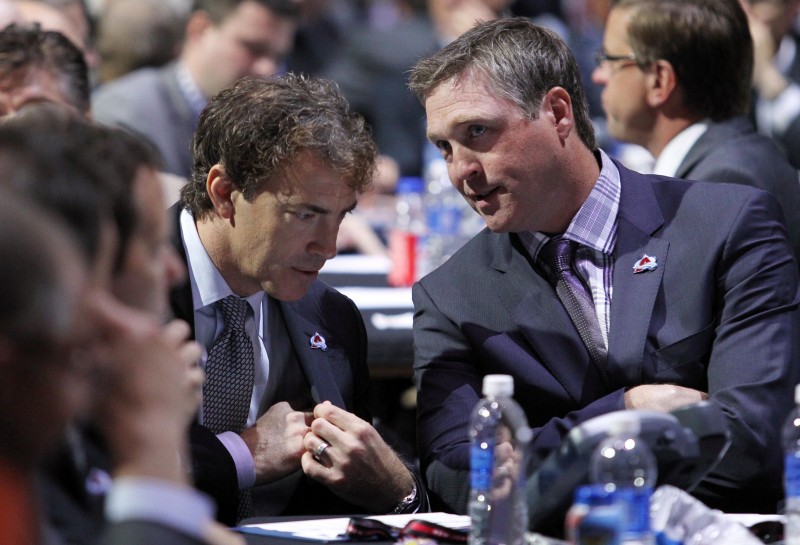 Sakic has also made it known that he wants to make the Avalanche a younger and faster team that will be more competitive. This is welcome news, considering how Colorado seemed especially fond of players, particularly defenders, that were well past their prime and had trouble keeping up with the pace of today's game. Then Adrian Dater dropped this nugget a few days ago.
Early word I hear: Francois Beauchemin will not be bought out. Might change but I doubt it

— Adrian Dater (@adater) June 5, 2017
It's hard to tell whether or not this is true, especially given Dater's track record of guaranteeing certain personnel moves that never come to pass, but the fact that this is even a question is enough to eliminate hope in Sakic. Keeping Francois Beauchemin doesn't live up to Sakic's promise to make the team younger and faster and it will not make the team any better. If Sakic is to deliver hope to the Avalanche and their fans, then he needs to commit to a true change in direction.
Can Sakic Deliver?
This is the question on the minds of every person that follows the Avalanche. People are unsure of Sakic's ability to deliver what the team needs and there is a good reason for it. It's impossible to ignore the moves that brought Brad Stuart, Reto Berra and Beauchemin to the team and, even less so, the money that Sakic committed to them. This season Joe Colbourne and Fedor Tyutin were added to the list of players that have laid eggs once Sakic signed them to a contract.
To his credit though, Sakic has also made some shrewd moves for the team and has drafted very well since arriving. The Ryan O'Reilly trade landed the Avalanche a budding stud defender in Nikita Zadorov, and he has made excellent use of the draft picks acquired. J.T. Compher was also a part of that trade and proved that he has the potential to be a difference-maker with his play late in the season.
The acquisition of Sven Andrighetto for Andreas Martinsen was a steal and waiver wire pickups of Mark Barberio and Matt Nieto were also smart moves that had a positive impact on the team. So, while Sakic went through some growing pains as a GM, he has improved. But has he improved enough?
True Change Will Deliver Hope
The bottom line that Sakic and crew must realize is that they cannot do this half way. If the GM wants to make the team younger and faster, then go all the way. Holding onto a guy like Beauchemin, if true, only delivers the message that the team isn't committed to the change.
I understand that you can't just drop a player who's over 30 and throw a young prospect into their place, but where it is possible it must be done. All the Avalanche need to do is look at the last month of the season to see what an injection of youth can do. Once Tyson Jost and Compher drew into the lineup, there was a life to the team that hadn't been there in months.
One of the most frustrating parts of Patrick Roy's time in Colorado was the refusal to allow younger players a chance. If the Avalanche want to show that they are moving forward then they cannot baulk at this opportunity. For the first time in a long time, the Avalanche pipeline is filled with fantastic young talent. It's time to give them a chance to take the team in a new direction.