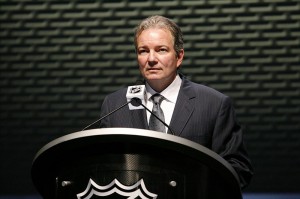 At just about 11:15am this morning, Pittsburgh Penguins' General Manager Ray Shero announced that he has awarded Dan Bylsma, and his coaching staff (Todd Reirdon and Tony Granato) all two-year contract extensions.
This on the heels of the Penguins' roughest exit, by far, out of the Stanley Cup Playoffs during this era.
Shero expressed confidence in this group, saying more than once that "Dan is my coach." Shero also said that the ownership of Mario Lemieux and Ron Burkle expressed their confidence in going forward with Bylsma as the head coach as well.
Shero's press conference lasted 57:25, just south of an hour, and he took on all questions and answered them with as much honesty and straight-forwardness as one possibly could have.
So that answers that question. And there will be plenty more to come in the coming weeks as we draw near to the start of the NHL's "Free Agent Frenzy." But for now, let's keep the focus on what the coaching extensions mean for this club going forward.
The Definition of Success
It's fair to say that winning The Stanley Cup every year is an unreasonable expectation for anyone involved with hockey – from players, coaches, staff, and fans – to have. Shero said it best this morning: "the days of winning 11 Cups in row are over" referring to the Montreal Canadiens of the 40's and 50's. And he's right. For starters, there are now 30 NHL clubs, as opposed to only six back then. And then there is the salary cap, designed to create parity throughout the league, and (hopefully) every team has an equal shot at winning the Cup when the beginning of the season rolls around in October.
So with that in mind, Shero also made mention of the Penguins' organizational mission statement, which basically was to put on the ice a team that could compete for The Stanley Cup for a long time. Well here we are, having just completed out 7th consecutive year of postseason play. In those seven years, the Penguins have appeared in two Stanley Cup Finals, and won The Cup in 2009.
By the Penguins definition of success, Dan Bylsma is certainly doing his part. The thing to keep in mind is that its not the fact that the Pens are NOT winning The Cup, but more, how they're losing in the postseason.
The past four seasons, since the Cup-winning spring of '09, the Penguins have suffered four 3-game losing streaks in the postseason. All of which led to a series defeat. Montreal had to win three in a row in 2010, Tampa Bay the same in 2011, and Philly took a 3-0 series lead last season. And we all remember last week, and the Bruins' 4-game dismantling.
Ask yourself this question: If the Penguins still lose to Boston, but lose in, say, six games, and all or most of those games are competitive, are you still calling for Bylsma's head, among others? I doubt it. Again, I say it's not that the Penguins are losing, but rather, how they are losing.
So despite the four playoff defeats in the past four seasons, Dan Bylsma and this organization have been wildly successful.
The Cart and the Horse
With this extension of not only Dan Bylsma, but also his assistants, Ray Shero had hitched up his proverbial cart to the coaching staff's proverbial, and collective, horse.
But Shero has an out, although I promise he doesn't want to use it, for multiple reasons.
He can still fire Bylsma and the coaches if things go south next season. Shero gave Michel Therrien a 3-year extension after the run to the Cup Final in 2008, then fired him in February of 2009. So this is not permanent by any stretch of the imagination, but Shero certainly does not want to fire another coach shortly after rewarding him a contract extension.
The above mentioned scenario is the underlying reason for Shero not wanting to fire Bylsma. Simply, he wants this team to be successful, and if they are, then Bylsma's job will be safe.
But make no mistake, Shero's neck is clearly on the line here as well now. He went to bat for the coaching staff with a man who, it could be argued, doesn't place much value in coaches to begin with. It's no secret that Mario Lemieux was not an easy guy to coach, because he didn't respect his coaches. He simply didn't see a need for them. That's not saying that Mario is a bad guy, it's just that Mario always thought he had enough talent to do it all himself (and save for an injury-riddled career, he probably could have).
The Wrap-Up
After having listened to Shero answer every question thrown his way this morning, I must say that I feel much better about retaining Dan Bylsma than I did as recently as last night. I would even go so far as to say that it's the right move. The players love him, and to a man all blamed themselves for the failures in this postseason.
One interesting thing that Shero did say today is that he wanted to give Dan the opportunity to make himself a better coach. I would read a little deeper into that and take it to mean that there has been some discussion of Bylsma's lack of adjustments at times during the playoffs. That is something on which he must work.
The makeup of this team will be vastly different come this September and October from what it is now. Shero made mention that he would like to see this team get younger (which they will with the likes of Beau Bennett, Simon Despres, and potentially Brian Dumoulin set to see action at this level next season). And there will certainly be many intriguing storylines developing over the next few weeks regarding the 2013-2014 roster. So stay tuned. If you find yourself with some time to kill after reading this, I've inserted Shero's press conference below this. He is very candid, truthful, and forthcoming about this organization. You can sense his passion for this team just by listening to his remarks. I highly recommend watching.

Overall, an interesting day in the Steel City. Get down off the bridge. This team will be right back in contention next year. I'll leave you with perhaps Ray Shero's most interesting and thought-provoking line of his presser:
"With great expectations, come great disappointments."
Pens.TDT@gmail.com