If you are a Philadelphia Flyers fan, you probably cringe every time you hear Ilya Bryzgalov's name & every time he opens his mouth, too.
All thoughts and opinions regarding Bryzgalov's "charisma" aside, the Flyers are faced with a difficult decision between hanging onto the soon-to-be 33-year old goaltender or buying him out.
It sounds tacky and clichéd, but there are pros and cons to either of these decisions.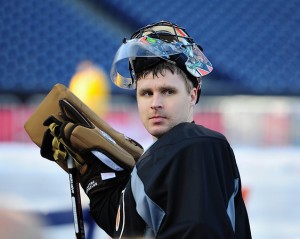 The Pros
 1.   Buying Out Bryzgalov will Save the Flyers Cap Space 
Bryzgalov signed his now far too familiar nine-year, $51 million deal with the Flyers in the summer of 2011. Presumably, the investment was worth the steep price. The Boston Bruins had just swept the Flyers after a carousel of goaltenders (Brian Boucher, Sergei Bobrovsky, & Michael Leighton) each sprouted swiss-cheese holes in the playoffs.
Bryzgalov's track record of phenomenal numbers on a team that lacked "mainstream" talent seemed to indicate the more offensively potent Flyers could be an aid to the Russian goaltender.
Two seasons gone in the deal, Bryzgalov has stooped to levels of mediocrity and, at times, below. An abysmal first season aided only by one of the most potent offenses in the East was just marginally worse than Bryzgalov's 2013 season that ended short of the playoffs.
However, while his play on the ice improved, his relationship with the media did not. It might be what ends up driving him out the door.
Bryzgalov is slated to be an $5.66 million cap hit to the Flyers in 2013-2014. Under buyout rules in the new CBA, Bryzgalov would receive two-thirds of his remaining salary (he's due to make $8 million in salary in 2013-2014), but none of that would count against the Flyers' cap should they amnesty the goalie.
With that cap hit off the books, it would give the Flyers some flexibility to get creative via trades, free agency, the draft, or some combination of the three that general manager Paul Holmgren has kept under wraps.
 2.   The Media Can Stop the Bryzgalov Bash
As previously stated, it may stun you to know that Bryzgalov made himself a proverbial bulls-eye to the already feasting Philadelphia sportswriters.
There are many plausible arguments on both sides of this "war." It is undeniable that the media roasted Bryzgalov for his eclectic ways of answering questions, ranging from astronomy to being scared of bears, etc.
By the same token, Bryzgalov did not do himself any favors throughout his time to date in Philadelphia. Look no further than pre-emptively stating his own benching for the 2012 Winter Classic, a game the Flyers lost after blowing a 2-0 second period lead.
One way or the other, getting rid of the source for this war of words would allow head coach Peter Laviolette and the Flyers' team as a whole to be able to answer other negatively worded questions (I.E. where on Earth are you going to find suitable NHL defensemen?).
3.   Buying Out Bryzgalov Shows the Fans they Understand Change is Needed
There's no denying that it will take far more moves than the supposed inevitable buyout of Danny Briere and the potential Bryzgalov buyout to turn the Flyers back into perennial Cup contenders.
The team is littered with forward talent. Claude Giroux has entered his prime, and Jake Voracek is hard on his heels in that regard. Wayne Simmonds and Scott Hartnell are locked up long-term as net-front presences.
However, youngsters Brayden Schenn, Sean Couturier, and Matt Read continue to be subject of rumors, and their erratic levels of play make them hard to judge on the market.
Defensively, the blue line is battered, old, inexperienced, or some combination of those.  Names like Oliver Lauridsen, Brandon Manning, and Matt Konan were seeing extended minutes by season's end.
What does this all of this have to do with Bryzgalov? The Flyers clearly need to re-invigorate the franchise, and it's going to take multiple players and a style change to accommodate it. With Bryz off the books, the money and the lower stress levels available to them will make addressing these other areas the top priority.
The Cons
 1.   It Shows the Fanbase Bryzgalov Sent the Franchise in Reverse
But didn't you just say the Flyers would be giving the fanbase positive vibes by ridding themselves of Bryzgalov?
Yes. However, let's not forget the city and the market we are dealing with here. Philadelphia is a top-five sports market in the country. The Flyers have missed the playoffs only twice since 1994.
The term "rebuilding" is mutinous in Philadelphia vocabulary. The fans' overriding passion, while a great asset when the team is riding high (see 2010), is perhaps the franchise's worst enemy in times like this.
The buyout of Bryzgalov, should it occur, would tell the fans, in no uncertain terms, that the Bryzgalov experiment was a huge mistake and now everyone might have to pay for it. In a city where unruly fans clash with the ironic title of "City of Brotherly Love," two buyouts may be seen as signs of weakness.
 2.   The Flyers will Probably have an Inexperienced Starting Goalie in October
Buying out Bryzgalov certainly is a tougher decision given the uncertainty behind the veteran in the nets for Philadelphia. Steve Mason, while very good in his short stint with the Flyers since being acquired at the trade deadline, remains a Jekyll & Hyde player in his development.
The 25-year-old Mason, once upon a time, won a Calder Trophy for his 33-win rookie season of 2008-2009 with Columbus. Among those 33 wins were an NHL-best 10 shutouts His performance propelled the Jackets to their first playoff berth.
Since that special season, though, not much has gone well. The parallels between Mason and Andrew Raycroft have been noted. Both goalies stormed into the league with Calder seasons (while wearing the same jersey number #1, for those who like those coincidences) before sudden downfalls ate at their effectiveness.
Mason's 1.90 goals-against average and .944 save percentage in seven appearances with the orange and black do present an interesting, albeit small sample size. Optimists will tell you the change of scenery is just what the right-gloved goalie needed.
However, his combined 60 wins in three full seasons since his stellar rookie year show that his career has trended downward. Whether his month-long stint in Philadelphia is a career turning point remains to be seen.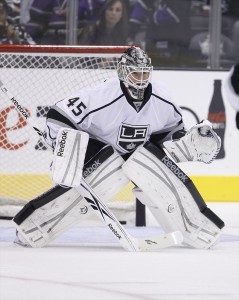 Goalies will also be hard to come by via trade and the free agent market. Murmurs indicate the Flyers might have interest in Kings' backup Jonathan Bernier. However, as Tampa Bay learned with Anders Lindback, touted young goaltenders do not always pan out when handed a starting job.
3.   If the Flyers Amnesty Bryzgalov & Presumably Danny Briere, They'd Have No Buyouts Available in 2014
This last negative is contingent upon the now common knowledge that the Flyers are strongly considering buying out Danny Briere.
Briere is slated to have a cap hit of $6.5 million in the final two seasons of his eight-year contract. While his salary is just $5 million combined over the next two years, the cap hit makes Briere expendable.
Should the Flyers amnesty Briere as well as Bryzgalov, this presents a peculiar situation.
If the Flyers were to have another subpar season in 2013-2014 with underperforming players, they would be stuck with every player under contract in 2014-2015 unless they dealt players via trade.
It's a high-risk, potentially high-reward maneuver to use both available amnesties, but given the woeful contracts of Briere and Bryzgalov, it might be the Flyers' only option.