Yes this is going to be a nice little series on what to do around Newark and New York City as the 2013 NHL Draft is coming up June 30th in Newark, New Jersey. Naturally, we will look for the eateries first and then concentrate on amusements, culture, and more.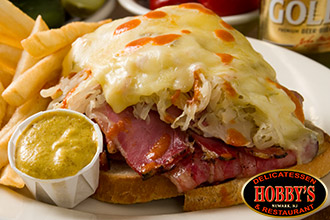 Our Draft "Best Bets"
Intro:  Destination Newark/NYC For The Draft
Destination Newark Eats Guide: 2013 NHL Draft
Now with the draft quickly approaching, people are going to have to eat. That is truly a necessity. After all, whether your budget is big or small, there is something for everyone in Newark. Get your forks, knives, spoons, and appetite ready and let's go!
Eating near the 2013 NHL Draft
Let's face it! Concessions just are not always the same. Do you want to get a little more bang for your buck? Newark has quite the diverse selection for someone who needs their taste buds challenged. With the unique draft time (3pm-10pm), some businesses will try to stay open later even on a Sunday to reap in the potential windfall. As that information comes along, we will pass that to you. In the meantime, let's take a look at some fine places to dine.
Hobby's Deli And Restaurant
Location: 32 Branford Pl. Newark, NJ
Hours:  7am-4:30pm (M-F), 11am-3pm (Sat) Closed (Sun)
— June 30th 10:45am-2:45pm
Convenience:  1 block from Prudential Center
Phone Number:  908-623-0410
---
If there is one place you want to go for a breakfast and/or lunch, it is Hobby's. Even The New York Times thinks this is a heck of a place to go and I have to agree. Now some may look at the cost and go it is a little pricey but if you take one look at the portions, then you will quickly realize what a deal these meals and sandwiches are. We have not even mentioned the breakfast yet. Needless to say this is a place that you could stuff your face silly at.
Do you want some menus? This is just one of nine different menu options.They range from breakfast to lunch to early dinners. There are even dessert choices as well. Zagat loves the place and so many media (print, radio, and TV) that the 50 year old deli is an institution in Newark. Add in some homemade pastrami and corned beef with a "Too Many Men On The Ice" combo and Hobby's is a must for anyone. If you are hungry and want to get a hearty meal in your stomach before the draft, then Hobby's is the place.
Pic-Nic Restaurant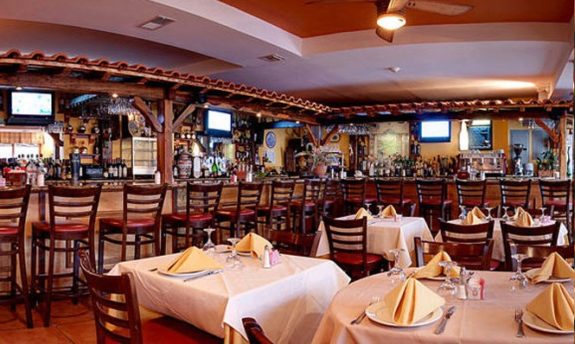 Location:  224 Grant Ave. East Newark, NJ
Hours:  11am-9pm (Mon-Fri), 11am-11pm (Sat) 1am-10pm (Sun)
Convenience:  Five minutes from Prudential Center (approx.)
Phone Number:  973-481-3646
---
Sometimes you have to venture out a bit to enjoy some fine food. Just a little over five minutes away from the Prudential Center is Pic-Nic Restaurant in the Ironbound section of Newark. Portuguese and Spanish cuisine never tasted so good. The lunch and dinner menus alone makes your mouth water. The fish, pork, and steak choices are mostly simple and yet the dishes look so exquisite. Prices are fairly reasonable and the portions are robust in some cases while modest in others (depending on the dish).
The "Filet Mignon In Beer Sauce" is something to try if you want to step up from the normal just try it type  of meal. There is even the classic "Beef With Egg" type of entree. When you have a wide array of selections to choose from, endless sangria, and a great atmosphere — that is very hard to beat. The traditional staples are always available right down to the BBQ Chicken.
There is also an extensive wine list and a dessert menu that surprisingly has some considerable staying power. The Flan and Tartufo are ones to try along with the usual suspect, Tiramisu, which is an excellent pick me up with the Portuguese Coffee. Yes there is traditional choices like the cheesecake and chocolate mousse to name a few but even the mousse is something to truly indulge in.
For a place not too far away that truly captures the taste and feel of Old Newark, Pic-Nic is that restaurant to try that will not break your piggy bank.
Edison Ale House
Location:  51 Edison Place. Newark, NJ
Hours:  Call Ahead (Open for Draft and Weekend Events)
Convenience:  Right across from the Prudential Center near Devils Den
Phone Number:  973-643-5560
---
Sometimes you just want to relax and unwind in a place where you can almost feel the sounds of an arena. Edison Ale House is just that place and literally a stone's throw from the Prudential Center. The menu has a little something for everyone and the drinks menu is pretty extensive. I would actually recommend the "Carton Brewing 077XX". It is a craft IPA with just a different taste. This IPA comes straight from the Atlantic Highlands in New Jersey. For those also wondering, besides the extensive drink menu, they do serve a pretty solid sangria. The $20 pitcher is actually quite solid, and has a pretty robust taste. You get a little more than one expects, needless to say.
As far as food, there is always the "Atlantic Salmon" which is dashed with a little Pinot Grigio. Prices are generally about $12-25 and honestly the portions are not overly massive but they are filling. There is a sandwich called the "Sloppy Edison" which is a must try. It probably is the one sandwich on the menu that will test even the heartiest of appetites. Combining roast beef, chicken, white cheddar and all in a Reuben like setting with a "Sloppy Joe" feel has all the makings of a belly buster. Finally for a little feel of Jersey (sort of), there is the "Jersey Devil Pizza" that comes with mozzarella, sweet hot peppers, and crumbled sausages.
Other Places You Should Consider:
Fornos Of Spain — Best Spanish restaurant in Newark

Assagini Di Roma — Italian dishes

Je's — The soul food in the Ironbound truly never is a downer.

Adega Grill — Another Ironbound icon with excellent seafood

Theatre Square Grill — Something a bit different in the NJPAC

Casa Vesca — Another great Spanish restaurant in the Ironbound

Brasilia Grill — You never have had Brazilian food quite like this.

Don Pepe — The Euro-Spanish-Portuguese mix strikes again.

Iberia Peninsula Restaurant — Another tasty Spanish-Portuguese mix.
The accompanying pieces will be kind of the same basic format but we want input from the readers, especially are readers from the area. Over the weekend, a trip down the "Jersey Shore" for some out of the way eats is on the docket. Hopefully we at least heartily wet your appetites with this. Enjoy err "Bon Appetit"!
Simply a hockey writer who is a jack of all trades. No question is too big or too small and in fantasy hockey there is no such thing as a stupid question. Now a proud, accredited member of the FSWA. I am also a New Jersey Devils lead writer, prospects writer, humorist, and so much more. You can find me on Twitter at @ChrisWasselDFS