Rasmus Andersson is ready for the NHL. There's no question about it. The 21-year-old has taken the AHL by storm this season after missing out on the final roster spot with the Calgary Flames to start the season.
TJ Brodie, Travis Hamonic, Dougie Hamilton, Mark Giordano, and Michael Stone were all locked in to make the starting lineup, but Andersson was left battling the likes of Brett Kulak and Matt Bartkowski for the final spot. Ultimately, Flames management chose to go with the more experienced options, perhaps thinking Andersson needed just a little more time to grow.
Well, he has grown, and he's ready for the big show.
Andersson's AHL Assault
In only his second season with the Stockton Heat, Andersson is an All-Star. He made the Western Conference All-Star team thanks in large part to his breakout season.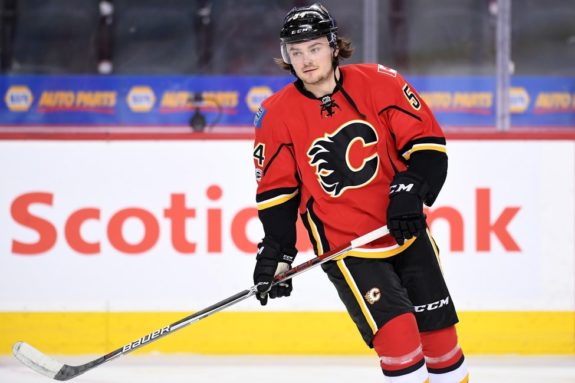 He has an impressive 33 points (seven goals, 26 assists) in 45 games, good for fifth in AHL scoring among defensemen. Not only has he flashed his offensive prowess, he's also been a rock on the backend for the Heat, with a solid plus-21 rating.
Even in his rookie season, Andersson consistently showed why the Flames drafted him 53rd overall in the 2015 draft. He racked up a respectable 22 points (three goals, 19 assists) in 54 games in his first professional season, paired with a rock-solid plus-21 rating.
His offensive production in the AHL is nothing new, as he amassed 124 points (21 goals, 103 assists) in 131 OHL games with the Barrie Colts.
Despite being only 21 years old, Andersson has emerged as one of the best defensemen in the AHL, both offensively and defensively. While this level of success at the AHL level doesn't always translate into success in the NHL, it's important to remember Andersson is having this success at such a young age. He has all the makings of an NHL star when he hits his mid-20s.
Impact on the Flames
There's no question the Flames defensive corps hasn't lived up to the hype they received before the season began. Hamonic has been a disappointment, Brodie has declined significantly, and the defense as a whole hasn't done a good enough job of keeping pucks away from Mike Smith.
Two more years at $3.5 million per. He's blocking Rasmus Andersson from making the jump, too. Not good :| pic.twitter.com/3QuEICdgJd

— Todd Cordell (@ToddCordell) February 22, 2018
While producing offense isn't number one on the priority list for defensemen, the Flames are lacking that John Klingberg, John Carlson-type of player who provides the best of both worlds. Giordano, Brodie, and Hamilton will all likely finish in the 35-45 point range, but none of them has developed into that top-tier offensive defenseman that can be a major asset. Andersson would be that player.
Andersson won't be utilized to his maximum if the Flames put him in a third pairing role, with limited ice time and no power play time. In order to truly benefit the team, they must use him heavily, including on the number one power play unit. The team's struggles on the power play this season can't be denied, and can partly be attributed to the lack of a defenseman to quarterback it effectively. Andersson's rocket of a shot from the point, along with his offensive prowess would be an instant boost.
Making Room for Andersson
Now that the trade deadline has passed, it's likely going to take an injury for Andersson to receive the call to the NHL this season. Although he's ready to make the jump this year, it's probably best to wait until next season as he would likely be used sparingly, if called up.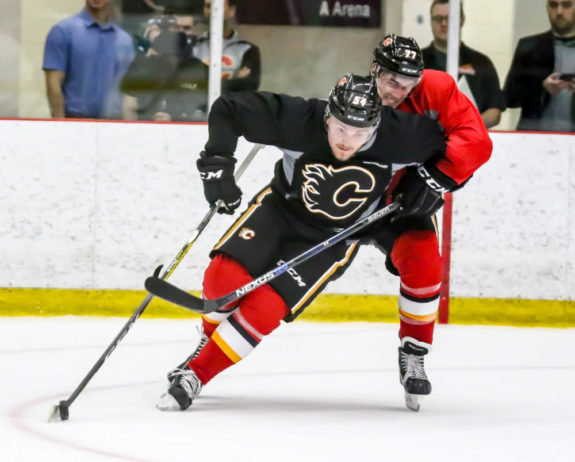 His development will make for an interesting off-season in Calgary, as one of the starting six defensemen will need to be moved in order for the Andersson show to begin. The likely scenario is the Flames not re-signing Brett Kulak or Matt Bartkowski, whose contracts expire following this season. This would open up a roster spot for Andersson, allowing him the opportunity to showcase his elite abilities and work his way up the defensive corps.
Another potential scenario is an off-season trade involving one of Brodie, Giordano, Hamonic, or Stone. While this is the less likely option, it's not out of the question with all four making over $3.5 million. Not only would a trade free up salary cap dollars, it would also bring in a couple of valuable draft picks in return and, most importantly, allow Andersson the opportunity to shine.
He is a rare talent that's ready to perform at the NHL level. The time is now for Andersson.