Despite a very strong performance on Tuesday night against the Nashville Predators, the Winnipeg Jets came up short falling 6-5 to their division rival. Head coach Paul Maurice's squad battled hard all game but were deflated by a go-ahead goal with one minute remaining in the third period by the Predators' newly acquired winger, Ryan Hartman.
A regulation win by the Jets could have tied the two powerhouses in points with 65 but instead, the Predators will jump four points up courtesy of the vitally important divisional victory. With two more games against each other in the next month and a high chance of meeting in the playoffs, the Jets can only clear this one from their mind and move forward while learning from their mistakes.
"That's two good teams going at it right there, in my mind. There are no easy games but I think when you play Nashville who's playing as good as anyone in this league, it's going to be a tough matchup and that's what this was," said Paul Stastny after his impressive debut.
The reality is that the Jets determined the pace of the game at multiple times which is a positive takeaway from this high-scoring affair. Finding the proper balance of maintaining that pace while modifying and correcting defensive lapses that caused them the loss is going to be the mission heading into their pair of spring contests.
There were several noticeable positives from this exciting matchup, some more notable than others.
Big Guns Continued Firing
Mark Scheifele is one of the offensive catalysts for this young Jets club and his two goals were indicative of that. However, engaging in fisticuffs is not a frequent occurance.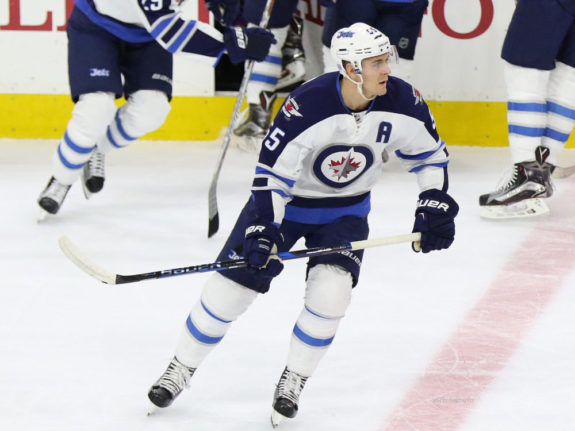 "He [P.K. Subban] likes to talk. Obviously, our emotions get the best of us and we got pretty heated but all-in-all it's fun playing against a team like that," said Scheifele who attempted to fight the Predators' defenceman midway through the second period.
The joust must have awakened the Jets' first line centre as his two goals came following the emotional exchange. Scheifele led all Jets forwards in time-on-ice playing 21:16 and registered four shots on goal.
Although Blake Wheeler was a minus-3 and picked up a lone assist, he created plays all game, especially with the man advantage. The captain led all Jets skaters with 6 shots on goal.
Nikolaj Ehlers was flying all night picking up a goal and an assist while running the play every time he was on the ice. His legs are next to impossible to contain attacking off the rush which he demonstrated tickling the twine behind Pekka Rinne while blazing down the wing to give the Jets a 4-3 lead.
This @NikolajEhlers24 goal is just one of seven goals in the second period. pic.twitter.com/IpE0gIIVXG

— NHL GIFs (@NHLGIFs) February 28, 2018
Patrik Laine hit a post on the power play off a wicked shot from his office on the left face-off dot but settled for two assists.
With a last-minute injury to Toby Enstrom, who is playing brilliantly of late, the pairing of Dustin Byfuglien and Josh Morrissey was an absolute force. "Big Buff" played his usual active game which involves a lot of pinching, protecting the puck and causing mayhem in the opponent's end.
Morrissey plays the game the right way. Aside from six blocked shots tonight, Morrissey shut down anything the Predators were trying to accomplish whether that be zone time on the cycle or attacking on the rush.
"I wouldn't have traded our offense for their's in a million years," said Maurice post-game. "We had a couple of wide-open nets that didn't get finished and hit a crossbar. I liked a lot of what we did."
Paul Stastny's Sensational Debut
One could not dream of a better debut than the clinic Stastny held at the Bell MTS Centre on Tuesday evening. Not only did the University of Denver alumni score a goal and an assist but he also dominated in the face-off circle going 14/19.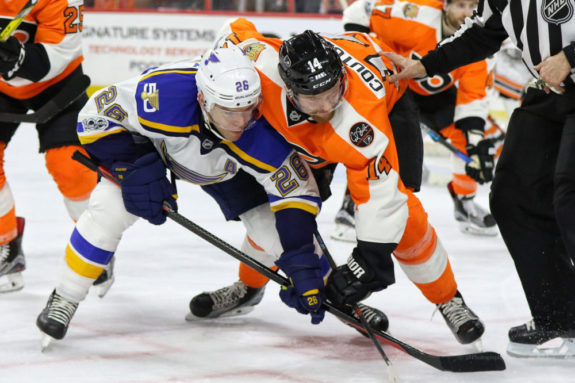 The Quebec City-born, American should be used to the kind of competition and relentless work ethic the Predators bring on a nightly basis from the last three seasons in the Central division with the St. Louis Blues. The line of Ehlers, Stastny and Laine, which was an extremely popular topic on Twitter and other various media platforms following the deal, did not disappoint.
The line combines Ehlers' incomparable speed, Laine's one-of-a-kind shot and Stastny's cerebral two-way game, something his teammates really appreciated.
"He was great. I thought that line was really good," said Wheeler regarding his new teammate. "Moved the puck well, seemed to read off of each other well. To come in after what he has been through the last 48 hours and play the way he did. Unreal on draws, a goal and an assist, what more can you ask for?"
"He played awesome. He made some great plays and he's just so solid all-around. Good at faceoffs, he's a cagey guy. He knows what areas to go to create offence and in the [defensive zone] he knows the areas to be and he showed us that tonight," raved Scheifele.
Stastny enjoyed time on the first unit power play where he and Wheeler ran the play down-low while Laine and Scheifele provided dangerous options to shoot the puck.
Connor Hellebuyck's Concerning Play
Hellebuyck, who has been a Vezina-caliber goaltender so far this season, struggled in what was arguably one of the Jets' most important games of the season. While the Predators are undoubtedly one of the most threatening teams in the league on the prowl, Hellebuyck did his team no favours,  finishing the game with a .813 save percentage.
Early in the first period, the 6-foot-4 goaltender was visibly uncomfortable in his crease losing balance multiple times and uncharacteristically getting caught out of position.
The All-Star netminder is one of the most calming presences in the crease, drawing similarities to the composure shown by Carey Price and Braden Holtby. When Hellebuyck has a poor start, which has been few and far between this season, his mentality is that every new game offers a new slate and he cannot let one bad showing affect him for the next game in such a fluid sport like hockey.
"It's about understanding that as an NHL player, you're not going to feel amazing every single day," said Hellebuyck after allowing eight goals in two starts in early February. "It's what you do when you don't feel amazing to put forth your best effort. By playing a lot of games over the years, I know what it feels like to hit that wall and I've finally learned what it takes to get through it."