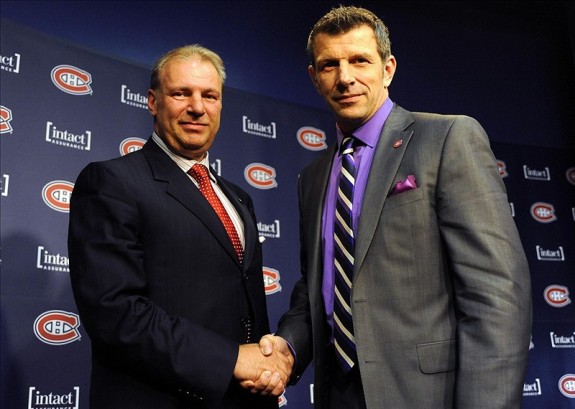 By Nathan Currier @nathancurrier
If the Habs' General Manager Marc Bergevin does nothing next summer except lounge by the pool, the following September at the 2014-2015 Canadiens training camp there will be 3 veteran defensemen on the ice. It's hard to do practice drills with 3 defensemen. It's even harder to advance to the playoffs with Josh Gorges, Alexei Emelin, and Davis Drewiske as your defensive core. They are the three veteran defensemen returning under contract.
Everyone else sits at home until their phone rings. Alexei Emelin's phone rang last week. Bergevin's deal was 4 years for $16.2M although the club doesn't announce the value by team policy.
Obviously Nathan Beaulieu and Jared Tinordi would be available to bolster that defense corps as returning players with NHL experience, but PK Subban (RFA), Andrei Markov (UFA), Francis Bouillon (UFA), Douglas Murray (UFA), Raphael Diaz (UFA), and Greg Pateryn (RFA) would not be present. Opportunity? Crisis?
Marc Bergevin has his work cut out for him. Sipping one or two margaritas by the pool next summer might be possible, but no more.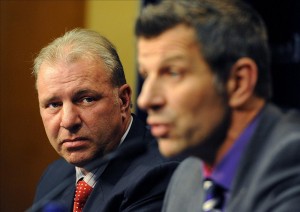 So what does Bergevin do?
We don't have a wiretap in the team's front office. But we have a sense of what might be possible, and what he might do. I also have a sense, like most of you, of what I would do. Keep in mind this is all for fun. We're not paid Marc Bergevin money because not all of us have the skills, experience, and insight that he has.
So let's put on our GM hats and break it down, player by player. Let's also assume that we're dealing only with the defensemen currently in the Habs' system. Bringing in discussions of personnel from trades with other teams is not realistic within this exercise.
The Unsigned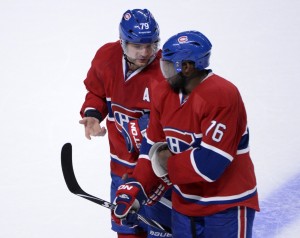 PK Subban (RFA)

– Disregarding dollars or term right now, Mr. Bergevin is going to re-sign PK Subban. I would re-sign PK Subban. Would you? I've recently covered my thoughts on PK in this article and we'll leave it at that.
Andrei Markov (UFA)

– The decision is less tough this season versus last season. Markov has again proven that he still has game. I like Andrei Markov. He contributes both on and off the ice. He still puts up top minutes and top points by the defense. He's a PP leader. I'd offer a 2-year deal and the money he needs to get on board. A discount of his current $5.75M p.a. is very likely.
Now What?
Let's pause the exercise here for a moment. Assuming Subban and Markov re-sign, the Canadiens are now icing a defense corps of Gorges-Subban, Emelin- Markov, Beaulieu-Tinordi. That obviously tips my hand (my very optimistic hand) that Beaulieu and Tinordi are ready to make the full-time leap to the big club. I'm not overly concerned about it.
David Drewiske, already under contract, swaps in and out as a 7th defenseman. Assuming now that we also need an 8th defenseman on roster and 1-2 capable call-ups available from the AHL, the real exercise here is determining how do the players below fit into the team's plans?
The "True" Unsigned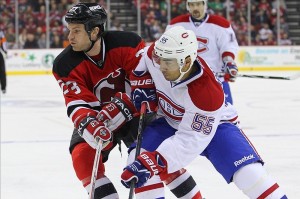 Francis Bouillon (UFA)

– Francis Bouillon would obviously not sign a 2-way deal at this stage of his career. In my view, he either plays top-6 or goes elsewhere. I love Frankie Boo like everyone else, but I believe he would end the season with the club and then walk into unrestricted free agency. At 38 years of age, still playing a feisty game, and with a strong veteran presence, he will likely contribute elsewhere for one last drive to a Stanley Cup. I'd be surprised if he accepted a hometown discount or a diminished role on the team next year, in order to be able to retire in a Canadiens uniform. I still love that after 15+ years in the NHL he continues to surprise unsuspecting players with his strength and power. If Drewiske is traded during the season then Bouillon might be renewed.
Douglas Murray (UFA)

– At the time of this article Murray has suited up four times for the team following an injury that kept him out of the team's first 11 games. I'll admit I don't have a lot of background on his play while with the Sharks, but I've liked what I've seen in the physicality department in the 4 games with the Habs. Would he accept a role as 6th or 7th defenseman? Murray might be another choice to renew with the team should Drewiske be dealt away.
Greg Pateryn (RFA)

– We don't know a lot about Greg Pateryn in Montreal, but he's showing consistency with the Bulldogs this season with 3G-3A in 6 games. In his 3 games with the club last season I truthfully didn't notice him. Checking in with my colleague, Matthew Macskill (@MTLMacaskill), he believes that

"As for management, they'd be smart to re-sign him. Fortunately it won't cost them very much to keep him around. He'll need playing time to continue his development – so finding a good spot for him might be the hardest part if both Beaulieu and Tinordi are ready to graduate by next season. Of course, using him as trade bait to improve in another area is always an option."

 In my view, the reluctancy of Habs' management to insert him into the lineup during a few opportunities this season raises some concern. Expect him to be extended a qualifying offer as an RFA.

(Cliff Welch/Icon SMI)
Raphael Diaz (UFA)

– I've left mention of 27-year-old Diaz until the end of the article, and with reason. I've always had reservations about him and his role on the Canadiens, while also appreciating that he is a consistent player. Yet, I didn't want to be quick to rush to judgement. Over the past 3 seasons I've listened to the media and fan base and their glowing reviews, or harsh criticism, of Diaz's style and play. I've been patient and open to hearing both sides of the debate. The truth is, I simply don't understand who Raphael Diaz is as a player. Further, I associate more with the throng who point out his lack of physicality, size, and strength in a game where players are getting larger and stronger. I see his ineffectiveness on the ice. Particularly in frequent poor outlet passes that lead to icing calls, and getting overpowered in defensive coverage on the boards by stronger players. But those aren't the reasons that I'm not sitting on the Diaz bandwagon. My concern is with his fire. Martin St. Louis has fire. Brian Gionta and Brendan Gallagher have fire. Through my eyes I don't see it in him. With my GM hat on, I don't re-sign Raphael Diaz. I try to acquire valuable returns on the market during the season. Otherwise, I have little idea of what Marc Bergevin's plans are.
Opportunity or crisis? I think it's no coincidence that (by our exercise above) 4 defensive salaries are scheduled to come off of the books at the time that PK Subban's future with the team gets negotiated. It is a well-orchestrated opportunity by the Habs' management. However, it will certainly be a crisis in the team's bank account.
Lead Writer for the Montreal Canadiens at TheHockeyWriters.com. Also, tracking man games lost data for pro sports at ManGamesLost.com. PhD in cell biology from McGill University. Lifelong Habs fan.