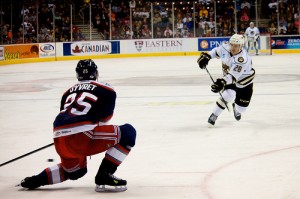 Washington Capitals defensive prospect Dmitry Orlov has made the most of his time spent in the American Hockey League this season, awaiting a chance to become an everyday player in the National Hockey League. After getting a two day stint with the Capitals, Orlov continued to dominate in the AHL, netting two points in Hershey's 4-3 overtime loss to the Norfolk Admirals Sunday night at Giant Center.
The 22 year old Russian blue liner has eight points in his last four AHL games, dating back to his one goal, three assist performance October 19th in St. John's against the IceCaps. Sunday night was his second multi-point game this season for Hershey. He's earned playing time on Hershey's top power play unit, with his hard slap shot and vision at the point giving the Bears a capable defenseman to lead the man advantage unit.
"I thought he play real well tonight," Haviland said. "He definitely gives us a different dimension back there. He's a skilled guy, he plays with a lot of confidence. I think he thought maybe he had a chance to make Washington, he's got the right attitude, he comes down here and he's played really well for us."
"I think he's getting better. I really think his confidence is rising. Down here I think he's playing really well."
Orlov believes he can be an important player for the Capitals at the NHL level, having proven that already with a sixty game, 19 point performance in Washington during the 2011-12 regular season. He played in five NHL games last year, recording one assist.
"I know I can play NHL," Orlov told the Washington Post. "I just need to keep going, keep myself and be strong. Should be good."
"I want to try my best and hope I stay here a long time, whole season. Not think about going [to Hershey] again, just stay here, get my confidence and play every game."
In his sixty game campaign in the 2011-12 season his most regular defensive partner during five-on-five play was veteran Dennis Wideman. He played 314:42 with the former Capitals blue liner, finishing with a 51.9 corsi percentage and averaged .703 goals per twenty minutes of ice time. He also played sparingly with current Washington defensemen Mike Green, John Carlson, Karl Alzner and John Erskine. His performance with those players are listed below.
| Player | TOI | CF% | GF% |
| --- | --- | --- | --- |
| John Carlson | 90:20 | 50.90% | 36.40% |
| John Erskine | 82:49 | 47.10% | 100.00% |
| Mike Green | 53:30 | 51.70% | 50.00% |
| Karl Alzner | 68:19 | 43.90% | 50.00% |
Who Should Orlov Play With?
One of the biggest issues if Orlov were to be recalled and get playing time is who would sit out of the lineup and who would be Orlov's defensive partner? The longtime Karl Alzner-John Carlson pair has been reunited again, producing a 60.0 goals for percentage in 53:09 of ice time together during even strength, along with a 47.8 corsi percentage.
Washington's top pairing, Mike Green and University of Minnesota product Nate Schmidt, has also been stable. Albeit only 58:13 minutes of ice time together during five-on-five play, the pair has recorded a 49.5 corsi percentage, but only .344 goals per twenty minutes. However they've scored as many goals as they've allowed when on the ice together.
This leads us to the pairing that Orlov should play on, the third blue line pair, with gritty hardworking defenseman Steve Oleksy. The longtime AHL blue liner has been playing with Alexander Urbom after the Capitals picked the former New Jersey Devils defenseman off of waivers. They've been on the ice for 30:34 during five-on-five play, not contributing a single goal together, but they haven't allowed one either. They have a 48.3 corsi percentage when paired together this season.
Orlov would bring a dynamic offensive game when paired with Oleksy and a powerful slap shot at the left side of the blue line. His offensive capabilities continue to improve and he's already played with Oleksy before, last year during the lockout when the two were in Hershey. Schmidt would still have the opportunity of playing with Green on the top pairing and Orlov could also see some time on Washington's second power play unit, using his experience at on the point on Hershey's power play at the AHL level.
"I just try to play my game," Orlov said Sunday night. "I haven't played in a lot of games this season, only five games. I play my best, play hard for the game, make no mistakes."
"I hope so," he said of the prospect of heading back to Washington. "Yesterday they told me after this game I go to Washington."
It appears the Capitals defensive prospect is heading back to D.C., but will he get the opportunity he's looking for to make an impact?
You can follow Matthew on twitter @m_speck and email him at mspeck21@yahoo.com with any questions or comments.