The Hershey Bears (2-4-2-1) were on their way to their second home victory of the season Sunday night at Giant Center, only to be let down by a defensive breakdown with 1:02 left in regulation. Defenseman Kevin Gagne blasted a shot past Bears goalie David Leggio (1-3-1), tying the game that would eventually be decided in a shootout.
Hershey fell 4-3, as the Admirals (7-2-0-3) improved to 5-1-0-2 on the road. Norfolk center Chris Wagner capitalized in the fourth round of the shootout, finding past the Hershey net minder. Wagner was the only shooter to score in the shootout. Jeff Taffe, Derek Whitmore, Dane Byers, David Kolomatis and Dmitry Orlov couldn't find the back of the net during the shootout for the Bears.
Leggio earned a second straight start in goal for Hershey, recording 24 saves on 27 shots. Hershey fell to 1-0-0-1 when outshooting their opponent, finishing with a 43-28 advantage in that department.
"We're pretty fortunate in both the goalies we do have," Hershey forward Garrett Mitchell said. "We're fortunate that we can pick a guy each night and know they're going to stand on their head. We're excited we can do that."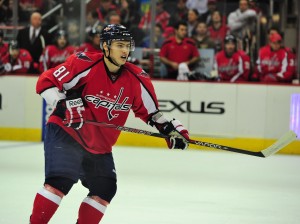 The Bears came out flat in the first eleven minutes of the game, allowing two Norfolk goals during five-on-five play. Peter Holland wristed his fourth marker of the season past Hershey goalie David Leggio, who had difficulty seeing through the Admirals net presence. Defenseman Alex Grant later registered his fifth goal of the season 10:08 into the game, his first tally during even strength play this year.
"After this past weekend that we had obviously we wanted to come out and make a statement," said Hershey forward Garrett Mitchell. "Goals are going to go in, it's just about not quitting. I liked the response to going down two quick, we couldn't pull it out in the end but I thought it was a good effort."
Hershey grabbed three goals in 2:49 after Norfolk's early 2-0 lead, scoring once on the power play and twice during even strength play. Lengthy Bears forward Ryan Stoa fired one past Admirals goalie John Gibson, who finished with 40 saves on 43 shots. Russian defenseman Dmitry Orlov capitalized just 1:24 later, ripping his second goal of the season past Gibson, on the power play.
"I did like the response obviously," said first year Hershey Coach Mike Haviland said. "I thought we played a pretty good game all the way through, limiting their chances. I thought we sat back a little bit in the last five minutes. I think we took some undisciplined penalties at some costly times."
Gibson, a native of Pittsburgh, Pennsylvania, made numerous big time saves for Norfolk on the night as he enters his first professional season. With the win, Gibson has 5-1-2 record on the year with an outstanding 1.61 goals against average and .951 save percentage.
"He's a really good goaltender," Haviland spoke of the young Admirals' net minder. "I thought when we got the three on him in the first that maybe he'd be a little rattled, but give him credit the last forty minutes he was pretty good."
"It wasn't from a lack of us not trying to get to the net and get after him a little bit. We got to start getting the results now."
As another power play opportunity ran out, Orlov capitalized with a slap pass to Captain Dane Byers, who deposited it for Hershey's third goal of the period. The Bears dominated territorially in the opening stanza, recording 19 shots on goal in the period, a season high. Hershey's largest shot total in a period came also came in the opening frame, as they fired 16 shots on the Admirals last Sunday night in a 4-2 win. The Bears also reached their highest shots on goal total for a game, passing their season high of 38 against the Ads.
Orlov's Two Point Effort
"I saw he's (Dane Byers) coming," Orlov said after his two point performance. "Why not try in that situation? It was a perfect play for us."
It's unclear whether Orlov is heading back to Washington after seeing game action tonight, but the defenseman said "I hope so" regarding a potential call up.
"I thought he play real well tonight," Haviland said. "He definitely gives us a different dimension back there. He's a skilled guy, he plays with a lot of confidence. I think he thought maybe he had a chance to make Washington, he's got the right attitude, he comes down here and he's played really well for us."
"I think he's getting better. I really think his confidence is rising. Down here I think he's playing really well."
Strong PK
Hershey's penalty kill went 5-5 on the night, after entering the game ninth in the AHL at 84.1%.
"I think it starts in the cage," Haviland spoke of his improving penalty kill. "You get goaltending and they make that save it makes your penalty killers more confident. I think we're all on the same page there, our intensity seems to go up a lot higher on the penalty kill."
"Something that I think our power play needs to do a little bit more. I think that's some of the keys to why it's so successful right now."
Hershey hits the ice again next weekend, taking on Bridgeport Sound Tigers Saturday night.
Game Notes
Attendance: 10,760
Bears Injuries: Josh Brittain, Matt Watkins (lower body) and Julien Brouillette (lower body)
Hershey Healthy Scratches: Casey Wellman, John Mitchell, Brandon Segal, Patrick Wellar and Tomas Kundratek
The two teams have six more matchups, with the next one at Giant Center on February 2nd
Hershey has a 68-48-10 all-time record against the Admirals after the overtime loss
Three Stars
John Gibson (40 saves on 43 shots)
Peter Holland (goal, assist, five shots on goal, plus two)
Dmitry Orlov (power play goal, assist, one shot on goal)
You can follow Matthew on twitter @m_speck and email him at mspeck21@yahoo.com with any questions or comments.
Matthew Speck covers the Washington Capitals organization for The Hockey Writers. He provides coverage of both Washington at the NHL level and prospect related content. Matthew also covers local sports for the Lebanon Daily News in Central Pennsylvania. You can email him at mspeck21@yahoo.com with any questions or comments.