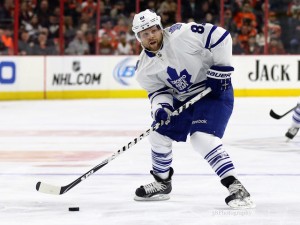 We're all having fun discussing who the Leafs might trade and who they might get in exchange for virtually all their players. It seems all but certain the Leafs are going to move out Phil Kessel, Dion Phaneuf and maybe even Bernier and JVR as they attempt to rebuild their roster.
Hell, you wouldn't be wrong in saying that Phil Kessel is all but being run out of town.
But just one thing: Phil kessel is at the absolute lowest point in his value. He is coming off his worst season, unfairly or not, he is taking the majority of the blame for his team's failure and he just signed a long and expensive contract.
Some people are even talking about the Leafs retaining salary just to move him. (Which has to be one of the stupidest things I've ever heard).
But remember, Phil Kessel was a top-ten scorer for three years in a row without a good centre feeding him the puck and (mostly) never having any second line scoring on his team to take some defensive pressure off of him.  It is also statistically likely that his horrendous second-half slump this past season was mostly about bad luck, and a little bit about factors he can't control (team controversies, a culture of losing, a crappy roster, systematic mid-season changes etc.) rather than about him quitting on his team or his talent disappearing.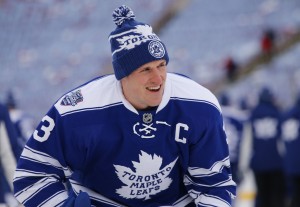 A Third Rebuilding Option:
I recently presented two other rebuilding options.
One was about trying to load up on draft picks for this year, trading for Jordan Staal and trying to be competitive immediately.
The second one was about strip-mining the team for young picks and parts and taking a more leisurely approach to being competitive.
This one is a hybrid and may be the craziest of all three:
Stay the course.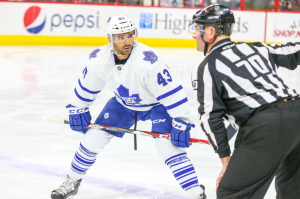 Lost in the crushing disappointment this team and group of players have perpetrated on their fans is the fact that the team still has a crazy amount of talent. It isn't very much more than a first line centre and a first line defenseman away from being competitive.
And the Leafs, in Kadri and Rielly have those two things ready to go.
So, maybe they don't need to go totally crazy. They have two first round picks this season and they still have two of the best wingers in the NHL in their lineup.
Since the team has talent and the team will be trading from a position of extreme weakness, maybe they should defy popular opinion and come back next year with Phaneuf, Kessel and JVR still on the team.
They do need to ditch Bozak, Lupul, Polak, Robidas and all the filler guys they finished the years with, but if they draft well this summer, promote some of their youth and continue with the same core, it might not be so bad.  It might actually work out really good.
Now, I can hear you already telling me about the core and how it's failed and blah blaha blah, but here me out:
The "CORE"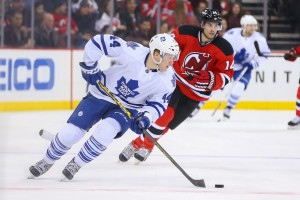 The whole problem with the Leafs over the last few years hasn't been Kessel, Phaneuf and JVR, but rather management's misguided attempt to build a core-group out of complimentary players.
Is there anyone who could really say that Patrick Kane is that much better than Phil Kessel? Kessel has outscored him in the regular season, while Kane has two Cups.  But Kane was never the central player on his team and Kessel never has gotten to play on a team half as deep as Kane's. The Hawks are crazy deep and they shelter Kane so that he is put in a position to utilize his skill-set optimally.  Essentially, they use him as a weapon.
If the Leafs could use Phil Kessel the same way, instead of building around him as the central player, then their is no limit to what Kessel can do and his bad defense won't matter.
But the Leafs are in an unusual position. They have their "core" signed and it's still relatively young, but they also have a whole new "core" on the way.  Reilly, Gardiner, Kadri, Nylander, and their two draft picks this season represent everything the current core lacks: mainly balance, but you'll notice that there's a #1 C and a #D in that group already.
Essentially I am arguing that the Leafs don't need to tear everything down and start over just because it's the easiest thing to do. In reality, what Kessel, Phaneuf and friends have gone through over the last few years will likely make them better players – "you have to learn to lose before you learn to win" is one of the sports clichés we seem to have forgotten in this age of instant gratification and quick disposal.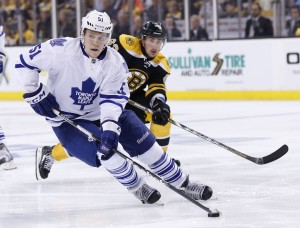 Draft Strategy / Next Years Roster
If the Leafs decide that the returns on their current stars are insulting and counter-productive, my draft advice would be to use any means necessary to acquire a second top-ten pick in this upcoming draft.
Maybe they go with Reimer and trade Bernier to Edmonton for their 16th pick and then couple that with the Nashville pick to move into the top ten. Maybe they utilize future picks to get another pick this year, or trade the Nashville pick and a prospect to get there.  Whatever, there are lots of options, but a second pick would allow them to escape the draft with two excellent young centres: Mitch Marner and the absolutely huge Paval Zacha.
The Leafs then can move forward with an incredibly talented forward line that looks like this:
JVR- Kadri – Nylander
Leipsic – Marner – Kessel
Panik –  Zacha – Brown 
Holland – Gauthier – Komarov 
I don't see one reason why that can't be one of the most talented, deepest, most exciting groups of forwards in the NHL.  I think that is a team you can compete for the Cup with and I think it'd offer  many exploitable match-ups, and allow the team to shelter Kessel and play him like Kane.
As for the Defense, it's not going to be immediately as pretty, but there's hope. If you go with a top pairing of Reilly and Gardiner, and follow it up with a Phaneuf/Percy combo, it will actually be a lot better than it looks on paper.  Rielly is developing into  an elite defenseman and he and Gardiner will drive possession and play tough minutes.  Phanauef will be freed up to be used properly as a second pair defenseman and I like what I've seen from Percy so far in his career. (One problem here is that all four players are left-handed shots. However, Gardiner and Rielly, when paired over the last two seasons have put up a 56% CF rating, an insanely high rating.  I also think Phaneuf looks OK on his off-side, but it's still something to think about).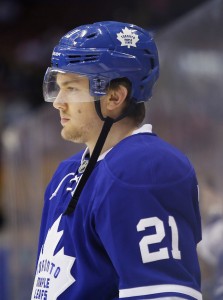 As for the bottom pairing, between rookies, the draft and free agency I am sure they could patch something together, but no one is saying they have to be a Cup team next year.  But with this roster, in two or three years………
All I am saying here is that there are lots of options for the Leafs – a luxury almost no rebuilding team every gets. If they actually defy the litany of public GMs (myself included) and bring back Kessel and Phaneuf but use them as complimentary pieces, I think both players can redeem themselves and that the team could in fact win with them.
Certainly with this team having given its city and fans one Playoff appearance in coming on 15 years, a shorter path to competitiveness must at least be considered.
It's not about getting rid of them completely, just revamping things so that they're used as they should be: complimentary pieces. Otherwise, I guarantee you, they're going to go to teams that will use them that way and people are going to say "How come Kessel never scored 50 in Toronto?" "I didn't think Dion could ever get 50 points."  But, they can both do those things, they just can't when their the central players.  Freed up from defensive responsibilities he shouldn't have, Phaneuf can be the offensive force he was earlier in his career.
I don't have to explain what Kessel could do to secondary defenses.
Not to mention with Clarkson gone and Lupul and Bozak sure to follow, the Leafs are out of salary cap jail and the contracts that seemed high at the time to Kessel and Phaneuf really aren't that bad. As soon as you see what UFAs are signed for this summer, their contracts will look much better. The team will also have a lot of young players on ELCs and there will be no shortage of funds available to improve the team in the area of defense.
In a lot of ways, it'd be preferable to keep both of them, rather than just ditching everybody because a horrible GM constructed his team out of two wingers and a #3 defenseman.
In the end, someone has to think through all these options. I am not saying the Leafs have to go this way, or any of the other ways I've proposed, but they also can't just give Kessel away in a reactionary fashion either.
He's taken too much blame that should be Dave Nonis and Randy Carlyle's to choke on. Let's forgive Phil, bring him back and when we're sipping Don Perignon out of the Stanley Cup two years from now, we can forget all this drama and act like we never made a single cheeseburger joke.
Thanks for reading.
Covering the Leafs for the Hockey Writers.