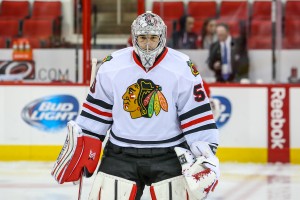 The Chicago Blackhawks open up their second round Western Conference playoff series with the Minnesota Wild on Friday night. They managed to get through a difficult six game first round series with the Nashville Predators, but the Wild will present a much tougher challenge. This isn't the same Minnesota team that the Hawks knocked out of the Stanley Cup Playoffs the previous two seasons. This year's team got better -especially after the All-Star break- as the season went on.
They gave the Blackhawks their fair share of problems during the regular season. And they just dethroned the Central Division Champion St. Louis Blues in the opening round of this year's postseason. The Wild are on a mission and the Blackhawks need to step their game up in response. More specifically, they need three players in particular to show some improvement once this series begins. Those three players are none other than…..
Corey Crawford
Crawford got his starting goaltender job back after cleaning up behind Scott Darling in game six of the Nashville series. He saved the day to help the Hawks advance, thus getting his job back. Crawford doesn't exactly have to pitch a shutout in the Minnesota opener, but he needs to be as flawless as possible to keep the Hawks competitive. If he has a meltdown like he did in the first two games against Nashville, then Darling will be back on the ice in no time.
Patrick Kane
The grace period for Kane's injury recovery is over. It was actually over when he was cleared to play in the postseason. But in the first round Kane played like someone just going through the motions after coming off the injured list. Against Nashville Kane totaled just seven points while averaging 15 minutes of ice time per game. It's time for Kane to turn on the rocket fuel and give his team the offensive spark that they'll need to push past Minnesota.
Bryan Bickell
Normally this is the time of year where Bickell makes his presence felt. So far that hasn't happened as the Ontario native has been a little quiet thus far. Against the Predators Bickell accounted for just two points, four shots and eight penalty minutes. It's not the type of playoff stats that we're used to seeing from him. But he'll need to come out of his shell in order to stop this upset minded Minnesota team that would love nothing more than to get some postseason payback.
It's now or never for these Blackhawk players. Follow me on Twitter @GabeSalgado82
Gabe has worked in sports media for over decade and has been heard on the radio, and seen on television in addition to writing.