With the regular season and their miraculous run back into the postseason in the Minnesota Wild past, we can give them some grades for their season performance.
It was yet another roller coaster season for the 'State of Hockey'. The year began with great expectations and a solid start for the team and Darcy Kuemper. But, things unfolded rapidly and the Wild took a nose dive out of the playoffs and were out of the picture come the All Star break. But then, GM Chuck Fletcher pulled off what seemed to be a minor deal which would save the Minnesota Wild season. After acquiring Devan Dubnyk from the Arizona Coyotes for a 3rd round pick, the team went on an outstanding 27-9-2 run to end to season. They climbed up into the first wildcard spot and finished with 100 points.
Grades:
Forwards: B
The Wild scored at a fantastic 2.77 GPG rate, which was 12th overall, and had four 20 goal scorers. Led by Zach Parise who had 33 goals and 62 points in 74 games, the Wild were finally able to win some games with their offence. Players like Nino Niederreiter and Jason Zucker had superb seasons, both scoring their first 20 goal seasons. However, guys like Thomas Vanek, Mikko Koivu and Mikael Granlund had years in which they produced less than what was expected of them.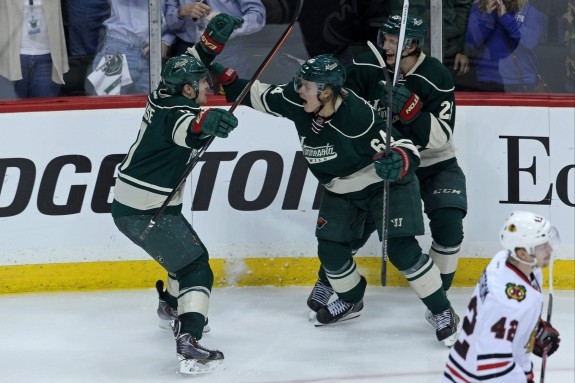 Minnesota was 17th ranked in SAT (shot attempt differential) at +146 and 5th in the all important SAT Behind with a +260 rate. However, their power play was an abysmal 15.8% to rank 27th in the league. They were also 12th in the league in shots per game at 30.8. There was an obvious improvement throughout the depth of the Wild, which has notably helped them in the playoffs, pushing them past the Central Division champion St. Louis Blues and into the second round for yet another contest against the Chicago Blackhawks.
Best Forward- Zach Parise
Defence: A-
Once again, the Minnesota Wild defence was consistently the high point of the team. Their top four consisting of Ryan Suter, Jonas Brodin, Jared Spurgeon and Marco Scandella were fantastic all year long. They let up very few scoring chances while Suter, Spurgeon and Scandella added an offensive flare with over 20 points each. Scandella was their only defenceman with over 10 goals. Their bottom two also progressed tremendously, namely Matt Dumba, who became one of the Wild's best defenceman down the stretch.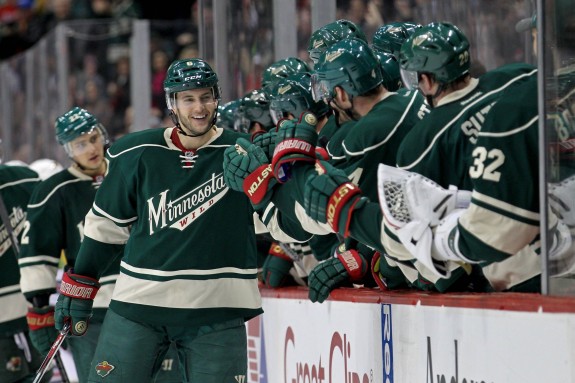 The Wild were 4th in the league in shots against per game at just 27.6. They were also 6th in the NHL in goals against per game at 2.42. As long as Minnesota's scoring can hold up, the defence will certainly always be there to hold down the fort on the back end. The Wild don't need to make a single change in the offseason here.
Best Defenceman- Marco Scandella
Goaltending:
Before Devan Dubnyk: D-
Before Dubnyk was acquired, the Wild's goaltending was horrifying. Darcy Kuemper began the year strong as the starter, but quickly fell back down to Earth. Around the halfway point of the year, the Minnesota Wild were as much as 14 points out of the playoffs. Kuemper was 13-12-2 with a 2.60 GAA and a .905 SV%, numbers that simply aren't good enough from your starter. Meanwhile, backup Niklas Backstrom was 5-7-3 with a 3.04 GAA and a .887 SV%, obviously not nearly how good he had been in his prime. The Wild's scoring was doing it's job, but it didn't matter due to the severity of the problem in goal.
With Devan Dubnyk: A+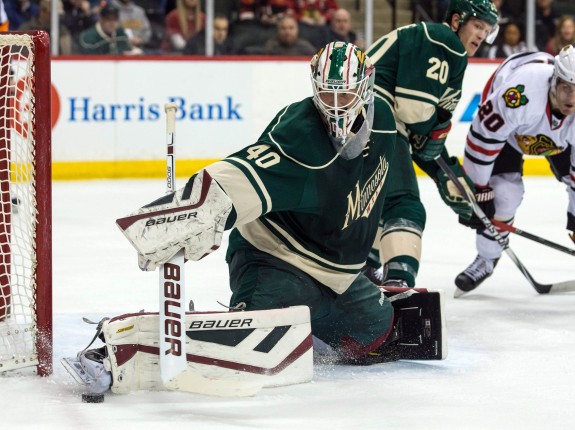 Then, Chuck Fletcher, perhaps unknowingly, saved the Minnesota Wild's season. He dealt a 3rd round pick for Devan Dubnyk who came over to start an unprecedented 37 straight games, going 26-8-2 over that stretch, allowing just 1.78 GAA with a .936 SV%. He turned the season around on a dime, propelling Minnesota into the first wildcard spot and a playoff berth for the third consecutive year. Devan Dubnyk is a free agent after this season, and the Minnesota Wild should definitely attempt to sign him to a new contract after what he accomplished for them thus far. At only 28 years old, the former first round pick certainly seems to be finding his potential. Dubnyk has already received some major recognition for his performance, being named a finalist for the Vezina Trophy.
Best Goaltender- Devan Dubnyk
Who do you think was the Minnesota Wild's best player in 2014-15?
Discuss in the comments below!
Contributor for the Toronto Maple Leafs and Prospects. Scout with the Oakville Blades of the OJHL. For questions, concerns, or comments, contact me at devinslawson123@hotmail.com or on twitter @SlawsonTHW.