Over the past few years, there have been a few things that every Chicago Blackhawk fan has grown accustomed to around this time of year: their team in the playoffs, Brent Seabrook scoring in overtime, and Bryan Bickell turning into Playoff Bickell.
There is something about this time of year that lights a fire in the Blackhawk forward. Over the past two Stanley Cup Playoffs that he has participated in, Bickell has racked up 16 goals and 11 assists in 42 games played.
While he has yet to get hot in these playoffs (2 assists, with a +2 rating), there is reason to believe that he will catch fire relatively soon. The reason? Bickell loves playing Minnesota.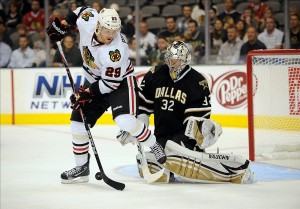 Feasting on the Wild
For the third straight season, the Chicago Blackhawks will be taking on the Minnesota Wild in the Stanley Cup Playoffs and no one is happier than Bryan Bickell. In 11 playoff games against Minnesota, Bickell has scored seven goals with three assists, along with a +4 rating. Bickell will have every opportunity starting Friday to duplicate those numbers, as it looks like he is ticketed for the second line based on recent practice lines:
#Blackhawks lines:
Saad-Toews-Hossa
Bickell-Richards-Kane
Sharp-Vermette-Teravainen
Desjardins-Kruger-Shaw

That is the correct answer, Q.

— Mark Lazerus (@MarkLazerus) April 27, 2015
Playing alongside playmaker Patrick Kane will open Bickell up to do what he does best – make camp in front of the goalie. In doing this, Bickell will be able to clean up any rebounds or errant shots, meaning plenty of chances to add to his goal totals. He recently had this to say to ESPN.com about playing with Kane:
"I think Patrick sees the ice really well," Bickell said. "He makes plays and creates ice where you don't think they're there. You always have to be ready with him because you think he doesn't have a play and all of a sudden the puck is on your stick. To get in front of the net and be ready will be crucial to help with that line."
In the regular season, Chicago met Minnesota five times and in those meetings Bickell put up some pretty gaudy numbers: 15 shots, 17 hits, four goals and one assist with a +4.
Bickell's career numbers (15 goals in 23 games against the Wild) point to one thing – he loves playing "The State of Hockey."
Subscribe to our Blackhawks stories to get email updates every time a new story is published.
Matt Bowen is a Chicago Blackhawks contributor for The Hockey Writers. You can follow him on Twitter, @MattBowenTHW
Matthew Bowen has been covering the Chicago Blackhawks for 5+ years. He has covered the team for websites such as ChiCitySports, Bleacher Report and Blackhawksondemand.