Over the summer, Johnny Gaudreau and Sean Monahan both signed huge deals to stay in Calgary, involving a giant sum of money. But as of now, Calgary's top two forwards have yet to prove deserving of the pay, with both players getting off to slow starts and failing to pick up the pace. When Monahan was signed in the offseason, his salary was tolerable and compared to how much Gaudreau was asking for, the Flames got Johnny Hockey for cheap. But now, over half-way through the first year of their contracts, if the pair of forwards don't produce in the near future, their massive contracts could be looked at as massive mistakes. So if the contract signing was to happen this year as opposed to last, how big of a hit would the duos' salaries take?
Johnny Gaudreau
Gaudreau's contract signing was perhaps the biggest offseason story for the Flames. With reports that Gaudreau wanted as much as $8 million per season, it was up in the air as to how much he'd be paid and if he'd even be starting the season playing with Calgary. But nearing the first game of the NHL season, Gaudreau signed for what seemed like a relatively low $6.75 million. The number was a tad surprising when it was announced due to Gaudreau's reported desires for a larger pay raise, but it was a fair contract paying him what he was worth. http://gty.im/632947418 But with just 31 points in 42 games to go with a minus-17 rating, Gaudreau's contract may have actually been a bit above him. A good comparison to Gaudreau's potential contract would be Aleksander Barkov, who signed a six-year deal worth $5.9 million per season. Barkov, a former second-overall pick, posted a 0.89 points per game average last season, which was lower than Gaudreau's 0.99 average, but this year, Barkov sits at 0.75, while Gaudreau is almost the exact same at 0.74. The difference is that Barkov's dip in points per games hasn't been a problem because of his pay. A points-per-game average of 0.75 puts Barkov on pace for about 62 points in an 82-game season, which is well worth the money that he's making. But with Gaudreau's contract paying him almost $1 million more than Barkov, the expectation for Gaudreau is that he puts up near point-per-game numbers, which may be unsustainable for him to do. So if Calgary was signing Gaudreau this year, a deal closer to Barkov's, sitting around $6 million per season would make a lot more sense.
Sean Monahan
There was a possibility of Calgary offering Monahan a bridge deal last season— one that would lead him back into restricted free agency after just a couple years. It would have had a lower cap hit and could've allowed the Flames to take a good look at his long-term potential and right now it seems like that would have been best contract for Monahan.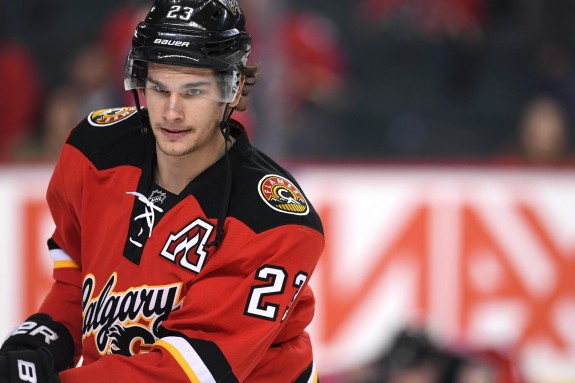 Something similar to what Nazem Kadri saw with Toronto would have been a great fit. After his entry-level contract was up, Toronto re-signed Kadri to a bridge deal worth $2.9 million for two years, then a second one-year bridge deal for $4.1 million. Monahan could've received a two-year bridge deal worth around $4 million, and then signed long-term afterwards. Perhaps after keeping Monahan on a bridge deal for a couple seasons, Calgary management would have decided that Monahan was worth between $5 million and $6 million instead, which may be more accurate than his near $6.4 million cap hit. Gaudreau and Monahan were without a doubt the best forwards for Calgary the past two seasons, but after signing their contracts, they haven't lived up to the hype. Now with over $13 million of yearly salary between them, the duo will need to start producing or the contracts may prove costly for the Flames.
Ben is a journalism student at Ryerson University and covers the Toronto Maple Leafs.