In two games against the Pittsburgh Penguins this season, the Vancouver Canucks lost 7-0. If it wasn't for Ryan Miller, the Canucks might have lost this game 7-0.
Miller was the best player of the game, making 45 saves in the contest. He single-handedly kept the Canucks in it by constantly stoning the Penguins. They weren't able to beat Miller until late in the second period. The line of Sidney Crosby, Jake Guentzel, and Conor Sheary caused chaos for the Canucks all night long.
That's also the 11th time this season @Canucks have allowed 40 or more shots in a game. Their record in those games is now 8-3-0.

— Joey Kenward (@kenwardskorner) March 12, 2017
Give credit to Matt Murray as well, who shut out the Canucks in both games versus Vancouver this season. He didn't have to make too many incredible saves, but he was solid when he had to be.
The Canucks were already missing eight regulars heading into this game. That was before Chris Tanev and Markus Granlund were pulled out of the game at the last minute due to food poisoning. AHL call-ups Joe LaBate and Alex Grenier made it into the lineup, while Alex Biega played his second game as a forward.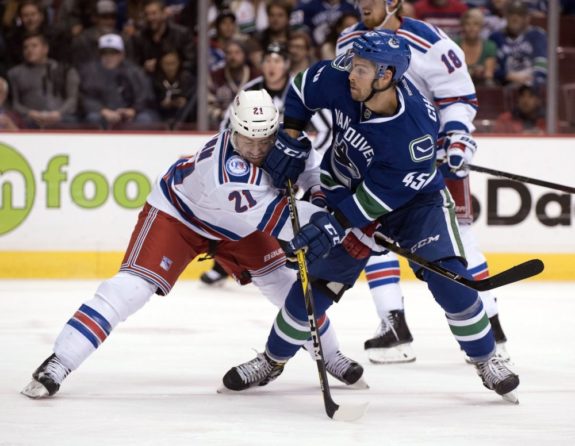 If you're looking for moral victories, Michael Chaput and Joseph Cramarossa had solid games for the Canucks. Chaput looked comfortable during some shifts with the Sedins, and he played with confidence. Cramarossa threw the body around while getting one glorious chance to score.
Still, these are the moral victories the Canucks have to settle for as they continue to spiral down the standings.
First Period
Typical low-event Canucks hockey went by the wayside early on. There were tons of chances at both ends, but both goalies were able to keep the game scoreless. Grenier was gifted a spot with the Sedins with Granlund out of the lineup, but it was Chaput who made himself noticeable on the top line.
After a little give-and-go, Daniel Sedin threw the puck towards the net, and Chaput tipped it past Murray. However, the goal was waved off since Chaput had his foot impeding Murray's left pad. On his next shift out there, he nearly scored again when he tipped a Philip Larsen on net.
I think @MichaelChaput62 says "It's a farming goat". 🤔🐐#canucks #HNIC #cbc #penguins #TSNHockey #lipreading pic.twitter.com/e3ieDmdlWh

— VanBanana (@VanBananaMan) March 12, 2017
Evgeni Malkin should have made this game 1-0, but his tipped shot went just wide even though he had an open net. Cramarossa also had a golden opportunity that just trickled wide.
Anyone know how this stayed out? pic.twitter.com/JTEo0XYgV5

— Vancouver #Canucks (@Canucks) March 12, 2017
The Penguins sure looked like the tired team early on, but they had a flurry of chances in the last few minutes of the period. Crosby also missed a golden opportunity from the side of the net, the same side of the net from which Malkin missed.
Second Period
There wasn't much time for blinking through the first half of the second period. Both teams raced up and down the ice while the referees had a six-minute stretch where they didn't touch their whistles.
Pittsburgh eventually started to pull away, as they absolutely peppered Miller with chance after chance. Crosby drew two penalties in the period with his speed. On the second drawn penalty, the Penguins skated laps around the Canucks in their own end for more than a minute. The whistle didn't blow until Miller robbed Sheary's cross ice one-timer.
Team tank prolly hates Ryan Miller but I'm guessing he's earned some respect in Vancouver the last 3 seasons. #canucks

— Dan Murphy (@sportsnetmurph) March 12, 2017
On that power play, the Pens continued to overwhelm the Canucks. For the third time in the game, Phil Kessel couldn't bury the puck into a wide open net with Miller pretzeled on his stomach, lying in the crease.
https://twitter.com/forevercanuck/status/840785261915131905
You knew that the Pens had to score eventually. Ian Cole fired a wrist shot past a screened Miller to finally give Pittsburgh a well-deserved lead. Miller went into the intermission having stopped 34 of 35 shots.
#Canucks Yikes…. pic.twitter.com/7xhnUaoh7M

— Cam Tucker (@CamTucker_Sport) March 12, 2017
Third Period
The Canucks once again had a disallowed goal on an early third-period power play. Sven Baertschi batted the puck into the net with a high stick, allowing the refs to make a pretty easy decision. After the power play, Murray robbed Henrik Sedin with his glove to make his best save of the game.
Still, this game was all about Miller, as has been most of the Canucks' season. With the Canucks "pressing" for the extra goal, the Penguins got a couple of odd man rushes. Crosby was stopped by Miller on a two-on-one. Afterwards, he stoned Sheary on a breakaway.
The Pens were able to get one more goal past Miller. Sheary made a great pass to Guentzel that fooled Miller. Guentzel buried the feed over a crouched Miller. Sheary continued his strong night by burying an empty net goal to seal the victory for Pittsburgh.
https://twitter.com/ryanbiech/status/840798660866723840
Scoring Summary
FIRST PERIOD
No scoring.
SECOND PERIOD
Ian Cole (5) assisted by Tom Kuhnhackl (6) and Scott Wilson (16)
THIRD PERIOD
Jake Guentzel (10) assisted by Conor Sheary (22) and Sidney Crosby (37)
Conor Sheary (19) assisted by Jake Guentzel (9) and Sidney Crosby (38)
THW Three Stars
1. Ryan Miller (45 saves)
2. Sidney Crosby (2 assists, 9 shots)
3. Matt Murray (27 saves, shutout)
Next Up
Pittsburgh Penguins at Calgary Flames
Monday, March 13, Scotiabank Saddledome, 9:00 p.m. EST
Broadcast Channels: SNW, ROOT
2016-17 Season Series:
Boston Bruins at Vancouver Canucks
Monday, March 13, Rogers Arena, 7:00 p.m. PST
Broadcast Channels:
2016-17 Season Series: Bruins lead 1-0
KPU Journalism Graduate. Trevor has been writing for The Hockey Writers since October 2014. He has contributed articles related to the Ottawa Senators, Vancouver Canucks, and other issues/stories regarding the game of hockey. Trevor currently lives in White Rock, B.C.