This week, the University of North Dakota Fighting Hawks received two commitments from highly sought, high-end recruits Keegan Karki and Jonny Tychonick. Reading the recruits comment's in the Grand Forks Herald, there's no doubt that UND made a great impression on these players as they were going through the recruitment process.
The UND coaching staff prides itself on getting players to buy into their culture. At UND, you're a part of something bigger. The name on the front of the jersey is more important than the name on the back. Sure, it doesn't hurt that UND has an amazing 100 million dollar arena to play in, but the arena is just one part of the equation.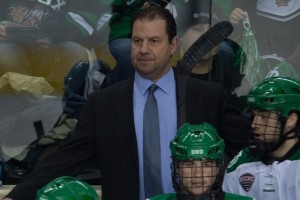 Imagine the arena packed to the rafters with a rabid fans. Add UND's storied history, why wouldn't a recruit want to play for UND?
While reading the quotes of UND's most recent recruits, I realized that their comments mimicked UND's current group of players. Having interviewed various UND players through the course of the season.  The future and current players were saying the same things. Upon arriving in Grand Forks, they were impressed with the atmosphere of the arena and the culture of the team.
Another big draw is the reputation of UND's coaching staff. UND has three coaches with a wealth of coaching experience. Coaches Brad Berry, Dane Jackson, and Matt Shaw have all coached at the highest level of professional hockey. Shaw and Berry have both been assistants in the NHL.
"I was able to stand out on the bench during warmups," Tychonick told Brad Schlossman of the Grand Forks Herald. "Just walking out there and seeing that the rink was already packed and booming for warm-ups, I was like, 'Wow, they really care about hockey here.' When the game started and they started scoring goals, the chants, and everything were unbelievable.

"I just felt like scoring goals there or setting up goals there would be something that I want to do, and have those chants going when I'm on the ice. That would be pretty special."
Over the years, a fair number of recruits have cancelled their recruiting visits to other schools once they visited UND. After visiting Ralph Engelstad Arena and with the team, they didn't need to go anywhere else to know that they've picked the right school. A lot of the quotes look like this one.
"It was the first school that I visited," Karki told Brad Schlossman in a recent interview. "I got goose bumps going into the rink. It's better than anything I've ever seen. I've seen the Xcel Energy Center — that's one of the top rinks in the NHL — and to see how it compares to the Xcel is outstanding. When I walked in there, I knew I wanted to be part of the tradition and be part of the family.

"It was the first visit that I took. I didn't have the same feeling anywhere else. The feeling that I got there was completely different. The relationship with Matt Shaw, Brad Berry and Dane Jackson was so much better than any other relationships with other coaching staffs. And hopefully I'll be able to work with Karl Goehring in a few years."
When you look at some of the players that have walked through the doors at Englestad Arena, you have to credit the UND coaching staff. Many of these players have played or are currently playing in the NHL.
Current Players Weigh In
Earlier this season, I interviewed senior forward Coltyn Sanderson. One of the questions that I asked him was, why UND? Especially, since he had other offers to play for other schools, where he would've gotten more playing time. This is what he told me.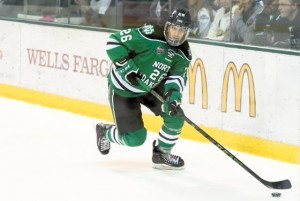 "I had a lot of opportunities to go to a lot of different schools. Some of them were 100 percent scholarships or higher scholarships than I received here. I had a smaller scholarship offer."
"It came down to the Ralph Engelstad Arena. I don't know how you come here and not fall in love with the place. Just talking with the coaches and the players that were here – hockey wise – the goals are set pretty high. It's about winning a national championship. I had just fallen short of winning a national championship in Canada in juniors."
For some players, it's not just about playing time, it's about playing for a program that's the best fit. It's also about being part of something bigger.
"To me the most important thing was developing as a player and winning," Sanderson said. "I saw that here. In coming here, the opportunity to be on a great team that was going to be in the mix, and going to Frozen Four every year. So far, I have been in two out of three of those. Hopefully, it's going to be three out of four and get the job done this year. That was kind of a big staple of what I made my decision off of."
Sophomore forward Austin Poganski was recruited right from under St. Cloud State University. It didn't hurt that Poganski was introduced to UND at a young age.
"I am actually from St. Cloud," Poganski said. "I grew up there. I had season tickets for many years. It was one of the first teams that I talked to. I obviously toured there. As a kid, I wanted to play there. Then I played for the Junior Sioux when I was 10 years old. Ever since then I fell in love with this program and the tradition here.  It was a pretty easy choice from there."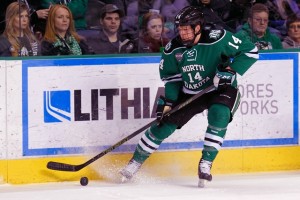 There are a lot of bells and whistles when it comes to enticing recruits to commit to the UND hockey team. First, the program's storied history. Second, the coaching staff is a big seller. The facilities at UND are second to none. Some of UND's recruits upon seeing the Ralph have committed on the spot. Some have stood at center ice and committed.
"It was a combination of a lot of things," Poganski said. "The coaching here is top to none. Obviously, my goal is to play at the next level. I felt that the strength of the team – the tradition – the coaching staff and the facility was an asterisk that would help my end goal to play in the NHL. It wasn't a hard decision after visiting here."
Some of the current players aren't ready to leave when their time is up. Recently, senior forward Drake Caggiula reflected back at his time at UND during a recent press conference.
"I wish I could stay here the rest of my life," Caggiula said. "It has a special place in my heart, and a special place in my family's heart."
Eric is a 1996, 1999 graduate of the University of North Dakota. Eric covers the University of North Dakota Hockey and Division I college hockey. Eric is the Contributing Editor for Inside Hockey.