The city of Detroit has been sitting on pins and needles for the past month. Their beloved Red Wings and their 21-year playoff streak have been tilting on the cusp of disaster or triumph for quite some time now. The race for the final two playoff spots in the Western Conference has come down to three teams, the Red Wings, the Minnesota Wild, and the Columbus Blue Jackets (yes the Columbus Blue Jackets, you did not read that wrong). And this race will come down to the second last day of the season (TOMORROW), with all three teams in action.
Before the final week of this shortened season started, Detroit was sitting in 9th place in the NHL's Western Conference with 48 points, 3 points behind Columbus for the final spot. A combination of three wins in a row by Detroit, all in emphatic fashion (4-0 shutout over Phoenix, 3-1 over Los Angeles, and 5-2 over Nashville), and one win by Columbus and Minnesota this week, has the Red Wings currently sitting at 54 points, good for 7th in the West. Perhaps they can thank the schedule that only had Columbus playing once during the work-week, but all that matters is that they are currently in a playoff spot one point ahead of 8th place Minnesota.
How have the Red Wings been able to do this though? They've pulled off three straight wins, and are playing like the Red Wings of old who seemed to always win. First off, Jimmy Howard has been absolutely sensational this week. After signing his new 6-year contract extension with the Red Wings, he has only given up 4 goals the past 4 games (as per NHL.com). Secondly, Henrik Zetterberg has lead this team like a true Red Wings captain. He is top 20 in the league in points, and has 7 assists and a 3+/- rating in three games this week alone (as per NHL.com). He has replaced Nicklas Lidstrom with true class and poise, and is showing why he deserves to wear the 'C.' Third, Detroit's role players have complemented their star players very well this week and are proving why the Red Wings deserve to be in the post-season. Justin Abdelkader, Daniel Cleary, and Darren Helm are all playing quality minutes, and their young studs like Damien Brunner and Danny Dekeyser are all fitting in nicely and contributing well (see my last post on Danny Dekeyser and his role within the Red Wings' roster). Some may not be contributing on the score sheet, but are still playing Mike Babcock's system to a 't'.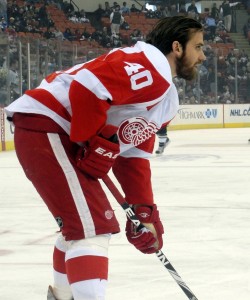 In their last 21 years in the post-season, the Red Wings have gone on to win the Stanley Cup, 4 times. Perhaps this roll they've been on as of late, may create enough momentum for them to first make the playoffs, and who knows, maybe win their fifth cup in 22 years. Mike Babcock has done a great job of keeping his squad focused on the task at hand, and looks determined to keep the streak alive. The Red Wings have the night off on Friday, so you know they will be closely watching the Minnesota Wild as they take on the Oilers in St. Paul (the game is at 8 pm/ET if you're interested to watch). A win by the Wild puts them ahead of the Red Wings in 7th, as Detroit slides to 8th. Dallas hosts Detroit tomorrow night in their season finales, and a win by Detroit (regulation or OT) clinches the final spot for them. Henrik Zetterberg will need to continue his exemplary play (and I do not doubt that he will), Howard will have to continue his solid goaltending, and everyone else will need to chip in. Given that the Wild win or lose tonight, and the Red Wings lose tomorrow night, they will need Nashville to win away at Columbus, to book their ticket to a first-round match-up against the Chicago Blackhawks. The fate of the Red Wings 21-year playoff streak rests in their hands with their game tomorrow night. A loss leaves their season and streak up to chance. And you know the old saying, never leave anything to chance.
I am a fourth year student at the University of Toronto studying Physical Education/Concurrent Teacher Education. I have been a hockey fan all my life and play in a men's league during the winter. My favourite leagues are the NHL first and foremost, the MLB, and the NFL. I also work at the hockey megastore Pro Hockey Life. Follow me on twitter @rob_ruscitti and check out my sports blog on twitter as well @EhSport360