"The Precious"
After the debacle that was the beginning of 2014 free agency for the Detroit Red Wings, fans and management personnel are looking for answers. The Red Wings missed on every player they targeted, with Christian Ehrhoff going to the Penguins in what is being called "the best deal of free agency," Matt Niskanen headed to America's capital, and Dan Boyle going to the Big Apple to play with the Rangers . With the exception of the Niskanen contract (7 years, $40.25 million), these players signed deals that Detroit would have happily matched. No matter what the causes, Ken Holland found himself without what is quickly becoming "The Precious" to his plans for the Red Wings– a right shooting defenseman who can quarterback the power play. These players are not exactly a dime-a-dozen, and it is since Brian Rafalski donned the Winged Wheel that Detroit has had a player who can truly excel in this role.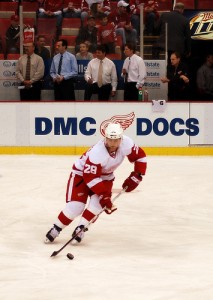 Consequently, these talented players do not come cheap in the trade market. Combine that with the fact that the entire NHL knows how badly the Red Wings want a defenseman of this variety, the asking price is looking very high. Reports indicate that the top trade target for the Red Wings is Mike Green, with the names of Tyler Myers and Keith Yandle being thrown around as well. These are three players who fit the description of the player Detroit wants–but the Red Wings should not pursue any of them.
A King's Ransom
Depending on the handling of the rest of the summer, the Red Wings could see themselves poised to be a contender for years to come, or without key prospects that could contribute down the road. A trade for any of the aforementioned players would almost surely demand a top prospect as well as a first or second round draft pick in the 2015 NHL Entry Draft, the strongest draft in years. As far as current  roster players, Jakub Kindl and Brian Lashoff are two defensemen who Detroit could like to move. This is rather problematic, since the Captials, owners of Mike Green, do not need a defenseman. A trade with Washington involving either of these two makes very little sense. The Capitals need a number two center, something that the Red Wings seem to just be getting under control. Last summer, the constantly injured Stephen Weiss was brought in to fill this need, and his trade value is now at an all-time low after another injury ridden year. That leaves Riley Sheahan and Darren Helm in the mix, two players who are very valuable to Detroit's system and would be sorely missed in their roles. Even though Sheahan isn't a bona-fide number two center yet, he is a player the Red Wings would be wise to build around.
It's also safe to assume that any trade target would demand a top prospect, possibly in the form of the very promising Andres Athanasiou, Ryan Sproul, or Teemu Pulkkinen, all players who have a very real shot of playing in Detroit in the near future and have been developed in the Red Wing system. Trading any of these players for Mike Green, a player who becomes a UFA at the end of the 2014-2015 season, would be a mistake that jeopardizes the future of the Red Wings. Keith Yandle's contract is only a year longer. Tyler Myers is the only player who could contribute for longer, but his status as Buffalo's top young player and the Sabres' position as a division rival leave his asking price even higher than Green's.
The Kids Are All Right!
The key to unlocking this defensive conundrum doesn't lie in the oft-injured Mike Green. It isn't Keith Yandle and his $5.25 mil. cap hit. It isn't even Calder Trophy winning Tyler Myers. The Red Wings have the answer, and they  two choices, both of them correct. The Red Wings have arguably one of the deepest defensive prospect pools in the NHL, with two of their top prospects being–you guessed it– right shooting defensemen who can run the power play.
Ryan Sproul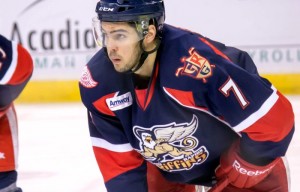 Drafted by the Red Wings in 2011, Ryan Sproul has done nothing but shown constant improvement since being signed. The former CHL Defenseman of the Year is fresh off of a great season in Grand Rapids, where he notched 32 points and finished at an even (o) plus/minus. Standing at 6′ 4″ and weighing in at 205 lbs, Sproul is a big player who has the potential to add even a little bit more muscle before totally filling out.
The video below showcases what Ryan Sproul can do.
As you can see, he has a cannon of a shot, and patience to wait until the lane opens up to get a shot on the net. The description of Ryan Sproul as a player is the exact description of a player that the Red Wings are looking to trade for. Having spent an entire season in Grand Rapids, there is a strong case for him being ready to play at the NHL level.
Would he be perfect? No. Would mistakes and "learning experiences" occur? Absolutely. Even though it is the Red Wings' tradition of keeping players in Grand Rapids for a long time, sometimes traditions need to adjust when demanded by the times. With Sproul on the blue line, the Red Wings continue last season's thrilling youth movement and, most importantly, keep every prospect in their arsenal safely locked away from division rivals and other prospect-starved franchises.
Alexey Marchenko
Detroit's second option is their another 2011 draftee, Russian defenseman Alexey Marchenko. Marchenko is a big, right shooting defenseman who is more used to playing in a shutdown role.
His highlight video, below, showcases his defensive-minded nature. Towards the end of the clip, though, it is evident that he does have a powerful shot when he decides to use it.
It would take some work to get Marchenko comfortable enough to take point on a Detroit Red Wings powerplay, and that's why he should represent the second option for a "new" right shooting defenseman. Work doesn't bother Marchenko though, based on everything that he has done while signed by the Red Wings. When interviewed by The Hockey Writers at the 2013 Red Wings Development Camp, his English was very broken and he looked like he could stand to gain a few pounds. When THW caught up with him again at the 2014 Development Camp, his English had improved incredibly, and he has filled out in the shoulders especially. He has also shown great perseverance after sustaining a high-ankle sprain last season that required surgery. Coming to Development Camp voluntarily and working out through his recovery show a strong desire to make an impact in Detroit.
During an impromptu Q & A session at 2014 Development Camp, Marchenko played down his 2013-2014 AHL All-Star season, and noted that he wanted to work on his skating going forward.  He also noted that he knows that he needs to keep working, and that he is willing to do that in order to make the Red Wings roster. If his work in 2014 in Grand Rapids and after his injury is any indication of his overall work ethic, Marchenko could adapt to any defensive role that the Red Wings give him, be it on the power play or as a shutdown defenseman. His right shot and big body make him a candidate for the job with the Red Wings, but he will have to impress in Training Camp if he is to beat out Sproul at this role. Even though Sproul's skill set would seem more suitable for the task, Marchenko's name should still be mentioned, on merit of his exceptional 2013-2014 AHL campaign and his strong (albeit under-appreciated) right handed shot.
But Will It Happen?
The short answer is hopefully, but it experience says no.
The long answer:
Promoting a promising 21 year old player who has played one full season in the AHL at a very high level might seem commonplace around the NHL, but not in Detroit. Prospects routinely spend 2-3 full seasons in Grand Rapids before getting a locker at Joe Louis Arena. Based on the high price of a trade and lack of free agents still on the market, calling upon Sproul or Marchenko is the best decision for the Red Wings. It keeps a top-tier prospect pool intact at all levels, and gives new opportunity to players who have earned it by stellar play at the lower levels. Furthermore, promoting from within Red Wings to keep their cap space under control by not having to take on contracts that may be less than beneficial for the team.
Judging by past handling of prospects, a trade seems more likely than Sproul or Marchenko getting a shot out of training camp. But, this time, the situation is different. The trade prices are higher, the free agents are gone, and a hole must be filled. However more likely a trade is, it is certainly not more beneficial. Considering the circumstances, the best solution for the Detroit Red Wings lies within their own depth charts.