Only two players remain with the Red Wings from their last Stanley Cup run in 2008. One of them, Valtteri Filppula, left the team in the summer of 2013 before returning to Detroit on a two-year deal last summer. The other player is forward Darren Helm, who has spent all of his 13 seasons in the NHL with the Red Wings. However, as the 2020-21 season approaches, that fact may be set to change.
While Helm played a big role for the Red Wings during former head coach Mike Babcock's tenure (Babcock once referred to him as the "best third-line center in the league) his role has slowly diminished ever since current head coach Jeff Blashill took over. As the Red Wings continue to rebuild, Helm is the exact type of player that general manager Steve Yzerman will want to ship out in exchange for future assets.
But that doesn't mean Helm is simply a dead man walking. In fact, there are plenty of positives to consider when looking at the 33-year-old forward's current situation. Whether it's in Detroit or somewhere else, you'll find that he still has something to give.
Unspoken Leader
Half of Helm's 82 playoff games came during the Red Wings' runs to the Stanley Cup Final in 2008 and 2009. In both years, he was barely old enough to sip champagne out of the Stanley Cup, and he played bottom-six minutes (he averaged under eight minutes of ice time during the '08 run.) A fifth-round pick in the 2005 draft, he came into his own just as the Red Wings – led by Pavel Datsyuk and Henrik Zetterberg – hit their stride in the post-Yzerman era.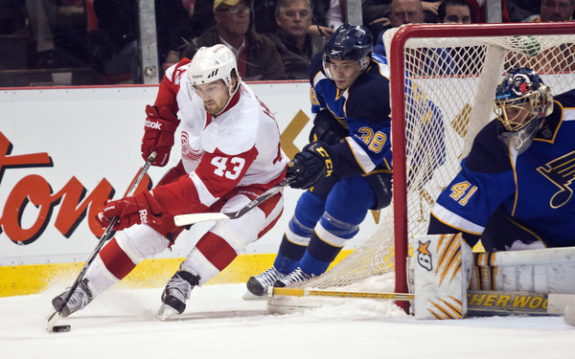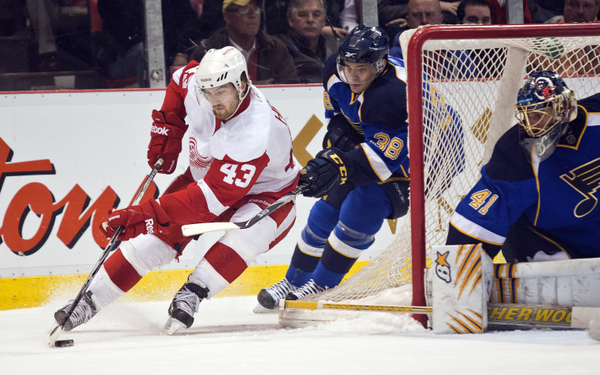 In the years since, Helm has been a part of the Red Wings' slow fall from grace. He moved up, down and all around the lineup, with Babcock utilizing him as something of a Swiss Army knife – hence his praise for Helm as a third-line center. He found a home of the Red Wings' penalty-kill unit, a role that he still holds down to this day.
As time went on, players from that 2008 championship team fell off the roster one-by-one. Over that time, Helm went from the fresh-faced kid to a veteran among kids. During some of the team's preseason games, he would even sport the alternate captain's "A" on his sweater, a sign of his seniority on the roster, as well as his place as a role model for the team's up-and-comers.
It's that experience that is valuable to the Red Wings today and possibly another team tomorrow.
Grinder
When former GM Ken Holland signed Helm to a five-year deal back in July of 2016, Blashill commented on what the forward brings to the Red Wings' lineup:
He's somebody who brings a couple of really good assets to your team. One, his competitiveness level is great. Two, it's his speed. For us to be a successful team, we're going to have to be a team that is fast and fast in transition. He obviously brings big elements with that.

– Jeff Blashill
To his point, Helm was once the fastest player on the Red Wings' roster. He would use his speed not only on the forecheck, but as a way to create offense too – though his offensive outputs will show you that he wasn't always successful as converting those opportunities (he has never scored more than 33 points in a season.) This is why he was, and still is best suited for a role in the bottom-six.
Helm is sort of a modern-day "grinder" in that he isn't going to wear-out the opposition by throwing body checks and using his physical strength, but instead he's going to pressure the opposition by using his skating ability as well as his overall solid defensive game. That's why he's so effective on the penalty-kill. His greatest contribution to his team isn't how many points he can score, rather, it's how little the opposition scores while he's on the ice.
To further this point, we have to look at a stat that has become a bit divisive in the hockey community: plus-minus. Plus-minus is a measurement of the difference between goals scored for and against while the player is on the ice, special teams not included. During the 2019-20 season, the Red Wings as a whole posted an atrocious goal-differential of minus-123, resulting in every key player holding a negative plus-minus rating.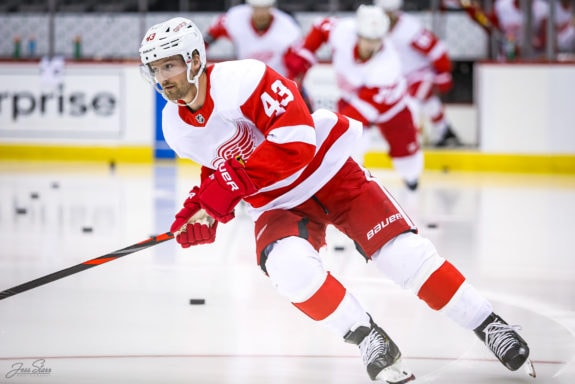 That being said, of players that played a minimum of 30 games for the Red Wings last season, Helm had the best plus-minus rating of minus-6. What this tells you is that while the Wings were a porous defensive team last season, they incurred minimal damage while the Manitoba-native was on the ice. If you can post respectable defensive numbers while playing on that team, there's certainly value in that.
Trade Implications
The 2020-21 season marks the final year of Helm's contract. He carries a $3.85 million cap-hit – the fourth-highest among Red Wing forwards. Despite the positives he can bring to a team, that price tag is going to be prohibitive in any deal, especially while the pandemic restricts bottom lines across the NHL. It's easy to say that Yzerman is going to want to trade him; how he's going to do it is the tricky part.
At most, the Red Wings can retain up to 50 percent of Helm's cap-hit, which would bring him in at $1.925 million. While that's still a bit pricey, it's a lot closer to what you would expect to pay a flawed but useful bottom-six player. Yzerman could also take back a player to help level out the books, much like he did with Sam Gagner in the trade that sent Andreas Athanasiou to the Edmonton Oilers.
Who Wants Him?
In a recent article, Vegas Golden Knights writer Ben Fisher brought up Helm's name as a player he would like to see the Golden Knights target. Vegas would have to clear up some cap space in order to swing a deal for Helm, but adding Helm makes sense for a team that likely wants to find depth for a potential Stanley Cup run.
A few other teams that would make sense are the Boston Bruins, the Toronto Maple Leafs and the Winnipeg Jets. While Winnipeg would represent a homecoming for Helm, the other two would add him for the same reason as the Golden Knights. The Maple Leafs, in particular, could be an interesting case as their moves over the last couple of years suggest that GM Kyle Dubas realizes that his team needs to improve their defensive play in order to make a deep playoff run. They've been linked to Helm's teammate, Luke Glendening, in the past.
Any team trading for Helm would be doing so to boost the depth of their roster. So then the next question, of course, is how much does depth cost?
Return on Asset
The NHL-marketplace can be a bit unpredictable. Over the last few years, things have shifted where a premium is placed on cost-control. Players with term left on their deal (at a reasonable cap-hit) are suddenly the hottest commodity for sellers come the trade deadline. That's how the San Jose Sharks were able to squeeze a first round pick out of the Tampa Bay Lightning in exchange for depth player Barclay Goodrow. Players on expiring deals aren't worth as much, unless they're someone like Taylor Hall.
What this tells us is that the Red Wings aren't going to spin straw into gold when it comes to Helm. Despite the things he can bring to a contending team, his pending free agency simply isn't worth giving up a first round pick for. For some teams, it won't even be worth giving up a second round pick.
If he can start a bidding war for Helm, Yzerman could potentially fetch a second round pick for Helm's services. However, it's far more likely that you'll see a third round pick heading Detroit's way in such a deal – and that's if the Red Wings retain half of his cap-hit. Of course, there are ways that Yzerman could tweak things and increase the value so that he gets a better pick. At the end of the day though, the prospect of turning a fifth round pick in 2005 into a third round pick in 2021, or another subsequent draft, has to be seen as a win.
Until Then…
While it may seem like a foregone conclusion that Helm will be packing his bags for another team come the 2021 trade deadline (whenever it may be) he is still a Red Wing until then. On a team where more than a couple players are going to slot-in higher in the lineup than they probably should, he is a player that Blashill ought to be able to use in the proper role.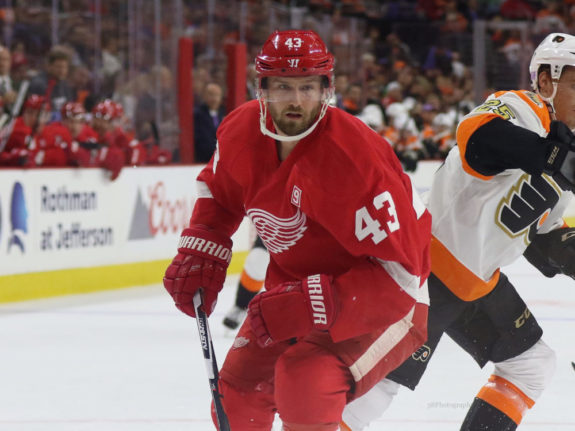 Helm could play on a defensive fourth-line alongside Glendening and possibly Frans Nielsen. He could also provide a defensive presence on an otherwise offensively-oriented third-line alongside guys like Evgeny Svechnikov and Filppula. He is still a Swiss Army knife, just with fewer tools and uses.
If he is successful in whatever role(s) Blashill uses him in, that's a good thing not only for competitive Red Wings hockey today, but for the future asset they could acquire because of it. With that in-mind, all of "Hockeytown" should get behind Helm one last time. For a player that has shown nothing but loyalty to the Detroit Red Wings throughout his career, that shouldn't be too much to ask for.
Want more Red Wings content? Tune into The Hockey Writers' Grind Line — a new weekly live show on YouTube and Facebook. We stream Friday nights starting at 8:00 pm ET on The Hockey Writers YouTube channel. Check out this week's show below, and make sure you subscribe to the channel so you don't miss any upcoming shows.
---
---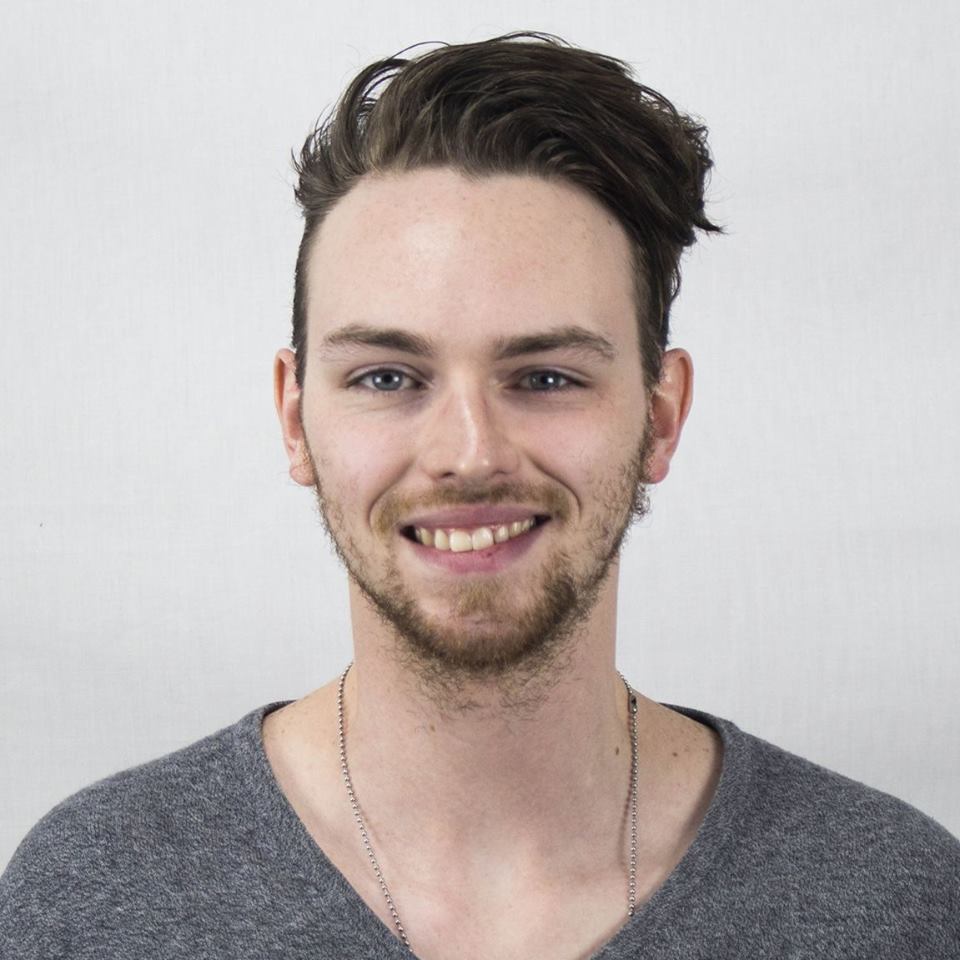 I am a Western Michigan University alum whose passion for hockey knows no limits. Dr. Pepper enthusiast. Catch me and my fellow Red Wings writers' YouTube show "The Hockey Writers Grind Line" which drops every Saturday.