The big news out of Vegas this week was that the Golden Knights are looking to move winger Max Pacioretty as the club looks to get under the $81.5 million salary cap for the 2020-21 season.
Naturally, the report spread like wildfire. With 32 goals and 66 points, Pacioretty led the Golden Knights in scoring last season. The 31-year-old forward added eight points during Vegas's run to the Western Conference Final in the Edmonton bubble. This seems like the type of player that a Stanley Cup-contender like the Golden Knights would want to hang on to right? Their owner sure seems to think so:
And yet this rumor won't go away. Whether it's Pacioretty, Jonathan Marchessault, or yes, Marc-Andre Fleury, something has to give in order for the Golden Knights to get under the cap. Luckily for them, there are a handful of teams that have the cap space to alleviate their cap crunch – one of them being the Detroit Red Wings. However, as the title of this article will tell you, the Red Wings and Golden Knights aren't as much of a fit as it first may seem.
Golden Knights' Salary Situation
Following an offseason that saw center Paul Stastny and defenseman Nate Schmidt traded away to make room for free agent defenseman Alex Pietrangelo, the Golden Knights currently have a cap-hit of $82.47 million. Luckily for them, they don't have anyone else to sign. The only matter of business remaining is to get under the cap.
Realistically, none of the Golden Knights' contracts are super egregious, though having $12 million wrapped-up into two starter-caliber goaltenders is less than ideal. This is a team that has its core locked up, and should be able to contend in the west for the foreseeable future as long as they aren't handicapped by a flat cap. So how do they minimize the damage?
Red Wings Overview
With $9.5 million in cap space, the Red Wings are among the league-leaders in terms of available space. They already utilized some of it back in October when they acquired a second-round pick in 2021 from the New York Rangers in exchange for taking on defenseman Marc Staal and his contract. Given general manager Steve Yzerman's aggressive style, it would surprise few if he went out and made one more salary-dump deal.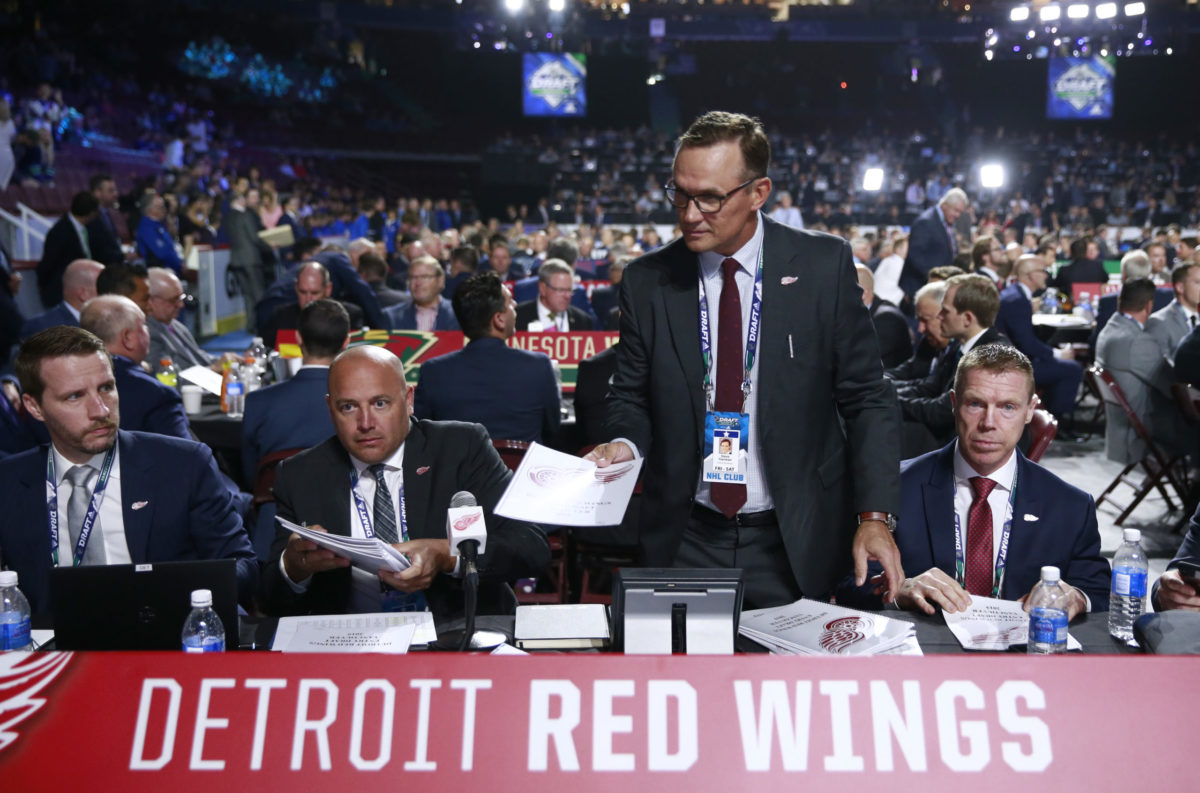 But of course, it has to make sense. The Red Wings hold additional picks in the second and third rounds of the 2021 draft, and their rebuild is contingent upon adding even more picks and prospects. Any deal that includes taking on a ton of salary will have to include a premium pick or prospect heading to Detroit as well.
In terms of on-ice assets, the Red Wings recently signed a plethora of new faces to help boost a lineup that was easily the worst in the NHL last season. However, they do not have a ton of impact players on the roster, and the ones they do have aren't going anywhere. The most valuable asset they have to offer at this time is their cap space.
Pacioretty to Detroit?
Does it make sense for the Golden Knights and the Red Wings to come together on a deal for Pacioretty? While it would be cool to see "Patches" back in the state of Michigan (he played for the University of Michigan during the 2007-08 season) there are some roadblocks that seem too large to overcome.
Ben Fisher, who covers the Golden Knights here at The Hockey Writers, had this to say about a potential Pacioretty trade:
The problem is that Vegas probably doesn't view a Pacioretty trade as a pure salary dump – he scored 32 goals last year and earned an All-Star nod, and the team likely wants to recoup some of their acquisition cost.

– Ben Fisher
This makes sense on the Vegas end of things; the Golden Knights are Cup-contender with Pacioretty in their lineup, and so any deal to shed his salary would require them to also make up for the lost production. Furthermore, despite his production, he still has three years left at a $7 million cap-hit. Given the economic climate caused by the COVID-19 pandemic, teams will likely be resistant to add that kind of payroll without it being well worth their while.
On the Red Wings' side of things, Pacioretty would come in and instantly become the team's top left winger while still leaving them with $2.5 million in cap space. Quite frankly, taking him on would walk the line between doing the Golden Knights a favor and legitimately making the Red Wings better. If Vegas sees Pacioretty as a piece in a legitimate "hockey trade", then what could they want from Detroit? Fisher weighed in:
Ideally, I think the Knights would want a depth piece, high-level prospect and a first or second for Pacioretty – that's what we gave up to Montreal two years ago. He's obviously that much older now, but he just came off a year roughly in line with some of his best seasons. From Detroit, I like the fit of Darren Helm based on our Cup aspirations, but the cap hit is a non-starter.

– Ben Fisher
Fisher also mentioned Filip Zadina and Moritz Seider as prospects they'd like to get their hands on, but those two are about as untouchable as it gets when it comes to the Red Wings' roster/prospect pool.
What this tells me is that, while the idea of sending Helm to Vegas is enticing, there likely isn't a fit here in terms of a Pacioretty deal. He is simply too valuable to the Golden Knights' lineup for them to just ship him off for nothing. In fact, Fisher has his eyes on some other teams in the Eastern Conference when it comes to dealing Pacioretty:
I have my doubts about Detroit being a suitor, but Boston, Philadelphia, Nashville and both New York teams make varying levels of sense. If I'm the Knights, I don't necessarily want to lose Pacioretty, but I'm intrigued by the opportunity to clean up the cap sheet, add future assets and maybe even pursue Mike Hoffman to replace the production on the wing at a lower cap hit

– Ben Fisher
Okay, fine. But are there any other players the Red Wings could target to capitalize on the Golden Knights' cap issues?
Other Options
Fisher suggested a couple of different options for his team to get under the cap. When asked about another player he would look to move, he said this:
I floated the idea of moving Ryan Reaves in another article. He's a fan favorite, but his cap hit ($1.75 for each of the next two years) seems high given all the decent players who have signed for close to the veteran's minimum. We also have Keegan Kolesar, a younger version of Reaves with a smaller cap hit who can replace much of what he offers.

– Ben Fisher
Reaves is well-known around the league for his physical brand of hockey; he is the Golden Knights' enforcer, and he does it with an attitude that is tailor-made for a place like Vegas. Given how GM's around the league place a premium on toughness, it wouldn't be surprising to see the Golden Knights gain a draft asset if they were to move the imposing forward. As far as the Red Wings are concerned, they are not in the business of trading their draft picks, especially for players that impact the game with their body rather than their stick.
One other option the Golden Knights have is to utilize long-term injured reserve (LTIR) in the same way that the Toronto Maple Leafs did last season. To summarize this process briefly, LTIR allows a team to exceed the salary cap by the value of an injured player's cap hit. The Red Wings themselves utilized this a few years ago when they had both Johan Franzen and Henrik Zetterberg on LTIR.
On the topic of using LTIR to solve their cap problems, Fisher had this to say:
The LTIR option would certainly be feasible for Vegas, particularly given the deep pockets of owner Bill Foley. It's something we might do in-house anyway for short-term cap relief, depending on Robin Lehner's recovery from off-season shoulder surgery.

– Ben Fisher
Could the Red Wings deal the last year of Zetterberg's deal to Vegas? Absolutely – after all, they dealt the final year of Pavel Datsyuk's deal to the Arizona Coyotes back in 2016. In exchange for Zetterberg's salary relief? Vegas GM Kelly McCrimmon isn't likely to pay anything more than a fifth round pick, and that's probably being generous. Sure, this works, but it likely isn't the most advantageous way for the Golden Knights to solve their problems.
There are other options from the Golden Knights that the Red Wings could pursue. Bottom-six forward William Carrier carries a $1.4 million cap hit for the next four years and could be packaged with a third round pick; winger Reilly Smith has two years left at $5 million and could provide depth scoring along with leadership for the Red Wings (he is currently an alternate captain with the Golden Knights.) Carrier is the more-likely of these two to be moved, but it doesn't make sense to add him to an already crowded bottom six for the Red Wings.
Future Considerations
I wouldn't close the door on a deal between Vegas and Detroit entirely, but it seems like the fit just isn't quite there. However, if McCrimmon shares Fisher's idea of adding Helm as a depth piece down the road, something could definitely be worked out there. Stay tuned on that front.
In terms of the big Pacioretty rumor, it just doesn't make sense for the Golden Knights to move him out for pennies on the dollar. The Red Wings would be better suited looking for a more traditional cap-dump. With the 2020-21 season beginning to take shape, there will undoubtedly be another, better opportunity for Yzerman to utilize his team's greatest asset.
---
---