The Edmonton Oilers are a storied franchise with a lot of history. Eight Hall of Famers have played for the team, alongside a multitude of other talented contributors.
Many Oilers' franchise records are well out of reach thanks to the greatest player to play the game, but there are plenty of milestones that are achievable for the 2021 Oilers' squad. From firsts to 1000ths, here are the milestones that Oilers players and staff can hit this year.
Roster Expansion Could Mean a Year of Many Firsts
There is a multitude of young Oilers' hopefuls looking to crack the lineup in the upcoming season. There is heavy speculation that teams may be allowed to carry more players than the standard 23 man rosters, leaving the potential for more young players to get the opportunity to play than there normally would be.
With Oscar Klefbom likely to miss the entirety of the 2021 season, a spot on the Oilers' defence has opened up. In a typical year, William Lagesson and Philip Broberg may have been competing for the role of seventh defender, but if both players are a part of a taxi squad, they'll likely share the role. (from 'Who is better: Philip Broberg or Evan Bouchard? (And why that question doesn't matter much),' Edmonton Journal, 12/01/2020) Each of them will be looking for their first career point as they get their feet wet at the NHL level.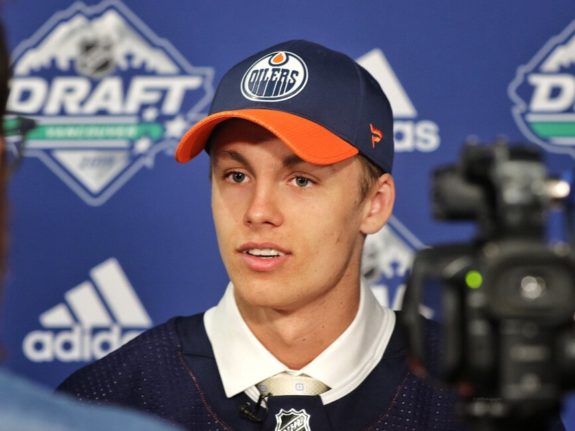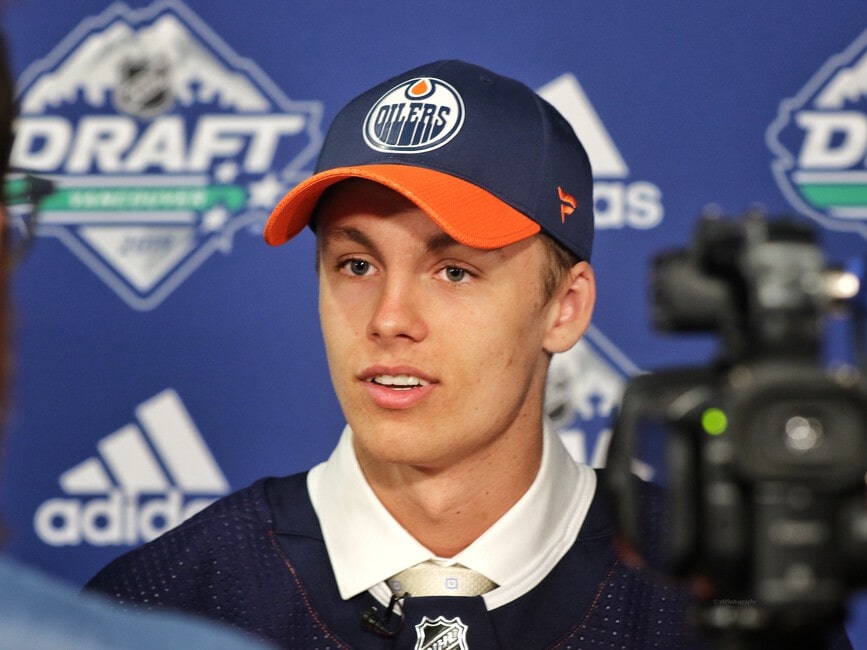 Oilers forwards Patrick Russell and Tyler Benson will be looking to notch their first career goals this year. That first tally eluded both players last season, with Tyler Benson unable to find the mark in his first seven NHL games, and Russell now without a goal 51 games into his NHL career. With 58 shots on net and 28 high danger scoring chances last season, if Russell gets regular playtime and a little bit of luck, he should be able to put an end to his dry-spell and pick up his first career goal.
Oilers in Reach of Significant Milestones
A multitude of Oilers' players will be looking to hit significant milestones this season. Both Leon Draisaitl and Connor McDavid are in search of their 200th career goal, which should be reachable barring injury. A major goal milestone is also in reach for James Neal, as he nears number 300.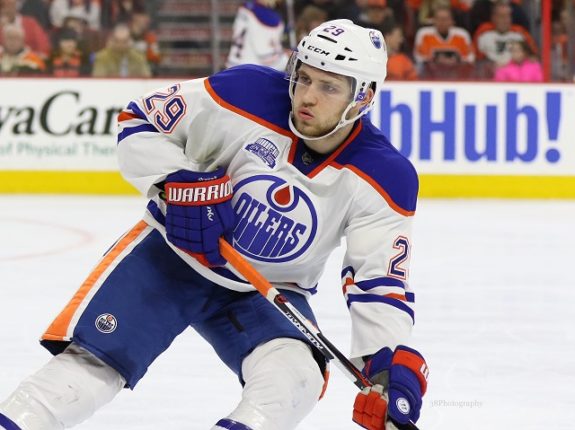 One of a handful of Oilers that can hit assist milestones in 2021, Ryan Nugent-Hopkins is likely to dish out his 300th assist this season. Kris Russell, who should also appear in his 900th career game this season, is looking for assist number 200 of his career. Other players with assist milestones within reach are Darnell Nurse, Zack Kassian, and new Oiler Alex Chiasson, who are all looking for their 100th assists this season.
This could be a year full of milestones for Chiasson, as he is also on track to record his 100th goal and his 200th point. Another new Oiler, Dominik Kahun may also hit a point milestone, as he nears number 100.
Between the pipes, goaltender Mikko Koskinen is only five victories away from his 50th, and three games played away from 100. Kailer Yamamoto and Ethan Bear are nearing 100 games played as well, both entering their third NHL seasons. Darnell Nurse and Connor McDavid, who seem like they just entered the league last season, are now grizzled veterans and are each on track to play in their 400th games this season.
McDavid Can Make History This Season
McDavid is a remarkable player. At only 23 years of age, he's known around the league as one of, if not the best player in the NHL right now. And in this upcoming season, he can leave his mark on history.
McDavid is rapidly approaching the 500 point mark at a pace that has seldom been seen before. If he is able to keep up his scoring rate from last season, over 2021's 56 games, McDavid will score his 500th point in his 372nd game. (from 'NHL reportedly targets mid-January start for shortened 2020-21 season,' Washington Post, 12/08/2020) Doing so would make him the second-fastest player to reach that mark this century (from StatHead Hockey).
Achieving this will place him behind only Sidney Crosby who was able to do it in 369 games. If McDavid improves upon last season, he could potentially outpace Crosby and become the fastest player to reach 500 points this century.
Dave Tippett Can Move up the All-Time Coaching Leaderboard
Behind the bench, head coach Tippett is closing in on a very impressive milestone of his own. Currently sitting at 590 wins, Tippett is a sure thing to hit the 600 win mark, which would make him only the 21st head coach and eighth active to reach this milestone.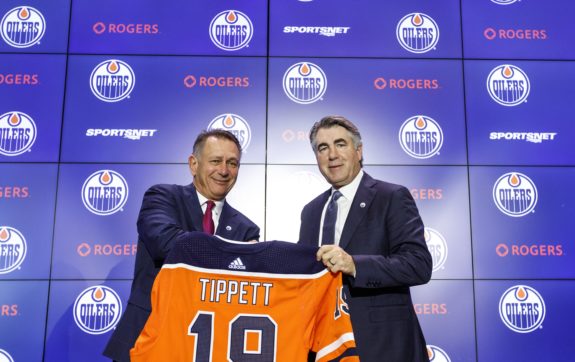 If the Oilers have a good showing in an all-Canadian division this upcoming season and manage to make the playoffs, it will be Tippet's 10th trip to the post-season, another milestone. 10 playoff appearances as head coach are something that only seven other active head coaches have been able to do.
Ken Holland Can Join Elite Company With 1000 Wins
Holland can potentially join some very elite company, as he approaches his 1000th win as general manager. He will go into the season with 962 wins, needing 38 to get to 1000. Admittedly this milestone may be out of reach in 2020-21 due to the shortened season. For Holland to hit 1000 wins this year, the Oilers would need to win just under 68% of their games, something that has only been done five times in the last 10 years.
Two of those were during the most-recent shortened season, so it isn't outside of the realm of possibility. If the Oilers have the performance necessary for Holland to hit the mark, he'll join Harry Sinden, David Poile, Glen Sather, Lou Lamoriello, and Jim Rutherford as one of only six GMs to win 1000 games.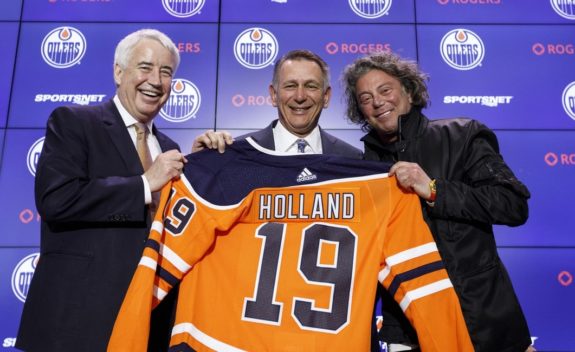 Before arriving in Edmonton, Holland spent nearly 22 years with the Red Wings, where he won three Stanley Cups and assembled teams that made plenty of deep playoff runs. Going into only his second full season at the helm of the Oilers, it remains to be seen whether his previous success will translate to Edmonton, but Holland's elite track-record should give fans hope.
With many milestones within reach for this year's Oilers, there will be plenty of special moments this season. Players like Draisaitl and Nugent-Hopkins will have the opportunity to build on their legacies, coach Tippett will reach a rare benchmark, and McDavid and Holland can build their cases to becoming all-time hockey greats. These achievements are worth looking forward to, but whether the Oilers can reach the one milestone that matters most, winning their sixth Stanley Cup, is another question.
---
---