For general manager Kelly McCrimmon and the Vegas Golden Knights, the heavy lifting of the offseason is done. They kept Robin Lehner off the market, locking him up for the next five years before free agency began. Then they landed arguably the biggest fish on the market, reeling in long-time St. Louis Blue Alex Pietrangelo to anchor what was already a formidable defensive corps.
Related: Flames With 100-Point Seasons
However, those two moves came at a considerable cost, forcing McCrimmon to ship out Paul Stastny and Nate Schmidt to remain cap compliant. They also had to bid farewell to free agents Nick Cousins, Deryk Engelland and Jon Merrill, although they did bring back Tomas Nosek and bolster their depth by adding Tomas Jurco, Danny O'Regan and Carl Dahlstrom, who arrived as part of the Stastny trade.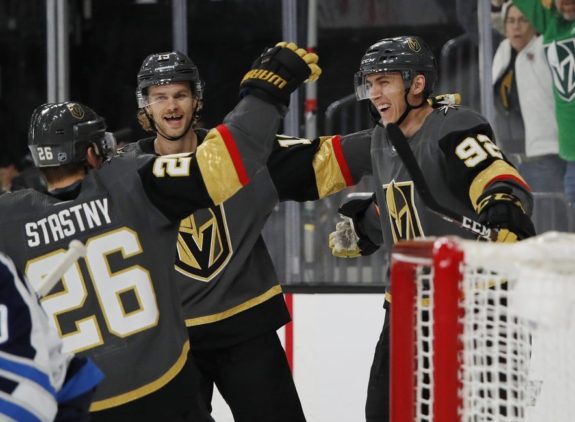 All told, the club is now carrying a 21-player roster featuring 12 forwards, seven defensemen and two (rather pricey) goalies, a group that they could, theoretically, start the season with. (from 'Knights' high-priced talent must develop chemistry to work,' Las Vegas Review-Journal, 10/17/2020) The problem is, this group — still two short of the NHL's 23-man roster maximum — comes in about $900,000 over the projected $81.5 million salary cap for the 2020-21 season.
With the start of next season still very much up in the air, the good news for McCrimmon and the rest of the club is that there seems to be plenty of time to accomplish what is likely a minor amount of tinkering. All 31 teams are allowed to carry an overage up to 10% over the cap (so, just under $90 million) right up until the regular season begins, so the Golden Knights are in no rush. Still, at a time when a tight financial picture has opened the door to some bargain basement free-agent shopping, there are ways that Vegas could get under the $81.5 million mark without damaging the current roster.
Shed Nick Holden
Depth players are getting squeezed in free agency at an unprecedented rate, leading to some incredibly affordable rates on established, well-known veterans and useful contributors. These contracts have begun to make some otherwise reasonable deals, signed during an entirely different economic reality, look like overpays. Case and point, the $1.7 million remaining on steady blueliner Nick Holden's contract for the (apparently) upcoming season.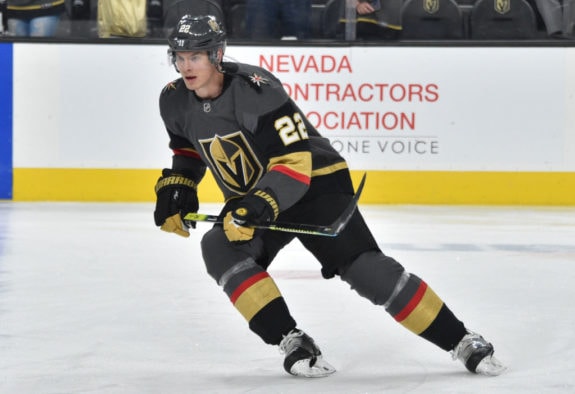 Holden will be entering his 10th NHL season and has a clear idea of his role as a third-pairing guy likely to get 16-18 minutes of ice time each night who can step up when needed. His role only projects to decrease, barring injury, as Pietrangelo swallows up major minutes and 23-year-old Zach Whitecloud grows into a larger role. There is still value in having reliable veteran experience to help ease the transition of young players like Whitecloud, but that can now be acquired for less.
If, in theory, Vegas could find a defensively needy taker for Holden, they could potentially find that same veteran presence in Brian Boyle or Andy Greene, both of whom remain on the market and could likely be had for considerably less than $1.7 million. As a comparable, Zach Bogosian, who is three years Holden's junior, just got a one-year, $1 million deal from the Toronto Maple Leafs after registering 16 minutes per game as a member of the Stanley Cup-winning Tampa Bay Lightning. A minimum $700,000 salary for one of the aforementioned veteran rearguards would get the Golden Knights under the cap.
Move on From Ryan Reaves
At the risk of incurring the wrath of the Golden Knights' faithful, it is easy to see what Ryan Reaves brings to the table. The edge and intimidation factor he brings may not show up on the scoresheet or be embraced by the analytics community, but it has made him a fan favorite in Vegas and has often had a visible impact on the Knights' opposition.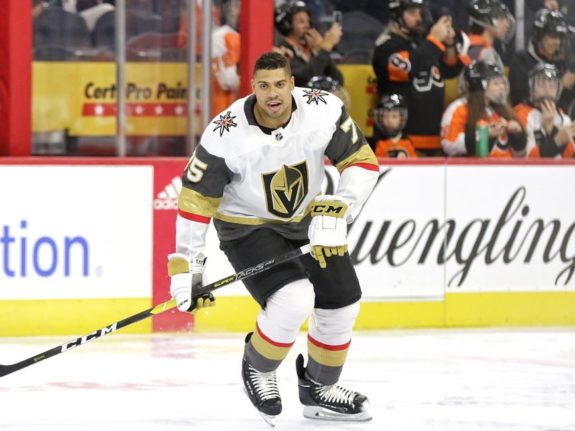 That said, the grit and physicality that Reaves brings to the table isn't irreplaceable. The remaining free agent market may be light on high end skill, but there is still plenty of grit and toughness to be had — at a cost well below the $1.75 million that Reaves is slated to earn, no less. Corey Perry and Matt Martin are among the hard-nosed options who could theoretically replace Reaves at a lower cap number.
In fact, Vegas could even find an internal replacement for the 33-year-old. Keegan Kolesar brings the same combination of size and tenacity as Reaves, at a fraction of the cost. If the club were to cut ties with Reaves and call up the 23-year-old Kolesar, they'd be getting younger while saving over $1 million.
The Vegas Advantage
It stands to reason that if free agency dollars are at a premium across the league, the advantage will go to teams that are desirable. Joe Thornton and Wayne Simmonds opted to take cheap, one-year deals to chase a Cup close to home with the Toronto Maple Leafs. Vegas, a strong Cup contender in an appealing market (so long as there's no bubble next season), also carries that desirable distinction.
Related: Flyers – Revisiting the Hartnell and Timonen Trade
While no one is happy about the economic situation the league currently finds itself in, McCrimmon and the Golden Knights are in a position where they can use it to their advantage to come in under the cap while staying just as strong on the ice.
---
---