It's an unusual fall offseason, and New York Islanders general manager Lou Lamoriello is trying to keep the core of his team together, for the most part anyway. He has already traded defenseman Devon Toews to the Colorado Avalanche for a second-round pick in 2021 and 2022. Make no mistake though, the offseason is far from over, and Lamoriello still has plenty of work to do.
There has been some chatter that the Islanders already have an agreement to bring back Andy Greene and Matt Martin, as well as bringing in Cory Schneider to be the team's third-string goalie. However, none of these transactions have been made official, despite some reliable sources making the announcements.
On Sunday's episode of Hockey Night in New York Podcast, David Pagnotta of The Fourth Period stated that the Islanders are likely in the market for a middle-six forward rather than the top-line scorer fans have been screaming for.
"I'm sure (the Islanders) have reached out to Mike Hoffman, but I don't think the dollars are going to work for them," said Pagnotta. "Quite frankly, I see them looking at bargain-type deals if they can get a guy like (Andreas) Athanasiou or (Anthony) Duclair at a bargain to fill a role in their mid-six, I think that would be the preferred direction they go in if they do dip their toe in the free-agent forward market."
Athanasiou would make a great addition to the team's top-9, however, it makes a lot more sense for them to pursue Duclair, who is an unrestricted free agent, as their plan A.
The Right Fit
Lamoriello and head coach Barry Trotz have preached about having the right players in their lineup, not the best players. Duclair is not the best player on the market, with Hoffman still available as Pagnotta noted. Yet, he fits a need on a team that's searching for that goal-scoring touch but with limited cap space available.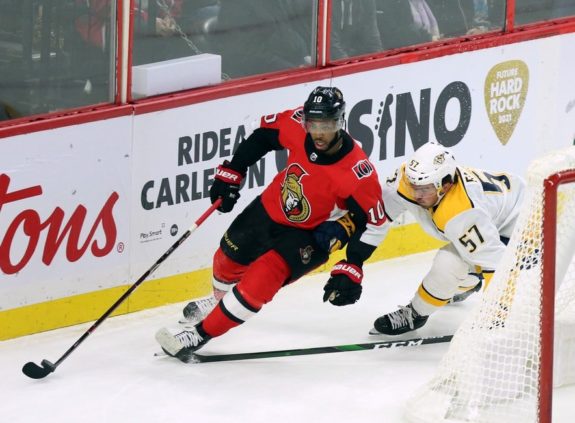 "Duclair's notched 31 goals and 54 points in 87 games since being traded last season to the Senators. He has lots of flashy tools with a quick-release shot, strong wheels to facilitate transition play and nimble hands. His playmaking ability is limited — he's a shoot-first player — but next to a setup man he could do lots of offensive damage," (from 'NHL free agency: The 10 best players still unsigned,' TheAthletic, 10/22/2020).
The shoot-first mentality is something not many Islanders forwards have. After Anders Lee and Brock Nelson, shooters are few and far between. They need a forward whose first instinct is to get the puck to the net. In the 2019-20 season, Duclair registered 184 shots which would have ranked second among Islanders forwards last season, behind Lee's 195 shots.
Duclair also scored 23 goals in 2019-20 and of those 23, five came on the power play. The Islanders have struggled with the man advantage. His power-play goal total would have led the Isles, ahead of the three-way tie between Nelson, Mat Barzal, and Jordan Eberle who had four power-play goals last season.
It's Duclair's defensive game that holds him back from being one of the league's optimal forwards. He tends to be less committed to his play away from the puck, which can easily frustrate coaches. However, Trotz has the ability to get the most out of his players, and he might be the best defensive coach in the league; if anyone can teach Duclair the game away from the puck, it's Trotz.
There's also the Jean-Gabriel Pageau factor that makes Duclair an enticing choice for the Islanders. According to Natural Stat Trick, the duo played 59 games or 242:43, together in Ottawa. While skating on the same line, they produced 3.71 goals for per 60 minutes, and a 54.79 Corsi for percentage. The chemistry is there between the former teammates and they would make for a great third-line combination.
Duclair represented the Senators at the 2020 All-Star Game and participated in the fastest skater competition. Although he didn't win, he's still considered one of the fastest skaters in the league. If Trotz feels like shaking up his lines, Duclair's speed could keep up with Barzal, and make for a dangerously fast combination on the first line.
Duclair often saw first-line minutes in Ottawa and skated against the opposition's top line while still producing points. He fits the mold as far as age is concerned. He'll be 25 next season, even though it seems like he's been in the league forever. Representing himself, the young forward could take a one-year deal to prove he's the right fit for the Islanders. If successful, he could continue to grow with a similarly young core that is already a threat.
The money needs to make sense, but once the Islanders' restricted free agents are taken care of, and the possible salary dumps of Johnny Boychuk and Leo Komarov happen, the Islanders should have enough wiggle room to make a middle-six forward acquisition work. Duclair could be signed at a bargain, especially with the flat cap, somewhere between $1-$3 million.
Duclair has never eclipsed a $1.65 million average annual value. Coming off his best goal-scoring season to date, he is due for a bit of a raise, somewhere in the $2 million range. At that affordable price, the Islanders could slot him into a lineup that is seeking an uptick in goals. The Islanders could offer him a one-year contract, and if the experiment is successful, he could finally find himself a long-term home, and a deal would benefit both parties.
Want more Islanders content? Check out the Nassaumen Hockey Podcast, hosted by The Hockey Writers authors James Nichols and Jon Zella. Follow on Apple Podcasts, Spotify, and Google Podcasts!
---
---