The Detroit Red Wings have a prospect pool that is filled to the brim with talent, grit and determination. None fit that mold more succinctly than Marco Kasper. The eighth-overall pick of the 2022 NHL Entry Draft has finished his Swedish Hockey League (SHL) season and is ready to earn his spot in the Red Wings' lineup.
Related: Red Wings' Kasper Is Better than Joel Eriksson-Ek & Dylan Larkin
---
Latest News & Highlights
---
Kasper has a lot of potential to surprise many fans. His determination on the ice and the high level of skill he has to complement that energy will endear him to the Red Wings fans long before he makes a huge impact on the scoresheet.
Kasper Is Relentless on Offence and Defence
Kasper's trademark attribute is his tenacity. This is on display when he constantly attacks the net in the offensive zone. He will get slashed, cross-checked and knocked down and stay parked in front of the net. He never quits on a play and will take a hit to keep a play alive.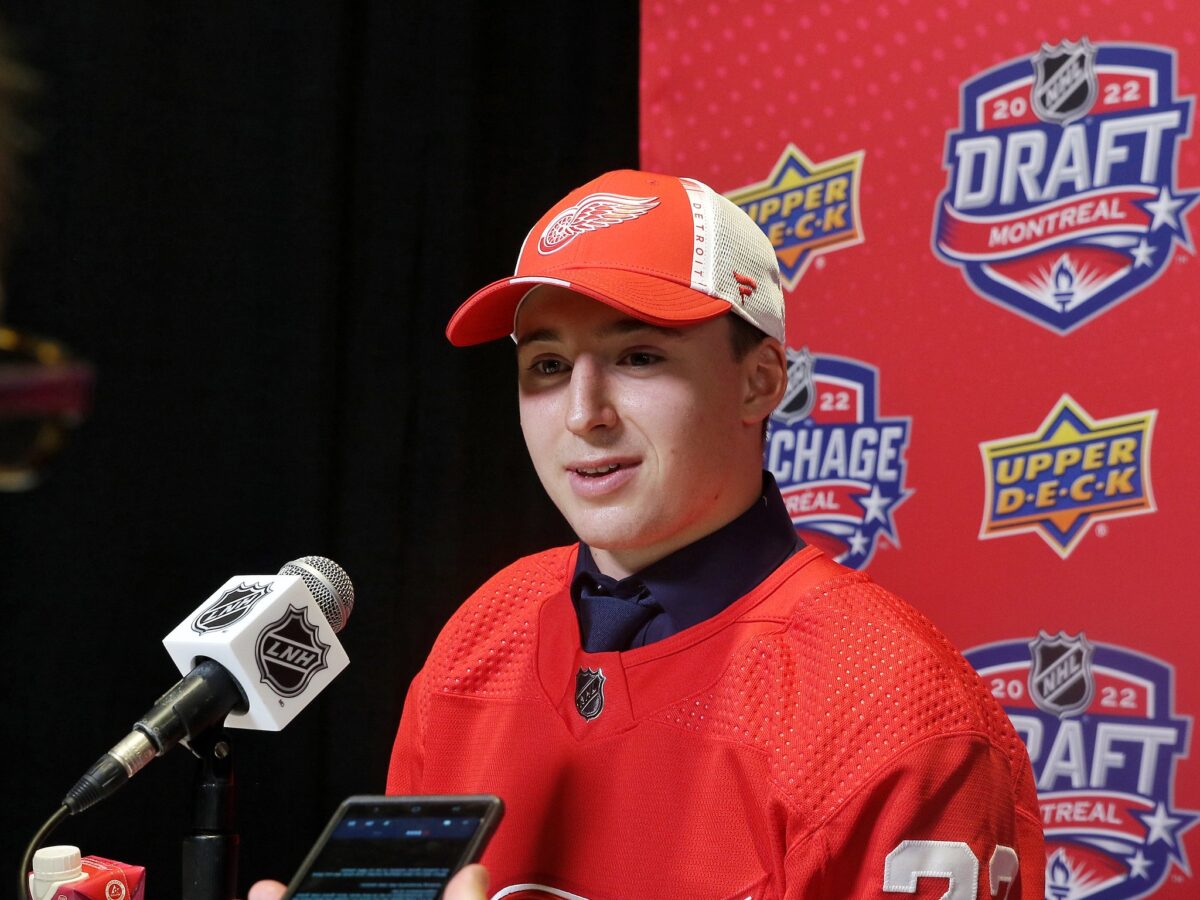 You can't help but cheer for a player who takes a "licking and keeps on ticking." That type of engagement from a player who is only 19 years old is a welcome element to the Red Wings going forward. Some skilled young forwards can lack the physical toughness to withstand body checks and intense forechecking. Because Kasper has spent the past two full years playing in the SHL against men, he is more than up to the physical challenge of the NHL.
Kasper Has Underrated Skill and Point Potential
While he is known for his forechecking acumen, he isn't as known for his skill with the puck. This is an underrated part of his game. The skill when combined with his relentless pursuit of the puck, is a combination that will lead to translatable NHL production. He started off the year on quite the point streak, but cooled off a bit in the second half of the season.
| | | | | | | |
| --- | --- | --- | --- | --- | --- | --- |
| Name | Year | Games Played | Goals | Assists | Points | Points Per Game |
| Marco Kasper | 2022-23 | 52 | 8 | 15 | 23 | 0.44 |
| Lucas Raymond | 2020-21 | 34 | 6 | 12 | 18 | 0.52 |
Raymond Vs Kasper SHL Production
While Lucas Raymond had a higher point-per-game pace than Kasper in their last SHL season's, they are both in the same ballpark. Kasper might not have as high of a ceiling as Raymond, but he will be able to produce by continuing to be a net-front pest for opposing teams. I think it is a fair expectation for Kasper to hit the 40-50 point range in the NHL next year.
In the clip above he displays good edges, a couple slick puck moves and a pass to a teammate for a scoring chance. He constantly has been making these kind of plays in the SHL. The SHL is only a few steps below NHL quality of competition. Because of that, it makes Kasper a very exciting prospect and potential full-time NHLer next year.
Kasper Is Fiesty
One element of Ben Chiarot's game that the coaches love having him in the lineup for is his aggressive physicality. That is an element that Kasper can bring to the Red Wings as well. In 52 games this season, Kasper recorded 72 penalty minutes (PIM). Last year he only had 17 PIM tallied in 46 games. Raymond alternatively, had 12 PIM in 34 games and four PIM in 33 games in his last two years in the SHL. While penalty minutes are not a thing to wear as a badge of honor, it does display an inclination to engage physically with the opposition.
In the embedded tweet above you can see Kasper (No. 92) involved in the middle of a scrum with several Toronto Maple Leafs players. This is also something that isn't new to Kasper, and has been something he's been involved in all season in the SHL.
Although Kasper is now done for the season due to injury, we have to wait until next year for him to find a groove with the Red Wings. His tenacity, sneaky skill, good skating, and willingness to engage physically and not be intimidated are ingredients that should dish up a fan favorite player in Kasper.
---
---